Boggetto Leads Suns to 7-2 Win Over Shorebirds
Hagerstown has twelve hits in third-straight victory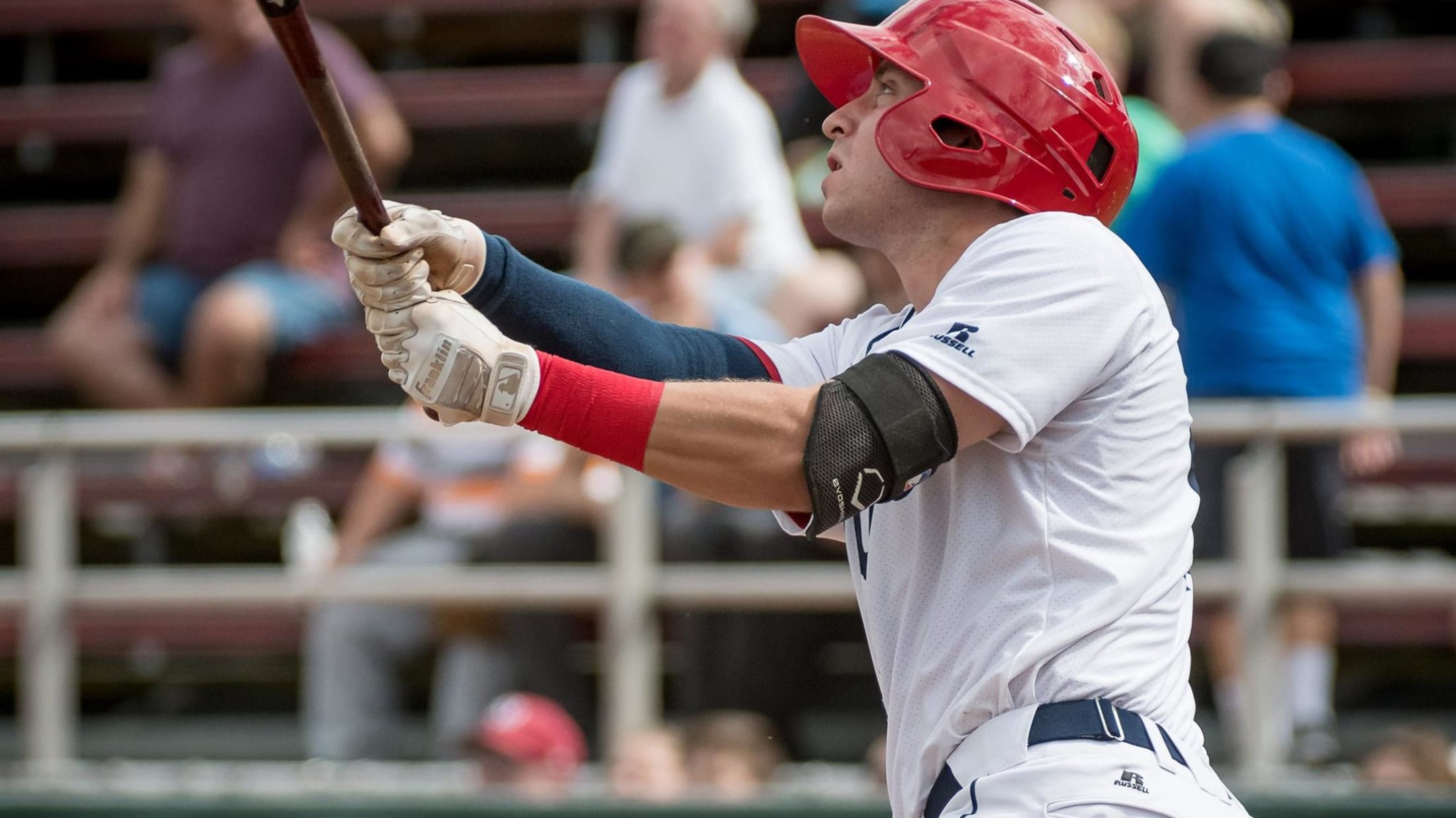 (John Slick/Hagerstown Suns)
Salisbury, MD - Branden Boggetto drove in three runs and hit his second homer of the season to propel the Hagerstown Suns to a 7-2 victory over the Delmarva Shorebirds on Saturday night. The Suns won their third-straight game and improved to 14-25 overall. Hagerstown will wrap up the series
Salisbury, MD - Branden Boggetto drove in three runs and hit his second homer of the season to propel the Hagerstown Suns to a 7-2 victory over the Delmarva Shorebirds on Saturday night. The Suns won their third-straight game and improved to 14-25 overall. Hagerstown will wrap up the series against the Shorebirds with a double header on Sunday beginning at 12:35 PM first pitch at Arthur W. Perdue Stadium.
The Suns struck first with a run in the opening frame against Delmarva starter Cameron Bishop. Cole Freeman led off the game with a single to center field and stole second with two outs. Anderson Franco singled to right, scoring Freeman and giving the Suns an early 1-0 lead.
Delmarva took control in the bottom of the inning against Nick Raquet for the Suns. Kevin Moesquit singled to right and Mason McCoy doubled to right, moving Moesquit to third. Zach Jarrett singled on a ground ball through the right side of the infield, with both runners scoring on a throwing error by shortstop Yasel Antuna to make it a 2-1 Shorebirds advantage.
Hagerstown took the lead back in the fourth with Bishop still on the mound for Delmarva. Franco singled with one out but was retired when Nick Banks grounded into a fielder's choice. Boggetto doubled to left to score Banks and tie the game. Boggetto scored when Corredor doubled to left, and Corredor scored when Alex Flores doubled to right. When the dust settled, the Suns had extended their lead to 4-2.
The Suns piled on in the eight, taking a commanding five-run lead thanks to Boggetto's second homer of the season. Luis Garcia singled and went to second when Antuna grounded out to short. Garcia scored when Franco doubled to center, making it a 5-2 Suns lead. With two outs, Boggetto hammered his second homer of the season to left-center, extending Hagerstown's lead to 7-2.
Raquet (3-4) threw 6.0 quality innings in a win, holding the Shorebirds to two runs (one earned) on four hits with a walk and six strikeouts. Kyle Johnston earned his second save of the season, going 3.0 innings while holding Delmarva scoreless with two hits, a walk, and striking out five.
Notes: Raquet had his fifth quality start of the season, which leads the team… Freeman extended his hit-streak to eight games… He also had his ninth multi-hit game of the year… Boggetto extended his to six games… He's got three multi-RBI games… Franco has seven multi-hit games this season… He collected three hits for the third time in 2018… Flores logged a pair of hits for his second multi-hit effort of the year… Armond Upshaw has a three-game hit streak… Garcia has hit safely in his last five games and 10 road games… The Suns have hit 29 home runs this season… Hagerstown has hit more homers with two outs (13) than in any other situation… The Suns and Shorebirds finish up a three-game series with a double header on Sunday beginning at 12:35 PM… Hagerstown will send RHP Tomas Alastre (1-1, 6.34 ERA) to the hill against Shorebirds RHP Matthias Dietz (3-1, 3.94 ERA) in game one, while the second game features Hagerstown RHP Jackson Stoeckinger (0-4, 7.47 ERA) against Delmarva RHP Brenan Hanifee (4-1, 2.56 ERA).