Boggetto's Four Hits Lead Suns to 9-1 Victory
Raquet has quality start in Hagerstown's sixth win of the season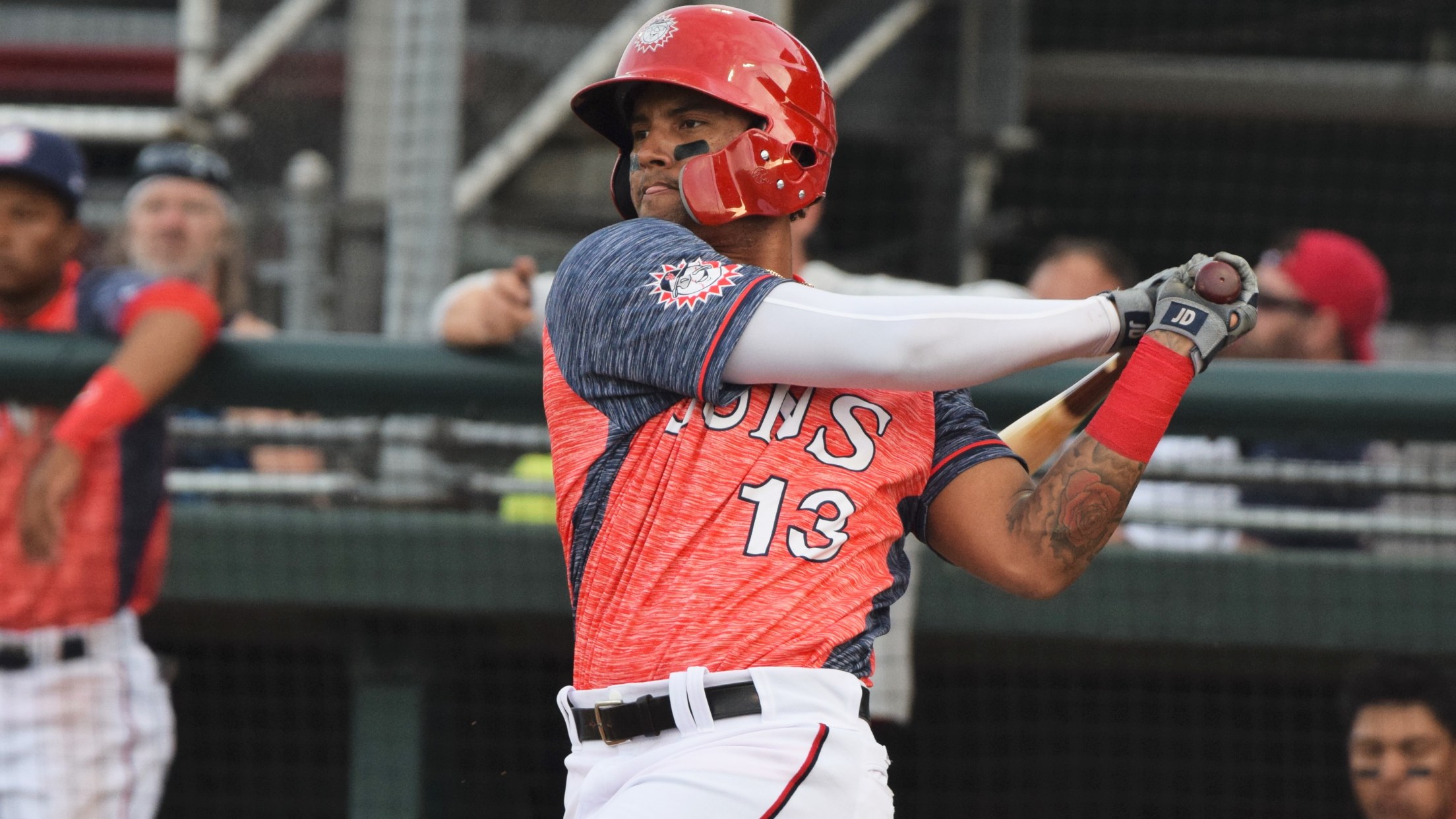 Anderson Franco takes a cut at Hagerstown Municipal Stadium (Patrick Cavey)
Hagerstown, MD - Branden Boggetto led the Hagerstown Suns with a four-hit night while Nick Raquet had his second quality start of the season as the Suns bested the Lakewood BlueClaws 9-1 on Monday evening at Municipal Stadium. The Suns improve to 6-12 overall and will play the second game
Hagerstown, MD - Branden Boggetto led the Hagerstown Suns with a four-hit night while Nick Raquet had his second quality start of the season as the Suns bested the Lakewood BlueClaws 9-1 on Monday evening at Municipal Stadium. The Suns improve to 6-12 overall and will play the second game of the series against Lakewood on Tuesday evening with a 6:05 PM first pitch.
The game was scoreless until the second inning, when the Suns offense erupted for their biggest outburst of the season against Lakewood starter David Parkinson and reliever Luis Carrasco. Nick Banks led off with a double to left and Boggetto singled to center, scoring Banks and giving the Suns a 1-0 lead. Alex Flores laid down a sacrifice bunt and reached on a throwing error, moving Boggetto to second. Armond Upshaw walked to load the bases and Cole Freeman grounded a ball to Nick Maton at shortstop, who made a fielding error that scored Boggetto and moved Flores to third with Upshaw going to second. Hagerstown kept the bases loaded while taking a 2-0 lead.
The eighth continued when Jack Sundberg walked with two outs, forcing home Flores to make it 3-0. Anderson Franco singled on a ground ball to short, driving in Upshaw to make it 4-0 while Freeman and Sundberg moved up a base, keeping them loaded. Aldrem Corredor singled to left to plate both Freeman and Sundberg, extending the lead to 6-0 while Franco went to third on the throw. Carrasco entered the game out of the bullpen and threw a wild pitch that allowed Franco to score and Boggetto got his second base-knock of the inning with a single to center, driving in Corredor and giving the Suns an 8-0 advantage.
Hagerstown added another run quickly in the fifth with Carrasco still on the mound. Boggetto lofted a ball to deep left field that carried to the warning track and led to a triple. Flores doubled to center in the next at-bat, driving in Boggetto and giving Hagerstown a 9-0 lead.
Lakewood scored the lone run in the sixth against Suns starter Nick Raquet. Maton doubled to right with one out, and with two outs Quincy Nieporte doubled to left to drive in Maton to make it a 9-1 game. Raquet induced a fly-out from Jake Scheiner to right field, ending the inning and locking down a quality start.
Raquet (1-2) had a quality start in the win, tossing six innings while allowing one run on four hits with two walks and three strikeouts. Jeremy McKinney pitched 2.0 scoreless innings in relief, allowing two hits with a strikeout. Max Engelbrekt threw the ninth without allowing a run or hit with a strikeout.
Notes: Hagerstown has won three of their last four games… Boggetto's four-hit game is the first since Luis Garcia had one on April 12 against Greensboro… Boggetto had two hits in the second inning, he's the first Suns player to do so since Adderling Ruiz did it on August 8, 2017 in an 8-5 win over Delmarva… Suns starters have two quality outings this season, both of which belong to Raquet… The eight-run second inning is the highest scoring inning for Hagerstown this season… The last time the Suns scored eight runs in an inning was July 16, 2017 against the Lexington Legends in the fifth inning of a 13-2 victory… Hagerstown had five hits in the second, eclipsing the previous high of four from April 21 against Lexington… The Suns scored nine runs in a game for the fourth time this season… It's the third time it's happened in a nine-inning game in 2018… The Suns take on the Lakewood BlueClaws on Tuesday at Municipal Stadium in Hagerstown with a 6:05 PM first pitch… Hagerstown will send RHP Jackson Tetreault (0-1, 7.98 ERA) to the mound against Lakewood RHP Ramon Rosso (0-0, 1.72 ERA)… The broadcast can be heard, starting with the pregame show at 5:50 PM on www.hagerstownsuns.com by going to multimedia and "Listen Live" which also has downloads for a free app on the iPhone, iPad, Blackberry, and Android… The broadcast is also available on the Hagerstown Suns Radio Network in the Tune-In Radio App.