BOOM! Orelvis homers twice in electric win over Hartford
New Hampshire gets first win in series versus Yard Goats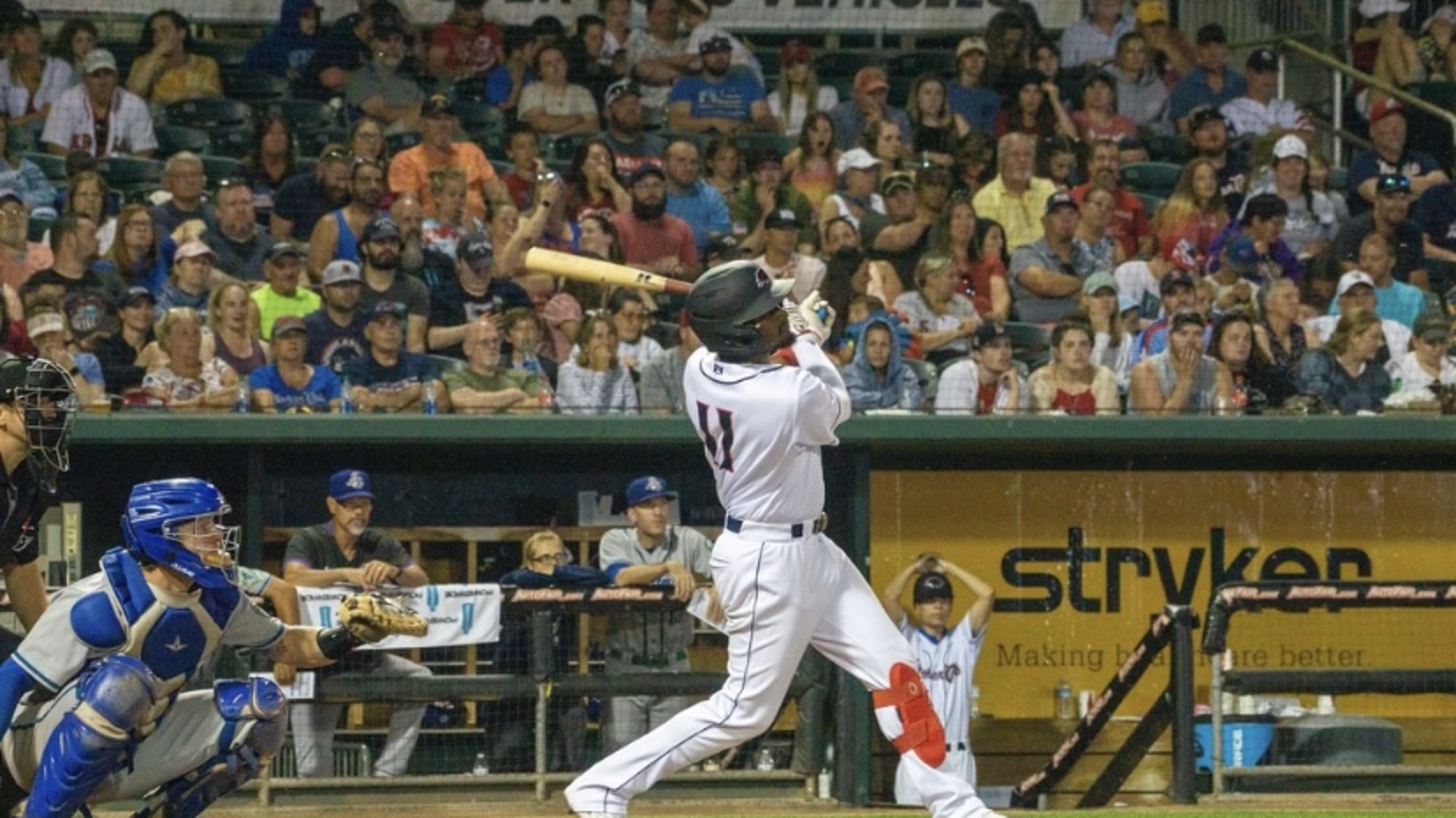 (Photo courtesy of Kristin Basnett)
Manchester, New Hampshire – Orelvis Martinez, the No. 2 prospect in the Blue Jays system according to MLB.com, dominated at the plate, and Rafael Lantigua fist-pumped after his first homer of the year in a feel-good win for New Hampshire on Wednesday night. The Fisher Cats (3-5, 34-43) defeated the
Manchester, New Hampshire – Orelvis Martinez, the No. 2 prospect in the Blue Jays system according to MLB.com, dominated at the plate, and Rafael Lantigua fist-pumped after his first homer of the year in a feel-good win for New Hampshire on Wednesday night. The Fisher Cats (3-5, 34-43) defeated the Hartford Yard Goats (Colorado Rockies, 4-4, 47-30), 11-6, at Delta Dental Stadium.
Martinez finished the night 2-for-4 with two homers and three RBIs. Wednesday marked the second two-home run game for a Fisher Cat this season (Sebastian Espino, May 12 vs. Binghamton). The 20-year-old shortstop crushed a solo homer on the first pitch of the bottom of the fifth. In the bottom of the eighth, he smoked a two-run bomb. Both blasts reached the Sam Adams Brewhouse in left field. Martinez is now tied for third in the league in home runs with 19.
After a four-RBI night on Monday, Trevor Schwecke lifted a three-run triple off the wall in right field to put New Hampshire in front, 3-1, in the third inning. He is 9-for-23 (.391) in July and has seven RBIs in two games against Hartford.
Righty starter Luis Quinones threw 4.0 innings and allowed one run. In his last seven innings on the mound, Quinones has allowed one hit and one run with seven strikeouts. After a scoreless top of the fifth inning from Sean Mellen, New Hampshire led, 5-1, going into the sixth.
Hartford outscored New Hampshire 5-1 in the next two frames to even the score, 6-6, after seven innings.
The bats popped off in the bottom of the eighth, as New Hampshire sent eight batters to the plate. The Fisher Cats scored five runs on four hits, started off by a Cam Eden single. After a Luis De Los Santos groundout moved Eden to second, Davis Schneider walked.
Rafael Lantigua, the 5-foot-8 second baseman and left fielder, then belted his first home run of the 2022 season over the right field fence. The three-run bomb put New Hampshire up, 9-6. Lantigua was robbed of a home run by center fielder Ceddanne Rafaela at Portland last week.
Third baseman John Aiello then tripled. Wednesday was the first game all season in which New Hampshire tripled twice. After a pitching change, Martinez hit his second homer that sent the stadium into a frenzy.
New Hampshire had six extra-base hits in the game: one double, two triples and three home runs.
The Fisher Cats continue their homestand tomorrow, July 7 at 7:05 p.m. against the Hartford Yard Goats (Colorado Rockies). Tickets can be found at NHFisherCats.com, via email at [email protected], over the phone at (603) 641-2005, or in-person at the Fisher Cats box office at 1 Line Drive in Manchester.