Borenstein, Buchanan honored for weekly play
Reno teammates have big weeks for contending Aces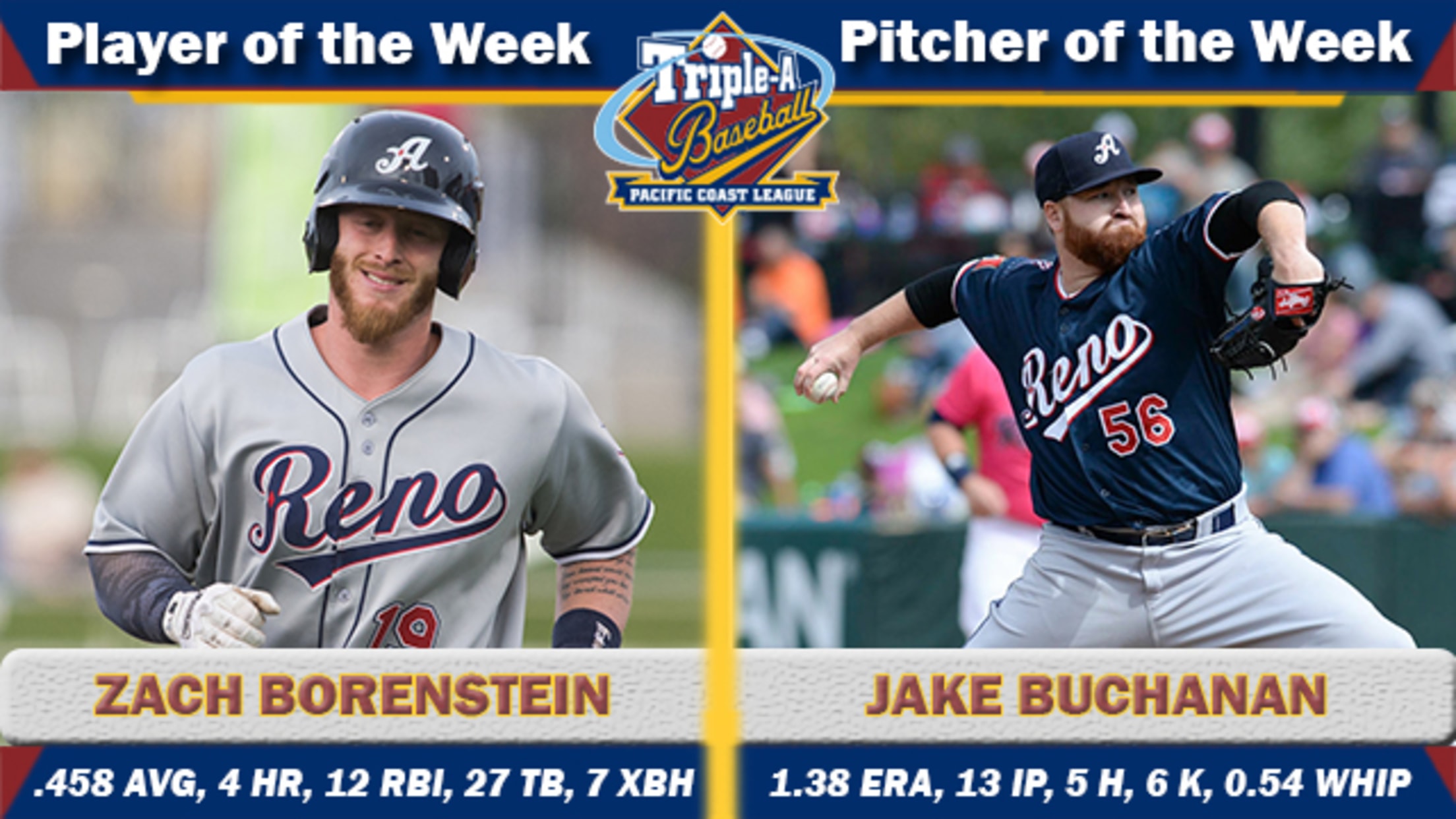 Photo Credits: David Calvert (left), Tacoma Rainiers (right)
ROUND ROCK, Texas - The Pacific Coast League announced Monday that Reno teammates Zach Borenstein , outfielder, and Jake Buchanan , right-hander, have been named the Player and Pitcher of the Week for the period of August 7-13. The last players from the same club to be honored as the
ROUND ROCK, Texas - The Pacific Coast League announced Monday that Reno teammates Zach Borenstein , outfielder, and Jake Buchanan , right-hander, have been named the Player and Pitcher of the Week for the period of August 7-13. The last players from the same club to be honored as the PCL's weekly winners were also a pair of Aces; Peter O'Brien and Braden Shipley accomplished the feat for the period of April 25-May 1, 2016.
Borenstein bested all Triple-A players over the week in home runs (4), RBI (12), extra-base hits (7), total bases (27), slugging percentage (1.125) and OPS (1.605). He did so hitting .458 (11-for-24) in seven games, while reaching base at a .480 clip and scoring eight runs, the latter of which matched the top total in the PCL.
The suburban Chicago native started the Aces' final five games of the week, recording hits in four of those contests. Borenstein's biggest performance came in an August 9 victory; he had four hits, including a pair of three-run homers, six RBI and four runs scored against Las Vegas. A day later, he recorded his second consecutive two-homer game - and third of the year - with a three-hit, five-RBI effort. Borenstein added another multi-hit game to his ledger with three hits, two runs and a RBI on August 12.
Borenstein has been with Reno all year and ranks among team leaders in numerous offensive categories. The 27-year-old has hit .283 (91-for-322) with 25 doubles, 20 home runs and 75 RBI in 104 games. This is his second full season with the Aces and third in the Diamondbacks organization. He was originally selected by the Los Angeles Angels in the 23rd round of the 2011 First-Year Player Draft out of Eastern Illinois University. Coming up through the Angels system, Borenstein was the Single-A California League's Most Valuable Player in 2013 with Inland Empire after hitting .337 with 28 homers and 95 RBI. He was traded to Arizona in a four-player deal in July 2014. This is Borenstein's second career Player of the Week award, previously being honored with Inland Empire in July 2013.
Buchanan was nearly flawless in his two starts, working 13.0 innings and giving up only five hits, two earned runs, two walks and six strikeouts. On August 8 at hitter-friendly Cashman Field, Buchanan retired 12 of the first 13 hitters and did not surrender a hit until the fifth inning. He registered a quality start, working six innings of two-run ball with five strikeouts. Five days later in Tacoma, Buchanan became the fourth PCL pitcher this year to pitch at least 6.1 hitless innings before giving up a hit. He took a no-hitter into the seventh inning and gave up his only hit - a single - an out later, but would finish with seven shutout innings, striking out one against two walks.
The 27-year-old is with his third organization this year. He began the campaign with the Cubs, then got claimed on waivers by the Reds before signing as a free agent with Arizona. Across 90.0 Triple-A innings this year, he has a 4.50 ERA with 26 walks and 61 strikeouts. Buchanan has made eight starts with Reno and gone 4-0 with a 4.14 ERA (45.2 IP, 21 ER), six walks and 28 strikeouts. The North Carolina native spent the first six years of his career in the Astros system. He has made 29 MLB appearances (three starts) between the Astros, Cubs and Reds and has a 4.73 ERA (64.2 IP, 34 ER). This is his third career Pitcher of the Week and second in the PCL; he was honored as a member of Iowa last year for the period of May 30-June 5.