Chavis brings power to Players of the Week
No. 10 Red Sox prospect homers five times in return to Salem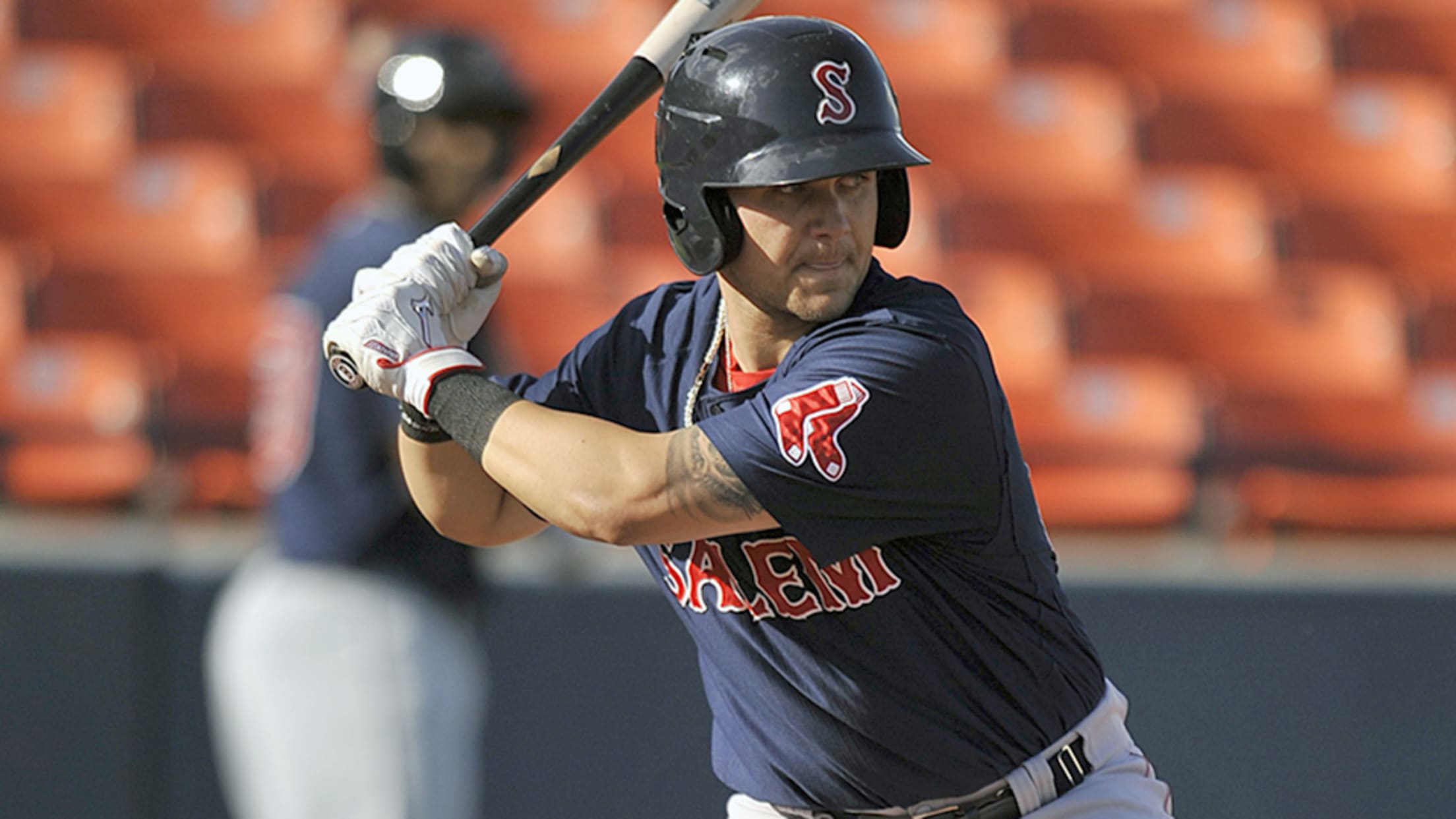 Eight of Michael Chavis' 11 hits on the season for Salem have gone for extra bases. (Joy R. Absalon/MiLB.com)
On Opening Day, Michael Chavis made a jump-throw from third base when he felt soreness in his elbow; four days later, he was on the disabled list. The DL trip was nothing new for the 21-year-old, who had two stints there last season that limited him to 81 games. But
On Opening Day, Michael Chavis made a jump-throw from third base when he felt soreness in his elbow; four days later, he was on the disabled list. The DL trip was nothing new for the 21-year-old, who had two stints there last season that limited him to 81 games. But after playing most of 2016 with a broken middle finger, the fact that he told anyone about an injury that could've seemed small was an important development.
"One hundred percent, this wasn't something I'd have done last year," Chavis said Monday. "That's what I told the trainer afterward. Any time I tell someone I played through a broken middle finger, they tell me how stupid I was. Looking back, the last thing I wanted to do was go to the disabled list or back to Fort Myers, so I wanted to tough it out. But I'm sure if you look at pictures, it basically looked like I was flipping people off because my middle finger was up when I was hitting or throwing. This is a little predicament by comparison, but I didn't want to play through it this time before it became a bigger or long-term issue."
After returning from the disabled list last Monday, another important development has come along -- Chavis' power.
The No. 10 Red Sox prospect highlights this week's group of Minor League Offensive Players of the Week as the Carolina League representative after slugging five homers over seven games for Class A Advanced Salem. He went 10-for-21 (.476) with 10 RBIs and eight runs scored over that stretch, dating back to last Monday. No Minor Leaguer collected more extra-base hits than Chavis' eight or produced a higher slugging percentage (1.333) or OPS (1.940) from April 17-23, and only El Paso slugger Jamie Romak equaled Chavis' home run output.
The 21-year-old third baseman's standout performance came last Wednesday when he launched a career-best three long balls, including a walk-off two-run shot in the ninth inning to give the Red Sox a 7-6 win over Wilmington. He also went deep Tuesday against the Blue Rocks and in the second game of a doubleheader Friday at Frederick.
But it was a strikeout Monday in his return from the DL that may have set up the slugger for the power that was to come.
"My first at-bat back, I swung at the first pitch, and it just blew me away," Chavis said. "That showed me, OK, my timing is pretty off here. I tried to shortened things up a little. ... I just simplified everything in terms of my movement -- where my hands are, getting my foot down. Then, I hit a double in my next at-bat, and from there, I've been getting comfortable with the more pitches I've seen. I'm in a good place right now."
That hasn't been entirely the case in the 2014 first-rounder's first two full seasons. Over 183 games at Class A Greenville, he produced a .231/.294/.399 line with 24 homers. The biggest drag on that stat line came in 2015, when he hit .223 with a .277 OBP and .682 OPS over 109 contests as a teenager trying to get used to the pros. He got off to a hot start in 2016 with a .356/.415/.576 line in 15 games in April before a thumb injury knocked him out until June. The broken finger kept him from getting close to a .300 average the rest of the way.
• View the Pitcher of the Week winners »
Chavis says he feels much improved, both on and off the field, since that 2015 campaign.
"My first season was a mess," he said. "It was my first one with fans in the stands, and I was pressing everything. There were a lot of things going on back home, too, and I had insomnia where I'd go three days without sleep. There would be days I'd go 0-for-whatever, not sleep, come back, go for 0-for-whatever, not sleep and then head into the third day realizing I've been 0-for-10 since I last slept. Now I'm not trying to prove anything. I'm trying to have more fun and let everything take care of itself. Generally when I press for something, it doesn't happen, and I've learned that."
Chavis still isn't fully back from his season-opening injury. All seven of his starts last week came as Salem's designated hitter, and he's still undergoing a throwing program to test the elbow before he's allowed to return to the hot corner. But coming off the greatest offensive boon of his young career, the future is beginning to look brighter for the 2014 26th overall pick.
"It's the same mind-set every day, whether I'm hitting .400 or .200," Chavis said. "I'm not trying to pay too much attention to the stats but want to do everything I can to grow on a daily basis. When I look back at my at-bats now compared to what they used to be, it's amazing how I've grown, and that's what I care about."
Here are the rest of the Minor League Offensive Players of the Week for the week of April 17-23:

Sam Dykstra is a reporter for MiLB.com. Follow and interact with him on Twitter, @SamDykstraMiLB.