Hot Rods' Linares spins seven hitless frames
Rays No. 28 prospect stymies Whitecaps in extra-inning loss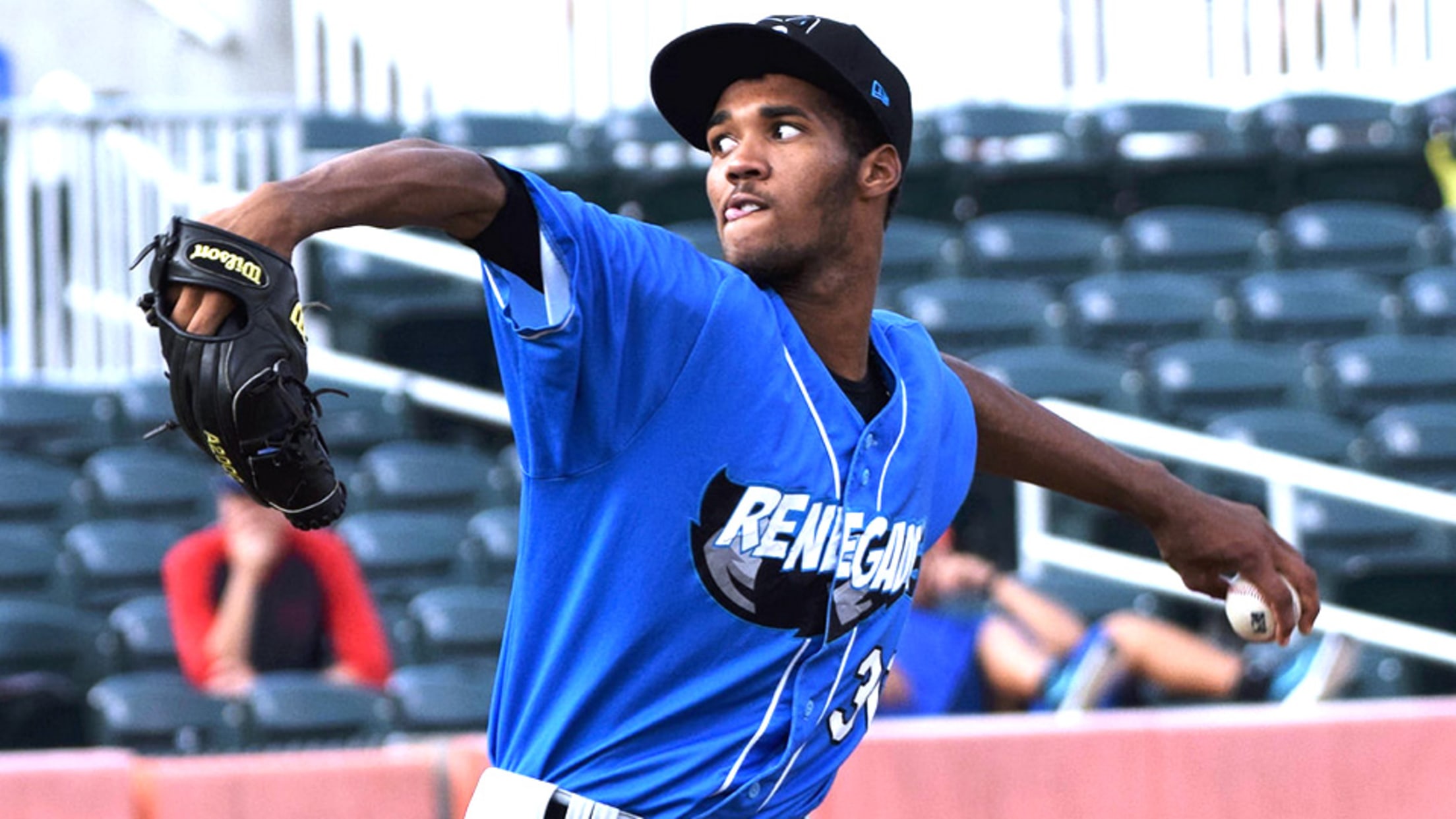 Resly Linares lowered his ERA from 17.18 to 5.91 in his second start of the season. (Patrick Cavey/MiLB.com)
If Resly Linares' poor season opener was on his mind Wednesday, you couldn't tell by watching him pitch.A week after allowing a career-worst seven runs in his Midwest League debut, the Rays' No. 28 prospect rebounded with seven hitless innings in Class A Bowling Green's 2-1 loss to West Michigan in
If Resly Linares' poor season opener was on his mind Wednesday, you couldn't tell by watching him pitch.
A week after allowing a career-worst seven runs in his Midwest League debut, the Rays' No. 28 prospect rebounded with seven hitless innings in Class A Bowling Green's 2-1 loss to West Michigan in the first game of Wednesday's doubleheader. Linares allowed two baserunners and struck out seven.
"I saw a different guy from his last outing, obviously," Hot Rods pitching coach Brian Reith said. "He attacked with his fastball and had a good mix with his curveball; his curve was good today. He didn't use his changeup much, didn't need it. Hitters seemed off on his fastball, so he stayed aggressive, attacked hitters and did a good job."
After inducing a groundout to shortstop from Cole Peterson to open the game, Linares struck out the next two batters swinging. The 20-year-old left-hander got through the second on eight pitches and fanned Tigers No. 21 prospectJoey Morgan leading off the third before plunking Garrett McCain with a 1-2 pitch.
"The pitch was where he wanted it, a back-foot curve; the hitter just wasn't able to get out of the way," Reith said. "It wasn't much to bounce back from, but he just stayed locked in."
Gameday box score
Linares retired the next 12 batters, striking out Dylan Rosa to start the seventh, before an error by second baseman and Rays No. 19 prospect Vidal Brujan allowed Zac Shepherd to reach. Shepherd was quickly erased when Linares got Colby Bortles to ground into a double play on his 85th and final pitch of the day.
"We have pitch and innings limits and we adhere to those, so as much as we'd like to send him back out, pitching no-hitters in A-ball is not what our goal is," Reith said. "He did a great job for what he had -- we have rules and we stick to them."
Even though Linares gave up seven runs on eight hits and three walks and labored through 3 2/3 innings while throwing 79 pitches in his Hot Rods debut, Reith said the coaching staff didn't feel the need to make any adjustments and let him work through the issues on his own.
"It was all him," Reith said. "The weather was awful his first start and it wasn't great today, either, but it was better. He worked a little bit in the bullpen between outings, but he was bad his first start. Credit to him: he worked hard, made some adjustments and was able to deal with the weather. He was great."
Brujan grounded into a forceout with one out in the eighth to score the game's first run, but West Michigan bounced back with three straight singles in the bottom of the frame to earn the walk-off win. The first of that trio of hits came off the bat of Jordan Pearce and scored Bortles, who started the inning on second. Morgan came through with his first hit of the day, a single to left that plated pinch-runner Luke Burch.
The game was Bowling Green's first extra-inning contest of the season, and while Reith acknowledged the reasoning behind starting a runner on second and giving his pitchers more experience working with a runner in scoring position, he wasn't keen on the new rule.
"I'm not a huge fan of it, but I understand why they're doing it -- save pitching staffs, don't get the long 18-inning games and things like that," he said. "From a pitching standpoint, it's tough on the pitchers to start with a runner on second base. Obviously, [we] didn't handle it too well today, but moving forward it can be a good thing. Anytime you get pitchers in that situation, it's a teachable moment."
West Michigan's Garret King nearly kept pace with Linares, allowing three hits and a walk while striking out eight over seven scoreless frames.
Bowling Green bounced back in the nightcap, earning a split with a 6-2 victory.
Brujan led off the game with a triple to right and scored on an error, while Zach Rutherford and Devin Davis delivered RBI singles as the Hot Rods jumped on Whitecaps right-hander Burris Warner for three runs in the first. Rays No. 23 prospect Drew Strotman (1-0) protected that advantage for six innings, yielding two runs -- one earned -- on five hits and two walks with three strikeouts.
Taylor Walls went 3-for-4 with a double, an RBI and a run scored for Bowling Green, while Zacrey Law chipped in two hits, including a two-run homer.