Bishop, Filia on right course for Mariners
Promising duo leading next wave of young talent toward Seattle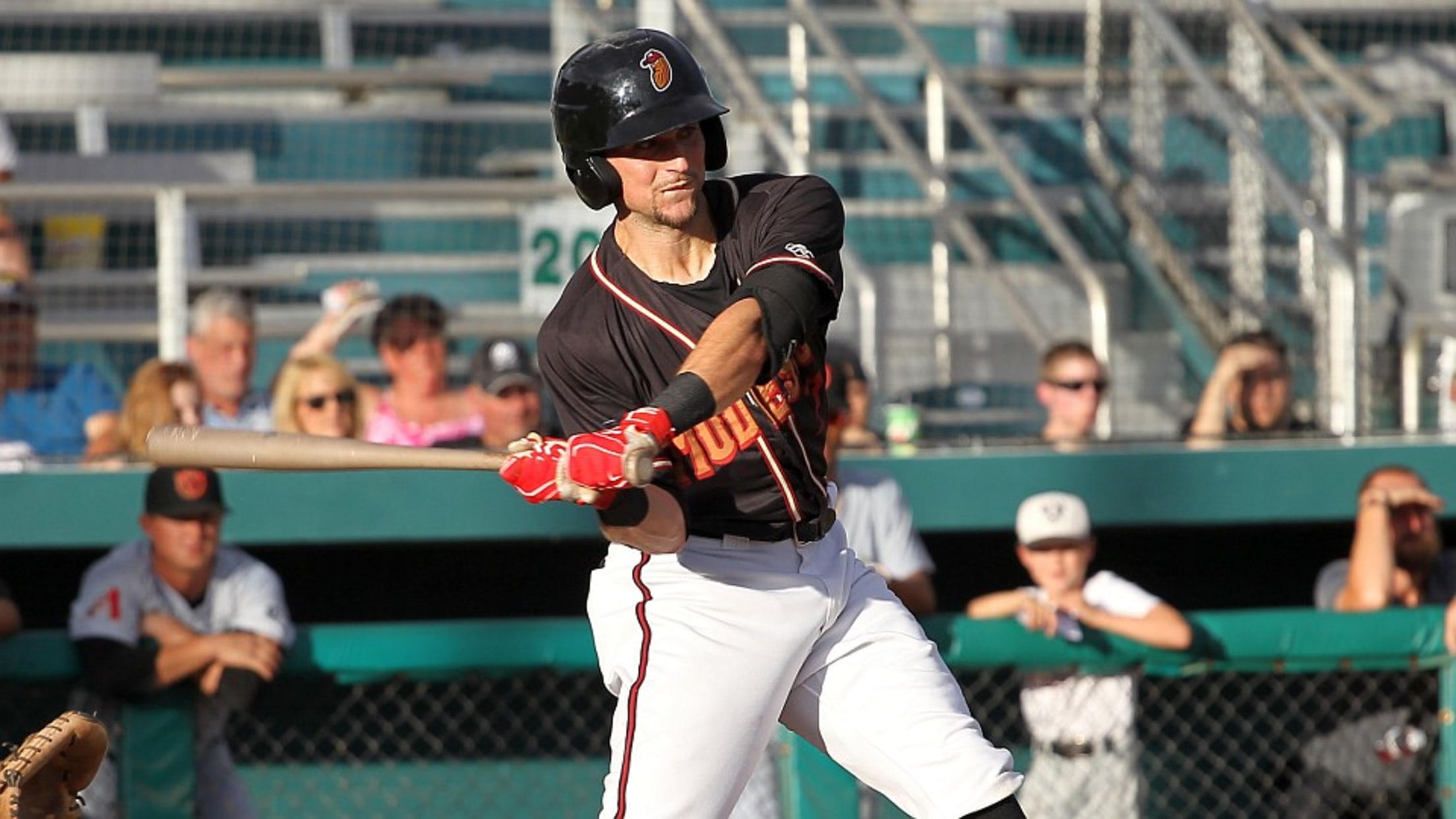 Modesto outfielder Braden Bishop was named Top Star at the 2017 Cal League All-Star Game. (Ben Sandstrom/MiLB.com)
This offseason, MiLB.com is taking a look at the most outstanding campaigns by players in each system across Minor League Baseball and honoring the players -- regardless of age or prospect status -- who had the best seasons in their organization.In their quest to bring playoff baseball back to the
This offseason, MiLB.com is taking a look at the most outstanding campaigns by players in each system across Minor League Baseball and honoring the players -- regardless of age or prospect status -- who had the best seasons in their organization.
In their quest to bring playoff baseball back to the Emerald City for the first time since 2001, the Mariners and general manager Jerry Dipoto have made improving the Major League roster a top priority, often at the expense of Minor League talent. Already this offseason, the club has dealt prospects Nick Neidert, Thyago Vieira, Alexander Campos, Emilio Pagán and David Banuelos to other organizations. However, some of those moves were done with an eye on the player expected to be the game's top prospect upon arrival: Shohei Ohtani, who has included Seattle among his seven finalists.
The on-field success of the club's Minor League teams did take a step back this year after leading all organizations with a .590 winning percentage in 2016, but there's still reason for optimism. Class A Advanced Modesto was one of two Seattle affiliates to post a winning record in 2017 and finished the season with nine consecutive wins -- including six straight in the postseason -- to claim the California League title.
Several of the Mariners' most talented young players -- top prospect Kyle Lewis and No. 5 Braden Bishop among them -- played key roles in the Nuts' championship drive. This next batch of prospects is inching its way toward the upper reaches of the Minors, giving Seattle optimism it can soon punch a ticket to the postseason for the first time in 17 years.

Mariners Organization All-Stars
Catcher --
Tyler Marlette
,
Arkansas (97 games):
It was a tale of two seasons for Marlette. The 24-year-old earned midseason All-Star honors after hitting .289/.343/.471 in 48 first-half games with Double-A Arkansas. A slump over the final two months put a damper on Marlette's overall numbers, but he still slugged 11 homers to go along with a career-high 65 RBIs. That included a game against Frisco on May 28 in which
he drove in five runs in one inning
. The Mariners' 2011 fifth-round Draft pick became a Minor League free agent in November.
First baseman -- Daniel Vogelbach, Tacoma (125 games), Seattle (16 games): Vogelbach joined Seattle's Organization All-Stars after earning three prior nominations with the Cubs. The 24-year-old hit 17 homers and drove in 83 runs in 2017, a slight dip from his career highs of 23 roundtrippers and 96 RBIs of 2016. Vogelbach still managed a solid .290/.388/.455 slash line with Triple-A Tacoma during his first full year in the Mariners' organization. A career .287 hitter in seven Minor League seasons, Seattle's No. 9 prospect hit .214 with two RBIs in 16 big league games in 2017.
"Dan continued to develop himself and has proven he can hit at the Triple-A level," Mariners director of player development Andy McKay said. "He can flat-out hit and has always done so throughout his Minor League career. We'll keep giving him the opportunity, and we're glad he's a part of the organization."
Second baseman -- Chris Mariscal, Modesto (85 games), Arkansas (40 games): A breakout year with Class A Clinton in 2016 carried over for Mariscal, who reached Double-A this past season. The 24-year-old was a midseason All-Star in the California League after hitting over .300 with Class A Advanced Modesto. He was rewarded with a promotion to Arkansas in late July and finished 2017 batting .285/.368/.402 with 63 RBIs and 67 runs scored in 125 games.
Third baseman -- Eugene Helder, Everett (70 games), Tacoma (five games): Helder began his career in the United States with an unusual jump straight to Triple-A following three seasons in the Rookie-level Venezuelan and Dominican Summer Leagues. The 21-year-old eventually settled in with Class A Short Season Everett, hitting .304/.346/.409 with 26 extra-base hits and 43 RBIs in 70 games. Helder took home Northwest League Player of the Month honors for July after driving in 22 runs while batting .374/.434/.523 in 27 contests.
Shortstop -- Donnie Walton, Modesto (67 games), AZL Mariners (five games): The No. 30 Mariners prospect turned his season around after missing more than two months with a broken hand that required surgery. Walton was hitting .235/.328/.320 in 43 games before he was placed on the disabled list June 3. The 23-year-old Oklahoma State University product returned to Modesto on Aug. 9 and amassed a .326/.388/.449 slash line over the final 24 regular-season games. Walton hit .273 with four RBIs and six runs scored in six playoff games.
"A guy whose father [OSU pitching coach Rob Walton] is a coach and comes with a good pedigree, that's what Donnie is," McKay said. "He's got a high baseball IQ, and he can really play the game well. He defends well at shortstop but can also move around the field well and consistently puts professional at-bats together. Injuries were a big bump in the road for him last year, but he's got that 'X' factor of survivability. It's not hard to see players like him end up on big league rosters at some point. Managers love guys like Donnie."
Outfielders -- Braden Bishop, Modesto (88 games), Arkansas (31 games): Bishop picked a good time to produce the finest season of his three-year pro career. After hitting .273/.338/.326 across two Minor League levels in 2016, the 24-year-old jumped to .306/.393/.413 with Modesto and Arkansas this past season. The No. 5 Mariners prospect showed off his extra-base-hitting prowess with a career-high 34 doubles, four triples and three homers while adding 22 stolen bases in 27 attempts. The University of Washington product earned California League All-Star MVP honors after going 4-for-4 with a triple, double, three runs scored and two stolen bases.
"Braden put forth a real effort to hit the ball in the air this past season," McKay said. "He came to us as the poster child of a speedy center fielder who grew up getting on top of the ball, hitting it on the ground and running. As we've learned, that's not the most effective approach. He took it upon himself to make adjustments with his swing to elevate the baseball. He's not a power hitter, but his approach equated to more extra-base hits and a better, all-around offense. I give a ton of credit to him for going out and making the change on his own."
Eric Filia, Modesto (128 games): Filia's first full season was a rousing success and culminated with a postseason All-Star nomination. Seattle's 20th-round pick in last year's Draft, Filia hit .326/.407/.434 in 2017 to tie for the second-highest average in the California League. The Mariners' 23rd-ranked prospect stayed hot through the playoffs, hitting .333 with three homers in six games. Filia capped his sensational 2017 with a .408/.483/.605 slash line with Peoria in the Arizona Fall League.
Luis Liberato, Modesto (68 games), Clinton (57 games): Liberato will begin his fifth year in the United States at just 22 years old, and he'll be coming off his best all-around season to date. The Mariners' 12th-ranked prospect hit .246/.312/.438 but amassed a career-high 44 extra-base hits while obliterating his previous personal bests with 14 triples and 14 homers. Liberato drove in a career-high 50 runs while splitting his season between Clinton and Modesto.
"Luis was another guy who really impressed us with his approach and maturity [in 2017]," McKay said. "He was able to make the move up to Modesto and became a huge part of their championship season. He's a guy you can watch for several games in a row and leave with the impression that you just saw a really, really good baseball player. The biggest issue with Luis, like many of these guys, is consistency. That's a skill like anything else and it's hard to master, but we expect another huge step forward from him next year."
Designated hitter -- Kyle Waldrop, Arkansas (109 games), Tacoma (13 games): Waldrop produced one of the finest all-around seasons of his Minor League career in 2017. The 26-year-old outfielder/first baseman spent a majority of the year in Arkansas, where he earned a spot on the Texas League midseason All-Star squad. He was also named Texas League Player of the Month for July en route to hitting .296/.363/.428 with 40 extra-base hits and 74 RBIs in 122 games between Double-A and Triple-A.
Like Marlette, he became a free agent last month.
Right-handed starting pitcher -- Nick Neidert, Modesto (19 starts), Arkansas (six starts): Neidert cemented his prospect status with a sterling 2017 campaign. The Mariners' second-round pick in the 2015 Draft established career highs across the board this past season, finishing 11-6 with a 3.45 ERA and 122 strikeouts in 127 2/3 innings between Class A Advanced and Double-A. Despite pitching barely half the season in the California League, the 21-year-old was named the circuit's Pitcher of the Year after going 10-3 with a 2.76 ERA and 1.07 WHIP in 19 starts.
"No matter what your definition of 'dominate' is, Nick did it," McKay said. "And he did it in the Cal League as a 20-year-old, pitching above his age level-wise. To be honest, what he did with Modesto was really hard to believe, all things considered. He got his promotion to Double-A and definitely needed to make some adjustments before he got shut down late in the year. He's a wonderful kid who's a true leader on the field and an impact guy in the clubhouse. Nick's very representative of what we think it means to be a Mariner, and we're excited about his future."
Not excited enough, however, to resist a shot at signing Ohtani. Neidert was one of the prospects dealt to the Marlins on Thursday in return for speedster Dee Gordon -- and perhaps more importantly, $1 million in international bonus pool money.
Left-handed starting pitcher -- Anthony Misiewicz, Modesto (16 starts), Arkansas (seven starts): The 23-year-old southpaw began the season with Modesto, but after winning five games and fanning 85 batters in 78 innings, he was promoted to Arkansas and made seven more starts there. Misiewicz went 8-5 with a 4.73 ERA in 23 combined starts in the Mariners system in 2017 before he was dealt to the Rays on Aug. 6. His 117 strikeouts over 119 1/3 innings tied for the third-highest total in the organization.


Relief pitcher -- JP Sears, Clinton (10 games), Everett (seven games): The 21-year-old's contributions to the Mariners organization lasted all of 17 games, but what a debut it was. Seattle's 11th-round pick in June's Draft, Sears posted a miniscule 0.65 ERA across two Minor League levels to begin his professional career. The South Carolina native held opponents to a .138 average, and he struck out a whopping 51 batters in 27 2/3 innings for a rate of 16.7 whiffs per nine. Sears was dealt to the Yankees on Nov. 18 in exchange for pitcher Nick Rumbelow, who is now the Mariners' 24th-ranked prospect.
Michael Avallone is a contributor to MiLB.com. Follow him on Twitter @MavalloneMiLB.