Boggetto extends hit streak to 7-for-7
Nats infield prospect perfect at plate in last two Suns games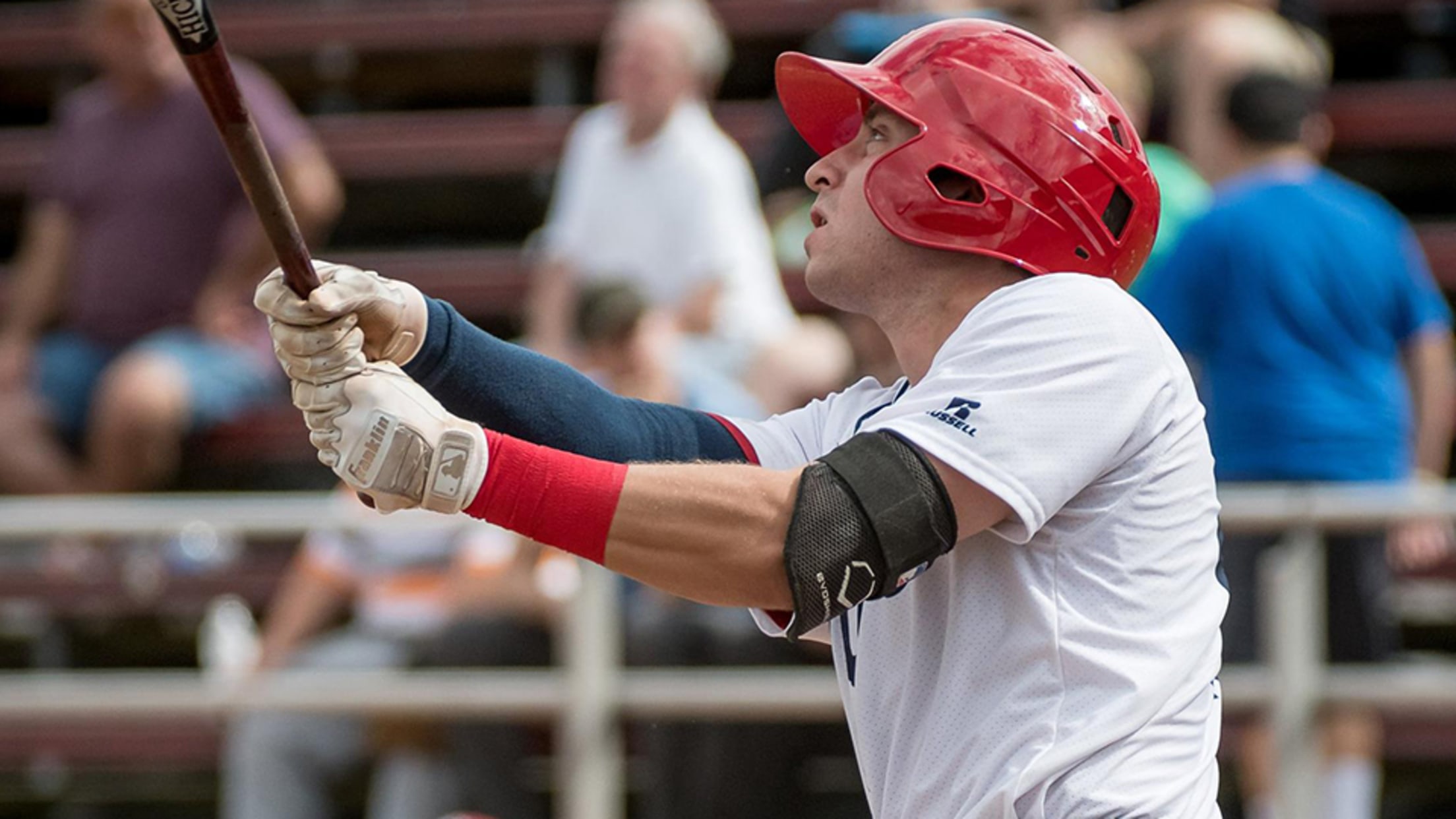 Branden Boggetto is hitting .480 this season, his first full year in the Sally League. (John Slick/Hagerstown Suns)
When Class A Hagerstown manager Patrick Anderson walked into the cluhouse Wednesday and saw Branden Boggetto's haircut, he did a double take. After all, why would the Washington infield prospect cut his locks after going 4-for-4 in his last game? "He had a little big league flow going on. He trimmed
When Class A Hagerstown manager Patrick Anderson walked into the cluhouse Wednesday and saw Branden Boggetto's haircut, he did a double take. After all, why would the Washington infield prospect cut his locks after going 4-for-4 in his last game?
"He had a little big league flow going on. He trimmed it pretty close and that kind of threw us off a little bit," Anderson said. "Because he was swinging the bat so well."
Ignoring superstitions didn't affect Boggetto's swing one bit.
Gameday box score
The 2016 25th-round pick went 3-for-3 with a home run in Class A Hagerstown's 3-2 extra-inning loss to Lakewood in the second game of the doubleheader at Municipal Stadium. That outing came on the heels of Boggetto's 4-for-4 night with a triple, two RBIs and two runs in the Suns' 9-1 win over the BlueClaws on Monday.
"He's seeing the ball well, and knock on wood, he keeps it going," Anderson said. "He's aggressive and his plate discipline is very good. He's hitting the pitches where they're thrown and not trying to do too much. That's all the basic parts about hitting at any level, and he's doing a great job. He doesn't overthink and he'll take walks. He's a team player."
Boggetto has played in only eight games for Hagerstown this season, but he's made the most of it, hitting .480 with a 1.280 OPS. It's made Anderson's job tougher in the best possible way.
"It's very difficult to not put him in the lineup," the skipper said. "He does great against both right-handers and left-handers, so it's been a treat to watch him and hopefully he can keep it going."
A right-handed hitter, Boggetto has sprayed the ball all over the field during the stretch. Of his seven consecutive hits, three went to center, two to right, one was smoked to left and one was an infield hit.
The 24-year-old batted .313/.363/.404 over 41 games for Class A Short Season Auburn last season before earning a promotion to Hagerstown. Boggetto posted a .231 average and an .545 OPS in 15 games in his first taste of the South Atlantic League. He hit .280/.328/.411 in his first professional season in the Gulf Coast League.
A four-year starter at shortstop in college, Boggetto has carved out his niche as a utility infielder and can even play first base in a pinch for Hagerstown. The proficiency at all infield spots has augmented his value in the Nats system.
"He's got a lot of tools in his bag," Anderson said. "It opens up a lot of opportunities for him to get a chance and an opportunity to play as much as he can. Having that mobility and having that range and having that wide variety will always help on a club. At any level."
Ramon Rosso (1-0) allowed two hits and two walks while fanning to six over six innings as the BlueClaws won the opener, 5-0. Kevin Markham and Colby Fitch homered in the nightcap to complete the sweep.
Josh Horton is a contributor to MiLB.com. Follow him on Twitter @joshhortonMiLB