Dulin tallies three homers over twinbill
White Sox prospect reaches career season-high with 10 dingers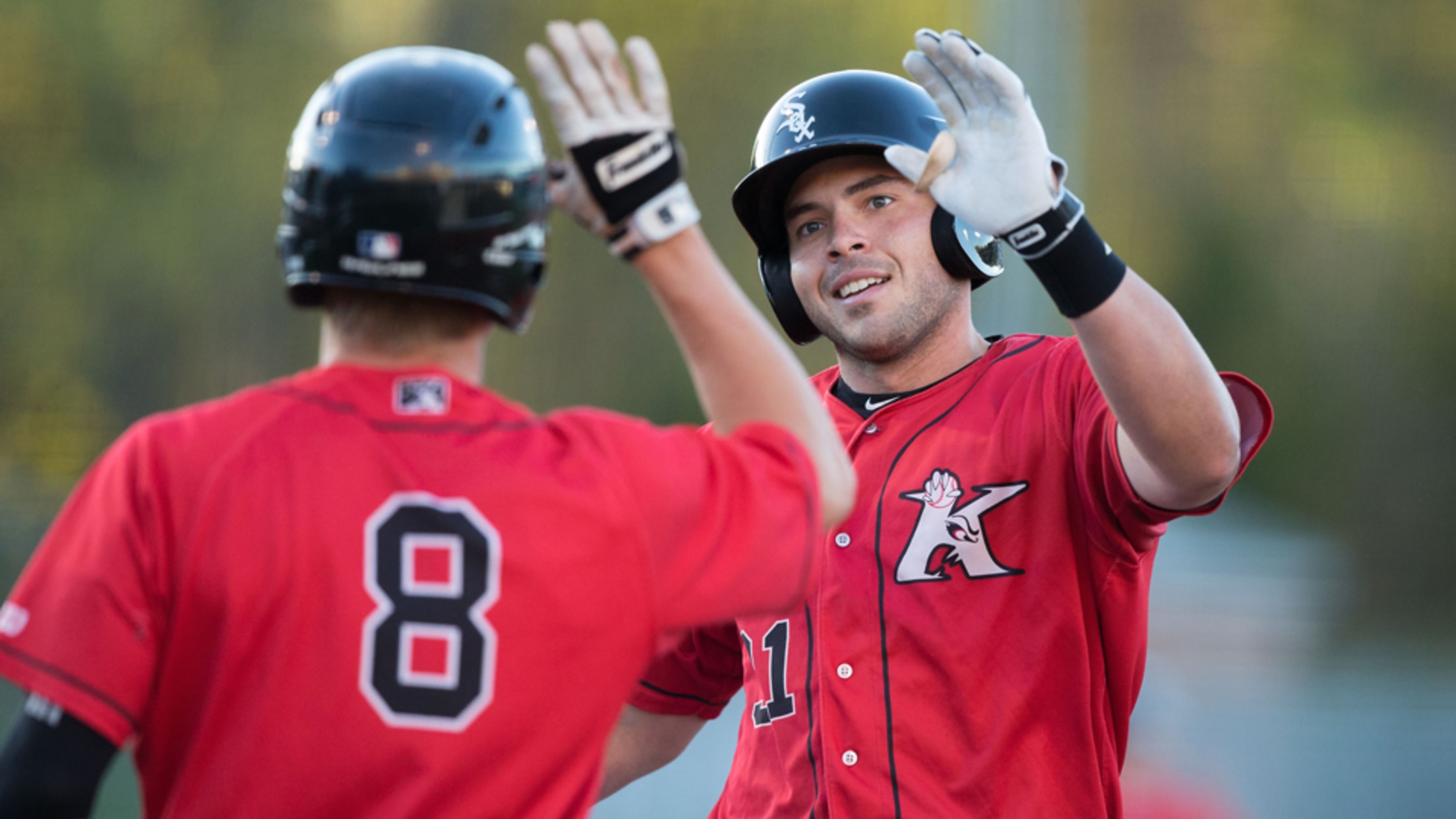 Brandon Dulin has collected 36 home runs over 290 Minor League games since turning pro in 2013. (Brian Westerholt/Four Seam Images)
With the Class A South Atlantic League's first half coming to an end Sunday and fewer than two games separating the top three teams in the Northern Division, Kannapolis' Brandon Dulin picked a great time to catch fire.The White Sox infield prospect cracked three home runs during Wednesday's doubleheader, going
With the Class A South Atlantic League's first half coming to an end Sunday and fewer than two games separating the top three teams in the Northern Division, Kannapolis' Brandon Dulin picked a great time to catch fire.
The White Sox infield prospect cracked three home runs during Wednesday's doubleheader, going 1-for-3 with a solo shot in the Intimidators' 4-1 win over the first-place Suns in the opener. In Game 2, he went 2-for-3 with two homers, a walk and three RBIs in a 10-1 romp.
"We're just trying to go out there and win a couple ballgames," Dulin said. "It's been a real close race with Hagerstown, us and Greensboro, so it's great that we were able to get those two wins.
"I was just trying to compete. I felt like I was seeing the ball well and I put a few good swings on the ball."
Acquired from Chicago by Kansas City in a March 19 trade for a player to be named later or cash considerations, the 2013 12th-rounder is batting .251/.340/.435. His big afternoon gave him 10 homers this year, matching his career high for a single season, set in 2015 between Rookie-level Burlington and Idaho Falls.
"I'm blessed to get the opportunity," Dulin said. "One of the things is this team, the staff and my teammates, they've done a great job accepting me in. I didn't come into any awkwardness or anything like that. They're great guys to play with."
The left-handed hitter entered the twinbill on an 0-for-10 skid over the previous two games.
"It always feels good to shake those off," he said. "You have to just stay with your approach and trust yourself. Some days are going to be 0-fers, but then some days, are going to be good days."
Down in the count 0-2 against Sterling Sharp in the second inning of the opener, Dulin swatted one over the right-field wall. When he went yard to right again in the first inning of the nightcap -- this time with a man on, to cap a three-run frame against A.J. Bogucki -- he'd already forgotten about the previous one.
"I didn't think too much about it, because I was thinking more of the situation," he said. "I was happy to get a good swing on the ball and see it get out, because I wanted to help the team win."
Leading off the third, the Missouri native pulled the first pitch Bogucki threw out of the yard.
"When he gave me a pitch up over the plate and I swung, it was like, 'OK, I got ahold of that one,'" he said, "but I didn't realize anything until I got back to the dugout and all my teammates were like, 'You've hit three bombs today.'"
After grounding out against Kyle Simonds in the fourth, Dulin realized he "rushed things a little bit in that at-bat." That helped him to hang tight for a four-pitch walk off Simonds in the sixth.
"In the [fourth-inning] at-bat, they gave me nothing over the plate to hit," he said. "so I assumed that's what they were going with, just trying to hit the corners."
Micker Adolfo, Chicago's No. 21 prospect, collected one hit in three chances in the first game and doubled, scored three times and plated a run in the second.
Jimmy Lambert (7-1) allowed an unearned run on seven hits while striking out five over 6 1/3 innings for the win in Game 1. Kelvis Valerio (1-0), making his first start on the circuit after pitching for Triple-A Charlotte and Class A Advanced Winston-Salem this year, held Hagerstown to two hits while fanning three over five scoreless innings to notch the Game 2 victory.
Josh Jackson is a contributor to MiLB.com. Follow and interact with him on Twitter, @JoshJacksonMiLB.