Braves defeat BayBears 9-4
Demeritte, Franco shine in sluggers' showcase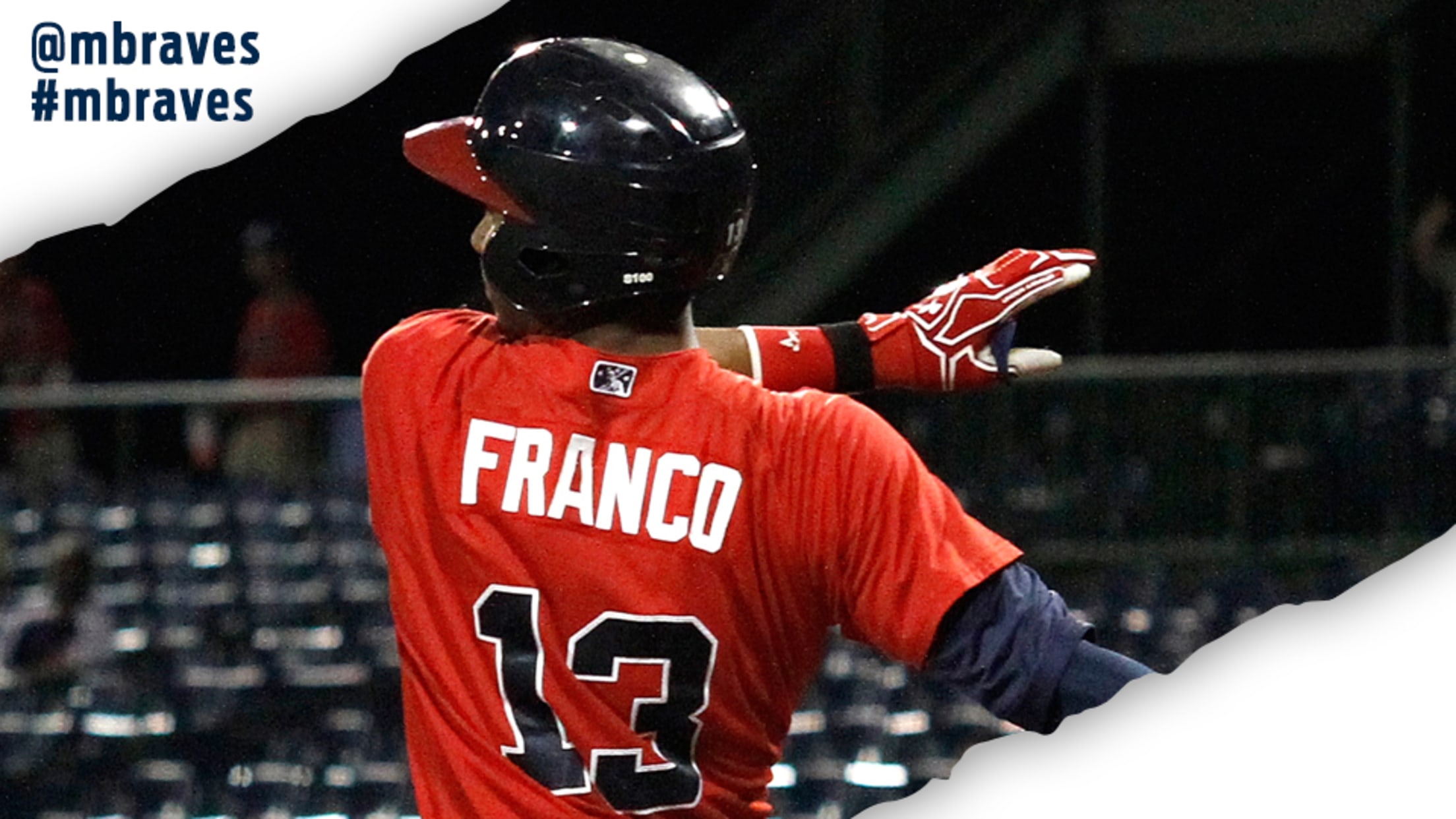 PEARL, MS -- A minor league baseball season is a long journey of ups and downs, ebbs and flows of momentum that come and go as quickly as a summer shower. The Mississippi Braves (16-15) are enjoying one of those highs following a 9-4 victory in game one of a five
PEARL, MS -- A minor league baseball season is a long journey of ups and downs, ebbs and flows of momentum that come and go as quickly as a summer shower. The Mississippi Braves (16-15) are enjoying one of those highs following a 9-4 victory in game one of a five game set against the visiting Mobile BayBears (12-19) at Trustmark Park. The M-Braves have now won five of six games over the last week to regain a share of first place in the Southern League South Division with Pensacola (16-15).
Although the offense was the highlight for Mississippi today, it was starter Patrick Weigel (3-0) who gave the M-Braves a chance to stay in the ballgame despite two early defensive mistakes that led to Mobile runs. The right-hander overcame two errors that scored one unearned run to post five solid innings of work, scattering five hits and three runs, two earned, to go along with eight strikeouts in the victory.
The BayBears scored the first three runs of the game in the second and third innings to take a 3-0 lead. In the second, Weigel's only walk came around to score on a misplayed pickoff attempt by Luis Valenzuela at third on a steal by Josè Briceño. In the third, a throwing error by Kade Scivique on a double steal allowed one run to score, but two straight singles plated the third run. After that, the righty settled in and stranded a runner in the fourth and fifth to keep the game tied at three until the home half of the fifth, when the M-Braves took the lead for good.
Offensively, the M-Braves brought the big wood to Pearl Monday night, collecting three extra-base hits on the night. Travis Demeritte led the way at the plate, going 3-for-5 with a single, double and a home run as well as two RBI and two runs scored. Keith Curcio, Valenzuela, Scivique and Carlos Franco each added two hits to the tally. Levi Hyams, who was recently activated off the disabled list, picked up his first hit of the season to go along with his first two RBI.
Down 3-0 entering the bottom of the third, a two-out rally started with a Curcio single to center, followed by an RBI single to right by Valenzuela. Two pitches later Demeritte erased the deficit with a two-run blast to the left-center, his second of the year. The M-Braves tacked on two more singles before stranding them to end the inning tied 3-3.
Mississippi added single runs in the fifth and sixth to take a slim two-run advantage into the last three innings of play, before exploding again in the seventh for four more runs on four hits, including a double and Franco's seventh home run, tied for best in the Southern League, to take a commanding six-run lead with only six outs left.
Mobile added a run in the eighth, but it was too little too late, as the M-Braves took game one in convincing fashion. Starter Alex Klonowski (1-2) took the loss for Mobile in five innings of work. The series continues Tuesday at 7:00 PM CT on 103.9 fm or wyab.com.
Mississippi: 9-12-2
Mobile: 4-8-1
WP: Weigel
LP: Klonowski
Attn: 1,517
Time: 2:47