Acuña, Senzel take talents back to Minors
Top Braves prospect hit .432; Reds counterpart tried new position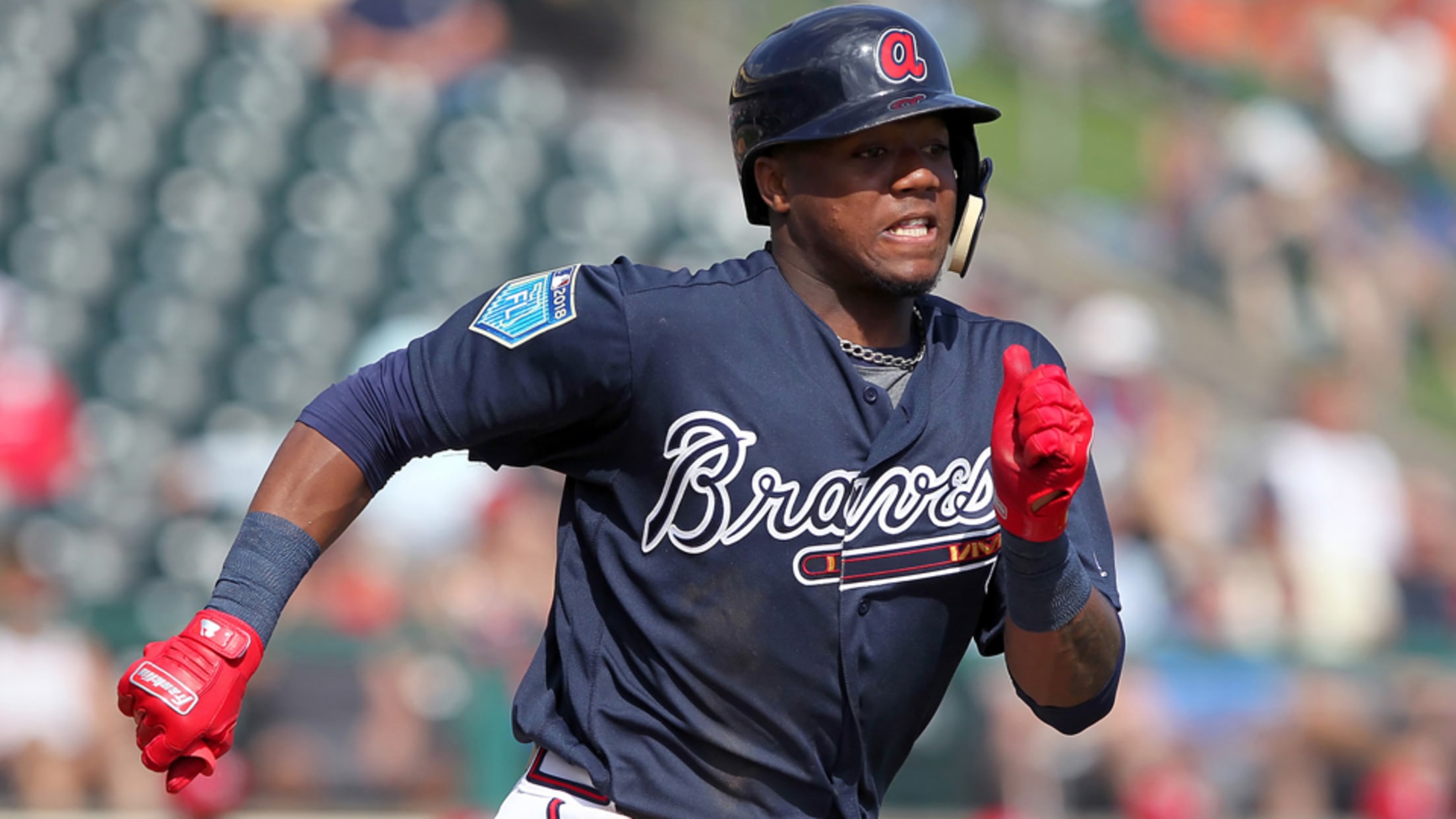 Ronald Acuña Jr. tallied a 1.247 OPS in 16 Spring Training games with Atlanta. (Cliff Welch/MiLB.com)
Ronald Acuña Jr. may be ranked as the No. 2 overall prospect in baseball, but this spring, he played like No. 1.Now he'll put on the finishing touches back in the Minor Leagues, though, as the Braves reassigned the outfielder Monday. Meanwhile, No. 7 overall prospect Nick Senzel will continue
Ronald Acuña Jr. may be ranked as the No. 2 overall prospect in baseball, but this spring, he played like No. 1.
Now he'll put on the finishing touches back in the Minor Leagues, though, as the Braves reassigned the outfielder Monday. Meanwhile, No. 7 overall prospect Nick Senzel will continue honing his game in the Reds system after heading back to Minor League camp.
"Right now, it's just go down and play and get in a routine," general manager Alex Anthopoulos told MLB.com of the plan for Acuña. "He's obviously looked very good. We just want him to get into the flow, keep doing what he was doing and he'll find his way back here, hopefully very soon."
During his time in the Grapefruit League, Acuña topped most Minor Leaguers, hitting .432 with four homers and 11 RBIs in 16 games. Showing off his plus plus speed, the 20-year-old swiped four bases in four attempts. Acuña also didn't make a single error in 15 contests split between left and center.
Over the past three seasons, the Venezuela native has only gotten better. In 2017, Acuña topped the system with a .325 average, 82 RBIs and 44 stolen bases across Class A Advanced Florida, Double-A Mississippi and Triple-A Gwinnett. He and Carlos Franco topped all Braves Minor Leaguers with 21 jacks.

"Our priority is, what's best for Ronald Acuña's development?" Anthopoulos told the site. "What's best for Mike Soroka's development? Ultimately, we still have a responsibility to the Braves to put the best team out on the field. But the No. 1 priority is going to be the player development of each player, because we want them when they're up here to stay up here. We want them to have long, productive and healthy careers."
With top overall prospect Shohei Ohtani slated to go straight to the Majors, Acuña should take over his slot shortly. Though if the top Braves prospect keeps playing the way he has, it won't be long before he joins the two-way player in The Show.
Atlanta also sent No. 16 prospect Dustin Peterson, catcher Rob Brantly infielder Christian Colón and pitchers Josh Graham and Miguel Socolovich to Minor League camp.
As for Senzel, the top Reds prospect got his first extended look at big league camp. The 22-year-old hit .286 with a pair of doubles and three RBIs in 15 games.
"As far as strike zone discipline, his feel for the game, his instincts on the bases, everything to me was really, really good," Reds manager Bryan Price told MLB.com. "It was an outstanding effort in everything he does, from his early work to his game prep to his game intensity to how he runs the bases. Nobody here is disappointed at all in any part of his game. Now it's a matter of getting the reps in that he's not going to be able to get here."
With third baseman Eugenio Suárez signing a seven-year deal with Cincinnati, Senzel worked on becoming more versatile this spring. The 2016 first-round pick out of the University of Tennessee stepped away from the hot corner for the first time in his career and played 10 games at shortstop, making just one error while turning five double plays. Senzel will also see time at second when he heads to Triple-A Louisville.
"He's got to be ready to play any place but first base if we have an injury or setback," Price told the site.
Senzel started his first full season with Class A Advanced Daytona before getting the call to Double-A Pensacola a week before his birthday in June. At the higher level, the Atlanta native continued to showcase his well-above-average hitting with his numbers only getting better. In total, Senzel batted .321 with 14 home runs and 49 RBIs.
Kelsie Heneghan is a contributor to MiLB.com. Follow her on Twitter @Kelsie_Heneghan.