Favre protégé McCarty masters new level
In first Hillcats start, Indians lefty hurls shutout ball for six innings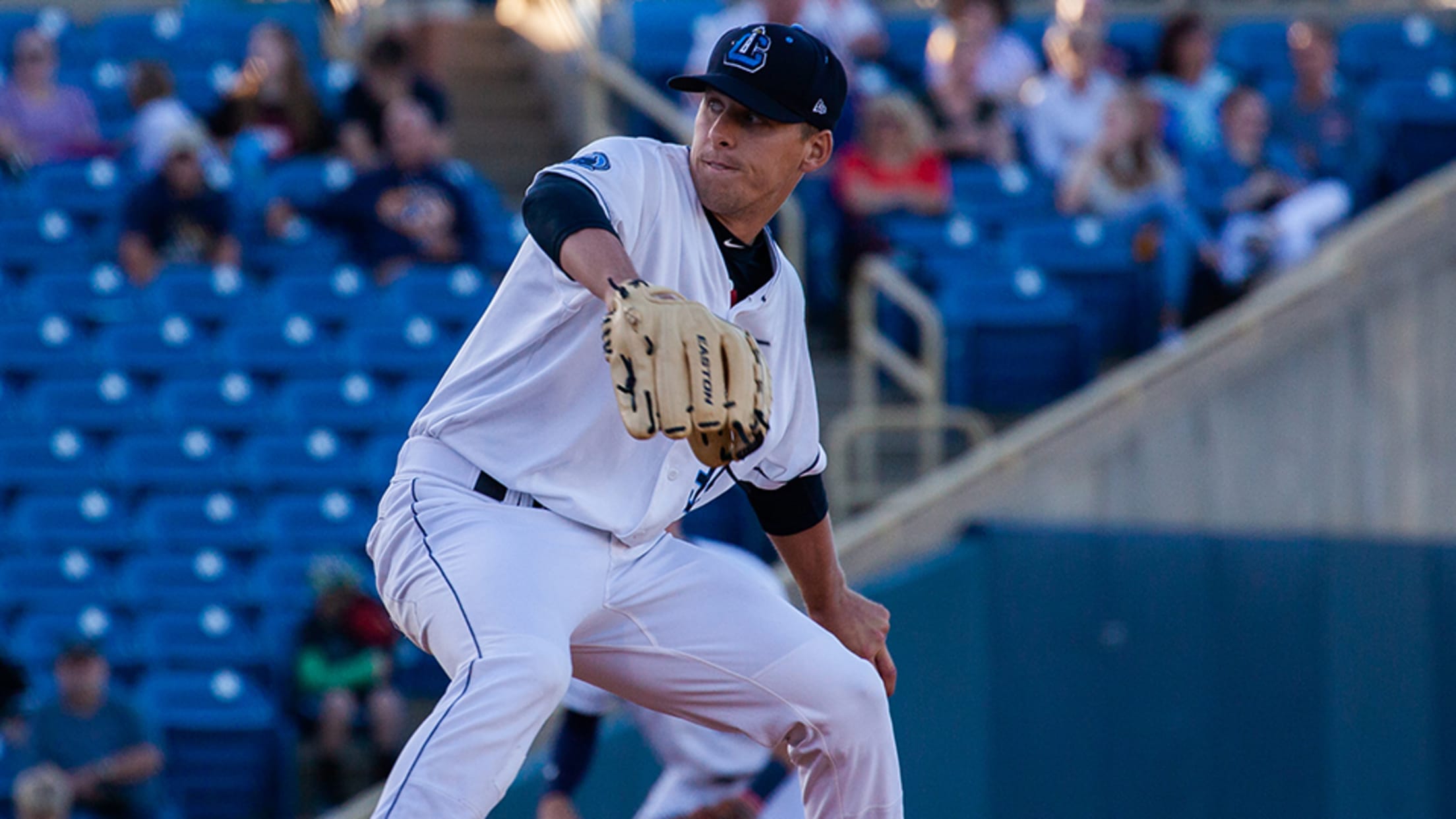 Kirk McCarty went 4-9 with a 4.29 ERA in the Midwest League prior to his promotion. (Alicia Falorio/Lake County Captains)
After having Brett Favre for an offensive coordinator as a high-school quarterback in Mississippi, Kirk McCarty wasn't fazed by his Carolina League debut Sunday.The left-handed Indians prospect hurled six shutout innings, allowing just two hits and one walk with six strikeouts in Class A Advanced Lynchburg's 2-1 win over Down
After having Brett Favre for an offensive coordinator as a high-school quarterback in Mississippi, Kirk McCarty wasn't fazed by his Carolina League debut Sunday.
The left-handed Indians prospect hurled six shutout innings, allowing just two hits and one walk with six strikeouts in Class A Advanced Lynchburg's 2-1 win over Down East at Calvin Falwell Field.
Gameday box score
McCarty didn't encounter much trouble in his first appearance since being promoted from Class A Lake County. After allowing a single in the third inning to top Rangers prospectLeody Taveras, the 22-year-old retired the final 10 batters he faced.
Though he's been at the new level only three days, McCarty quickly noticed the difference.
"I felt like hitters had more of a plan at the plate," he said. "It made pitch selection easier. Guys here don't chase mistakes and they have a better approach. I got close to my pitching coach at low-A, Joe Torres, and it was just what he said it would be. It's cool to see it play out that way."
The Southern Mississippi product utilizes a four-pitch mix, but is not overpowering. McCarty said his changeup and curveball have been the pitches he's worked on most, tweaking them since turning pro.
"I've made a lot of adjustments, especially in Lake County, on pitch design," he said. "I've made the change more like my fastball. The changeup I switched from a two-seam to a four-seam, and the breaking ball, it used to kind of roll up there in the zone and now has more bite. It's crazy how easy it was for (Torres) to see and change it."
McCarty commands his pitches, averaging just 2.6 walks per nine as a pro, very close to his 2.4 walks ratio in college.
He said his college experience helped ease his transition to pro ball somewhat, but said pitching in the Minor Leagues can be very distinctive depending on the level.
"I think it's a lot different from college, where guys have a detailed scouting report. In college it's about scoring runs and winning games," McCarty said. "In short-season, guys are so banged up, they're just trying to get through the season. In-low A, it's so much about development and not about hitters' plans. It felt almost like not a step back, but a different mind-set. It makes you adjust how you pitch."
The Hillcats struck first in the bottom of the fifth inning against Wood Ducks right-hander Jason Bahr. Jose Medina walked to begin the frame, and with two outs, Li-Jen Chu roped a double to left-center field to score Medina.
Down East tied the game in the seventh after McCarty was replaced by Jared Robinson (4-3). Andretty Cordero homered with two outs.
Lynchburg grabbed the lead for good in the seventh. Medina singled, moved to second on a bunt and to third on a passed ball. Then Trenton Brooks singled to drive him.
Dalbert Siri picked up his 11th save with an immaculate inning, striking out the side on nine pitches in the ninth.
The Hillcats swept the series with McCarty's successful debut. The two-sport star at Oak Grove High in Hattiesburg, Mississippi -- Favre's hometown -- was lucky enough to be under the tutelage of the Hall of Fame quarterback.
Although he's just 5-foot-9 -- two inches shorter than Drew Brees, he noted -- McCarty threw for more than 4,000 yards and 44 touchdowns during his senior year.
"It was pretty awesome," McCarty said of having Favre for a coach. "For us, he was always around, even before he was OC. It was funny, he became just another one of the guys. And when (then-Browns QB) Colt McCoy came down to learn the West Coast offense (from Favre) after we got done with practice, about 50 guys lined up for McCoy's autograph, and Brett was just standing there with his hands in his pockets."
Still, Favre had a big hand in McCarty's future.
"He was a big influence on my football career," he said. "I was always a baseball guy, but that year I allowed myself to fall in love with football. Once I let myself love football, I had about as much fun on a field that year as ever."
But McCarty knew his sports future was not going to be on the gridiron.
"I'm 5-9 on a good day, and it's hard to see over a big offensive line at that height."
Vince Lara-Cinisomo is a contributor to MiLB.com. Follow him on Twitter @vincelara.