Morales pitches Yankees into GCL Finals
Back from Tommy John surgery, righty spins five one-hit innings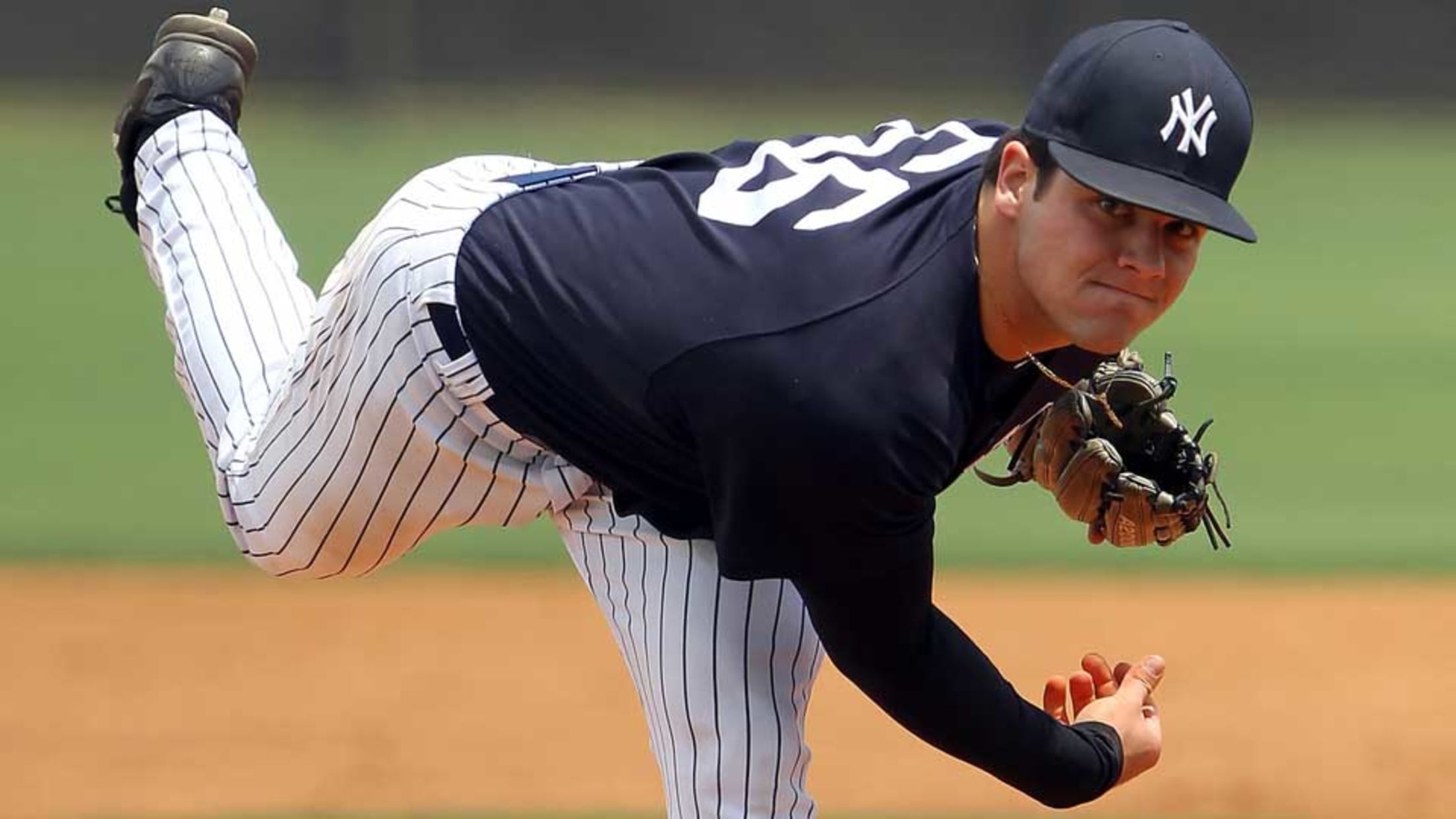 Brett Morales held Gulf Coast League foes to a .171 batting average in four starts. (Cliff Welch/MiLB.com)
A year ago, Brett Morales was just trying to get back on the mound. Now, he's pitching his way toward a championship.The New York prospect gave up one hit over five innings on Sunday afternoon as the Yankees East blanked the Phillies, 4-0, to advance to the Gulf Coast League
A year ago, Brett Morales was just trying to get back on the mound. Now, he's pitching his way toward a championship.
The New York prospect gave up one hit over five innings on Sunday afternoon as the Yankees East blanked the Phillies, 4-0, to advance to the Gulf Coast League Finals.
Box score
"I felt really good. It's been a long rehab season for me, so it was good to finish strong," Morales said. "These guys have worked hard the whole season. Unfortunately, I didn't get to play the whole season with them, so it was nice to help them get to the Finals, with all the hard work they've had this year."
After transferring from the University of Florida to the University of Tampa in 2015, Morales (1-0) underwent Tommy John surgery in February 2016. A month after going undrafted, the right-hander signed with the Yankees on July 7, 2016.
For the next year, Morales rehabbed his elbow, dealt with a minor scar tissue setback and a back injury until he was able to make his professional debut on Aug. 10. In four regular-season starts this year, the Tampa native posted a 0.93 ERA with 13 strikeouts and one walk over 9 2/3 innings.
"A lot of ups and down, I had a couple injuries … so I was happy to get a handful innings toward the end of the season," he said. "[I was] just pounding the zone, throwing a lot of strikes, mixing my pitches well and pitching to contact, mainly."
Inducing six groundouts on Sunday, Morales was almost perfect. The only baserunner he allowed was Quincy Nieporte, who hit a leadoff single in the second.
"I was able to mix my pitches," he said. "[The Phillies] were pretty aggressive, so I was mainly just trying to pitch to contact and mix it up a little bit and keep them off-balance, and it worked well."
First baseman Nelson Alvarez slugged a solo homer in the sixth, while Canaan Smith and Raymundo Moreno each plated a run.
The Yankees will face the Nationals in the best-of-3 GCL Finals beginning at noon ET on Monday at George M. Steinbrenner Field in Tampa.
Complete playoff coverage
In other playoff action:
GCL Nationals 4, GCL Twins 0: Right-hander Tomas Alastre (1-0) produced his second straight scoreless outing for the Nats. The 19-year-old worked around four hits by striking out four over a career-best six frames. Sean Adler yielded one knock and fanned three over the final three innings for the save. Nationals No. 8 prospectYasel Antuna drove in two runs. Box score
Kelsie Heneghan is a contributor to MiLB.com. Follow her on Twitter @Kelsie_Heneghan.