Hader striking a balance with Sky Sox
Brewers No. 3 prospect takes one-hitter into seventh inning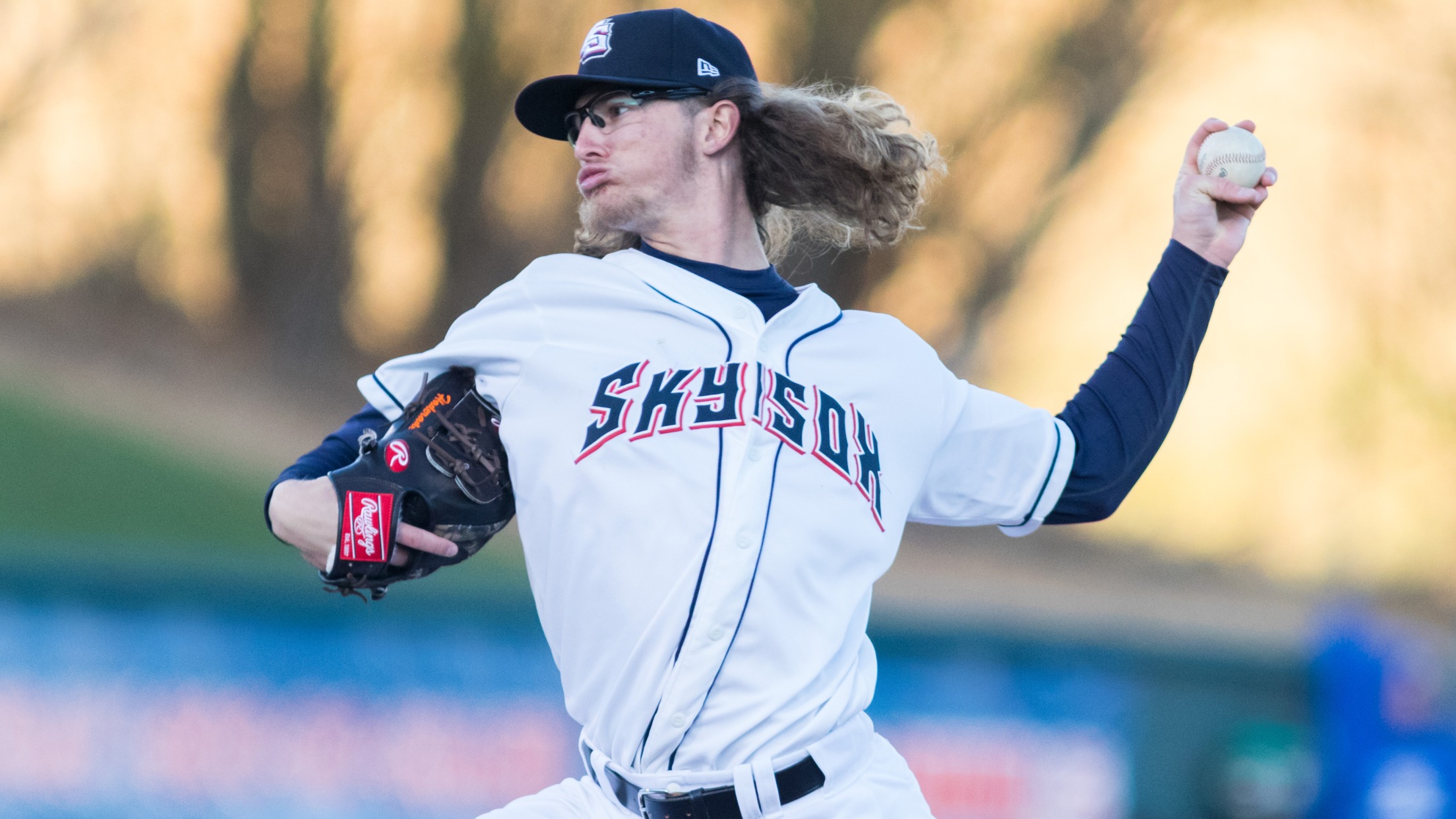 Josh Hader retired all 10 Nashville batters to which he threw a first-pitch strike Sunday. (Bobby Stevens/MiLB.com)
While the idea of a consistent mix may seem like a bit of an oxymoron, it's the idea behind the plan that has brought Triple-A Colorado Springs southpaw Josh Hader success this season.MLB.com's No. 35 overall prospect allowed one run on one hit over six-plus innings on Sunday as he pitched the Sky
While the idea of a consistent mix may seem like a bit of an oxymoron, it's the idea behind the plan that has brought Triple-A Colorado Springs southpaw Josh Hader success this season.
MLB.com's No. 35 overall prospect allowed one run on one hit over six-plus innings on Sunday as he pitched the Sky Sox to a 5-1 victory over Nashville at First Tennessee Park. Hader struck out five and issued four walks.
Box score
"My fastball was there today, that was one of my biggest things coming into the game -- making sure I was able to command that," he said. "The command there was helping me with my secondary pitches. I was able to throw those as well for strikes, so it was just more of the mix and just being consistent."
In three starts this season, the Brewers' third-ranked prospect is 2-1 with a 2.57 ERA and 11 strikeouts against 11 walks over 14 innings. Hader threw first-pitch strikes to 10 of the 21 batters he faced on Sunday, retiring all 10.
"If you can be ahead in any count with any hitter, it works to your advantage," Hader said. "It's easier to pitch ahead in the count than it is behind. It just opens up the zone and you're able to pitch more off your pitches than being a one-pitch pitcher."
Hader cruised through two frames before dealing with a little adversity. He walked Ryan Lavarnway to start the third but got the next batter, Kenny Wilson, to bounce into a double play. Melvin Mercedes also walked and advanced to second on an errant pickoff attempt by Hader, who struck out A's top prospectFranklin Barreto to end the inning.
Barreto was 0-for-3 with a pair of strikeouts against the 23-year-old left-hander.
"To the lefties, it was the slider and to the righties, it was the changeup," Hader said of his game plan late in the count. "Being able to throw them over the plate and getting guys to chase after them, that's what I'm looking for. And even if I do get weak contact, my job is being able to keep these hitters off-balance and not let them get too comfortable."
Hader worked around a hit and a walk in the fourth and another walk in the fifth before pitching a 1-2-3 sixth. Chris Parmelee drew another base on balls leading off the seventh, ending Hader's outing after 89 pitches.
Right-hander Stephen Kohlscheen gave up back-to-back singles to Lavarnway and Wilson that produced the Sounds' lone run.
Hader's first experience with Colorado Springs last year was a difficult one. He went 1-7 with a 5.22 ERA in 14 starts, issuing 36 walks over 69 innings.
"I think I'm a little bit more comfortable with the hitters [in Triple-A] -- these guys know what their plan is when they come up to bat. It's something that I had to prepare myself for," the Maryland native said. "I just have a game plan here and I just work with that and if it goes off course, being able to adjust and continue in my games and my strengths."
Despite Hader's struggles at the Minor Leagues' highest level last season, he ranked fourth in the Minors with 161 strikeouts, averaging 11.5 per nine innings. His total has dipped this year, but it's not a statistics that Hader wants to impact his approach.
"My job is to get as deep as I can and keep our team in the game. Any early outs or anything I could do to save the pitch, that's what I'm going to try and do," he said. "I'm not trying to strike everybody out because that's when the pitch count starts jumping up, so if the opportunity is there, I'm going to take it. But I'm just trying to get double play balls and early contact."
Brewers No. 10 prospect Brett Phillips was 3-for-5 with an RBI, raising his batting average to .278. Top prospect Lewis Brinson doubled, singled and scored a run for the Sky Sox.
Gerard Gilberto is a contributor to MiLB.com. Follow and interact with him on Twitter, @GerardGilberto4.