Ortiz fires five no-hit frames for Shuckers
Brewers No. 4 prospect stymies M-Braves in 6-3 Biloxi victory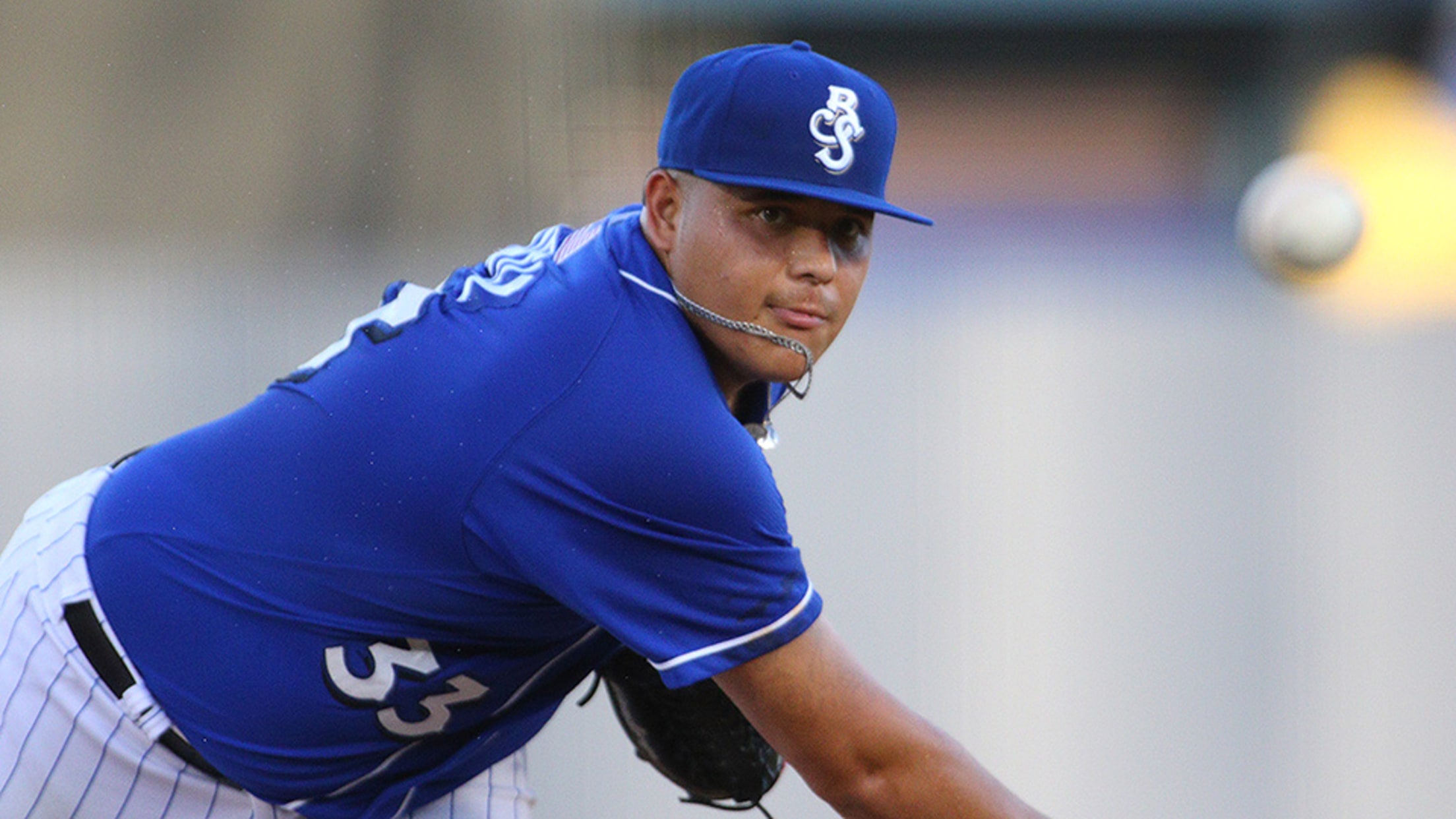 Luis Ortiz's 0.97 WHIP ranks seventh among qualifying Southern League pitchers. (Biloxi Shuckers)
Biloxi right-hander Luis Ortiz was roughed up for five runs in his first start of the season on April 9. Since then, he's allowed five runs in six starts covering 31 innings.The 21-year-old Brewers prospect continued his torrid streak Tuesday, holding visiting Mississippi hitless over five scoreless frames in the
Biloxi right-hander Luis Ortiz was roughed up for five runs in his first start of the season on April 9. Since then, he's allowed five runs in six starts covering 31 innings.
The 21-year-old Brewers prospect continued his torrid streak Tuesday, holding visiting Mississippi hitless over five scoreless frames in the Shuckers' 6-3 win over the M-Braves. Ortiz, who did not earn a decision, walked three and struck out six while lowering his ERA to 2.57.
Gameday box score »
"The number-one thing for Ortiz in each start is his fastball command," said Biloxi pitching coach Chris Hook. "He's really tuned up his game as the season has gone along and executed well today."
Ranked as baseball's No. 54 prospect by MLB.com, Ortiz was acquired by the Brewers from the Rangers at the trade deadline last summer in the deal that sent Jonathan Lucroy to Texas. He made six late-season starts for Biloxi as a 20-year-old in 2016, going 2-2 with a sterling 1.93 ERA that masked a .280 opponents' average and 1.54 WHIP.
Ortiz's return to the Double-A Southern League has, with the exception of that first outing, been dominant. Tuesday marked his second start of five innings without yielding a hit -- he also stifled Pensacola on April 15 -- and he's held the circuit's batters to a .174 average.
"One of the great things about Luis is his game awareness," Hook said. "Today he had six strikeouts; last time, I think, he had one. If he needs a ground ball, he'll try to go get one. If he needs a strikeout, he'll elevate [the pitch] for one. He pitches to the game, which is how it should be done."
The California native has been even more stingy at Biloxi's MGM Park -- he now sports a 0.89 ERA and .121 BAA in four home starts covering 20 1/3 frames.
Offense was scarce for both teams early in today's game, with Mississippi starter Matt Withrow holding the Shuckers to just a pair of hits and two runs -- one earned -- in 5 1/3 innings. A hit-by-pitch, balk and bloop single scored Biloxi's first run in the second inning, but Ortiz lost his chance to improve to 3-3 when the M-Braves tied the game in the sixth.
The Shuckers responded with a run in the bottom of the frame -- Clint Coulter was hit by a pitch with the bases loaded -- added three in the seventh and plated a sixth run in the eighth on Javier Betancourt's third homer of the season.
Biloxi shortstop Mauricio Dubón singled twice, extending his hitting streak to 10 games and taking over sole possession of the Southern League hit lead with 47.
Withrow (1-2) took the loss for the M-Braves, while reliever Nick Ramirez (2-0) earned the win for Biloxi, which snapped a three-game skid.
John Parker is an editor for MiLB.com.