Brown's Canes & Spidale's Bulls Set to Rival on Friday
Former R-Phils Players Lead 13U Teams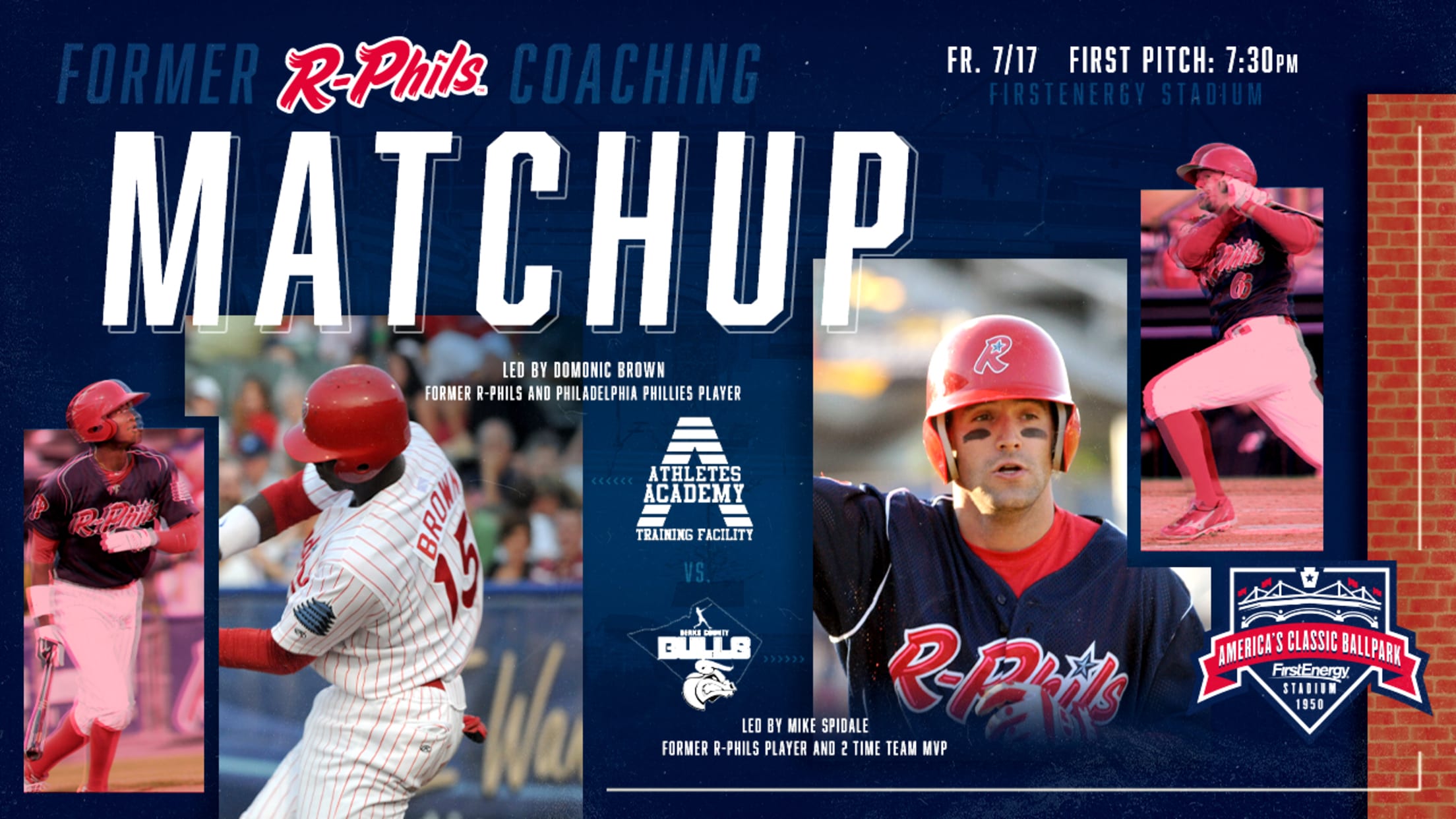 Domonic Brown and Mike Spidale are two R-Phils legends who still to this day consider Reading to be home. Although their time of playing ball for the Phillies has finished, both men stayed within the game. Now they will meet once again at FirstEnergy Stadium to square off, but this
Domonic Brown and Mike Spidale are two R-Phils legends who still to this day consider Reading to be home. Although their time of playing ball for the Phillies has finished, both men stayed within the game. Now they will meet once again at FirstEnergy Stadium to square off, but this time as the instructors of their 13U teams playing in the Rip It Baseballtown Charities Showcase. The game will begin at 7:30 and admission is free for all to attend.
Brown and Spidale were friends when they were R-Phils teammates back in 2009 & 2010 and they are still close today. It was actually Spidale who told Brown to enter his team in the showcase. The men are looking forward to exchanging lineup cards before the game and being out on the field together. "Dom is a really good friend of mine," Spidale said. "I love that he is giving back and teaching the great game of baseball close by. Dom goes about everything the right way." He also noted how nice it is to be able to bounce ideas off of each other about the sport and their teams.
Spidale is the head coach of the Berks County Bulls He also assists with lessons at Rip It Baseballtown Charities and R-Phils camps and clinics. Brown is now part owner of a sports training facility, Athletes Academy, and assists with lessons and their Canes baseball teams. The Academy is located in West Norriton with state-of-the-art equipment and a talented coaching staff.
The showcase supports Baseballtown Charities in an effort to help more kids play baseball and softball. Spidale has been involved at Rip It Baseballtown Charities since the facility opened its doors. He's available for lessons and coaching, but provides a lot more than just baseball assistance. Spidale noted that the game of baseball prepares kids with life skills such as "coachability, accountability, and work ethic." Brown reiterated that sentiment and noted the importance of teaching the mental strength and a solid approach.
Brown is enjoying working with kids at the Athletes Academy and helping them get to the next level. He said there is a lot of local talent in the area and he wants to give them a chance to play the game. This is what he loves so much about the mindset of Baseballtown Charities. Spidale appreciates the impact and community-mindedness of Baseballtown Charities. "The organization is a great provider and allows kids to have an opportunity they would not have otherwise had," Spidale said.
Both men enjoyed their time playing in Reading and appreciated all of the support they received along the way. Spidale and Brown noted what a great place it was to play as a minor leaguer. They know the organization is family and will always welcome them back. Friends and now coaching rivals, Spidale and Brown are excited to be at FirstEnergy Stadium on Friday. Brown wished Spidale good luck. "Win or lose," he said, "My team is going to go after them and it's going to be a lot of fun." Spidale agreed, "It's going to be a good time and we are going to go out there and let the boys play ball."
General Manager Scott Hunsicker shared his thoughts on the matchup. "One of the key elements that makes Baseballtown and the R-Phils so special are the relationships we are able to maintain with our alumni.," said Hunsicker. "We work hard to treat our players well when they are here playing with the R-Phils, and we work just as hard to maintain those relationships when they move on and become R-Phils alumni."
"It will be awesome to see Dom Brown and Mike Spidale standing on the field here at America's Classic Ballpark again. We first saw it when they were teammates, now we get to see it again as they give back to the game through their coaching. We are all looking forward to it."
Thank you to Deer Country Farm & Lawn, Inc., E.G. Smith, Inc, Abilities in Motion, Albright College, Stoney Creek Rentals, Comfort Pro Inc, Fleetwood Bank, and PSECU for sponsoring the action.