Getting to know the Herd: Bryan Baker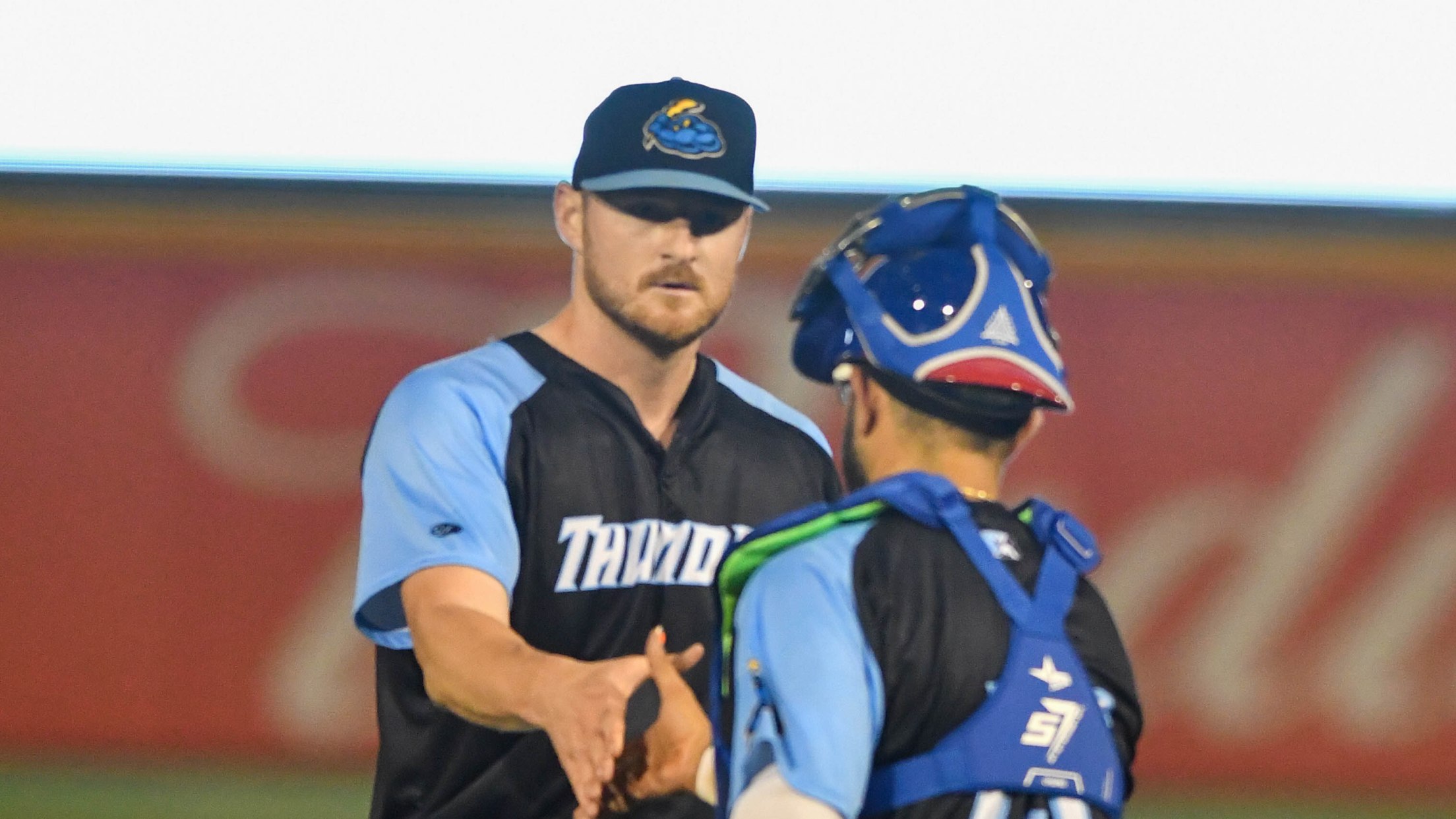 Bryan Baker has seven saves for the Bisons this season
As the ground ball rolled past the mound and into the mitt of his shortstop Kevin Smith who fired over to first for the last out of the game, closer Bryan Baker punched the palm of his glove and let out a passionate scream. From the looks of the righty's
As the ground ball rolled past the mound and into the mitt of his shortstop Kevin Smith who fired over to first for the last out of the game, closer Bryan Baker punched the palm of his glove and let out a passionate scream.
From the looks of the righty's intensity, the casual viewer would have thought Baker had escaped a tough ninth-inning battle in a one-run game that involved multiple runners-on-base.
But instead, the opposite was true.
Baker's appearance did not present a save opportunity and alternatively, the Buffalo Bisons had been in full command of the game all night with a 4-0 lead headed into the ninth and no signs of an offense coming from the Leigh Valley IronPigs.
To the casual fan, it may have seemed ridiculous for Baker to step the mound and throw with the same fire and the intensity he does in one-run games in a four-run shutout.
But while seeming excessive, Baker's constant fire and intensity have been what has made him great for the Bisons all year.
"You know every night is different, some nights you're going to get strikes when they are borderline or off the plate a little bit and sometimes you are not, but I think Baker goes out there and battles, like he has all year, and that has been what has made him great for our team," said Bisons' manager Casey Candaele.
A 11th round draft pick by the Colorado Rockies in 2011 and traded to the Toronto Blue Jays in 2018, 2021 has been Baker's first full season with Buffalo Bisons after making 18 appearances for them in 2019.
During his extended stay with Buffalo, Baker has approached every appearance with the same high-level intense spirit, and it has translated to him becoming the Herd's perennial closer.
Baker has collected seven saves in eight opportunities, third-most in Triple-A East, and posted a 1.12 WHIP in the eighth inning or later, second-best among pitchers with 19+ innings of work.
"When we go back on the field and Baker shuts them down and shows some emotion coming off and becomes like a dog, it shows we are right there in these games," said Smith.
Overall Baker has had a near-perfect season surrendering just four runs and 11 hits in 22 innings of work. He has led the team in ERA, 1.64 in 20+ innings, and in opponents' batting average, .141 in 20+ innings.
The righty has dominated batters using little deception and instead electing to attack hitters. Baker has thrown 60% of his pitches for strikes this season and posted team-low 4.47 pitches per at-bat among qualified pitchers.
In addition, Baker's phenomenal stats have anchored one of the best bullpens in Triple-A. Buffalo's relievers have combined for a 3.20 ERA, the third-lowest in Triple-A East.
As the season pushes on and the Herd nears its return to Sahlen Field, Baker has only continued to improve.
Baker began the season with a perfect month of May collecting two saves in two opportunities and allowing no runs over 9.2 innings but stumbled in June surrendering four runs over in 8.1 innings. Baker is back on a roll in July producing a perfect month thus far allowing no hits over four innings.
"The bullpen has picked us up a lot and has been stellar out there and really thrown a lot of great innings," said Candaele. "And you know Baker has been a big part of that."