Bryce Teodosio's Mad Dash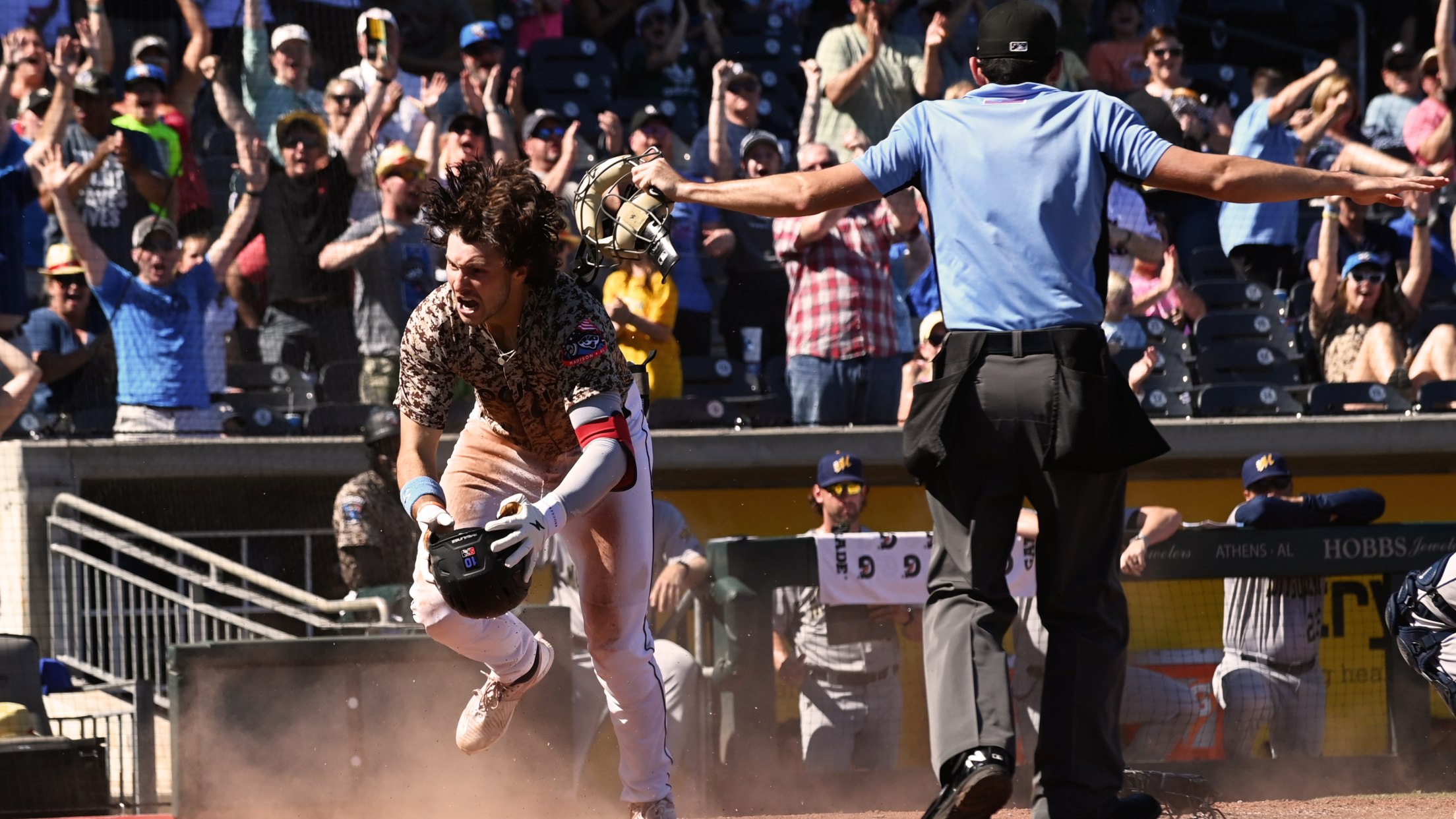 Bryce Teodosio's inside-the-park home run helped lead the Trash Pandas to the first-half title on June 19. (Cristina Byrne-Sternberg/Rocket City Trash Pandas)
Bryce Teodosio knew he hit it well. Watching Montgomery Biscuits right fielder Grant Witherspoon move back on the ball, Teodosio thought he had his ninth home run of the season to give the Trash Pandas a lead. But on Sunday, June 19 in a tie game with a chance to
Bryce Teodosio knew he hit it well. Watching Montgomery Biscuits right fielder Grant Witherspoon move back on the ball, Teodosio thought he had his ninth home run of the season to give the Trash Pandas a lead.
But on Sunday, June 19 in a tie game with a chance to clinch a playoff spot for the Rocket City Trash Pandas, the ball hit off the right field fence at Toyota Field. As the ball settled in right field, Teodosio turned on the jets.
Circling the bases as fast as he could for a first-place Double-A team is a long way away from where Teodosio was just a year ago, wrapping up his college career for Clemson. The goal of playing professional baseball was also put on hold last summer, if only for a brief moment. Teodosio went unselected in the 20 rounds of the first-year player draft, waiting on a team to call to sign him as a free agent.
"I was really hoping to get drafted and expecting to get drafted. Not necessarily in a high round but I was expecting to at least get picked," Teodosio said. "When I didn't get drafted, it was one of the most depressing times I've ever had because I'd worked for it my whole life. But three or four days after the draft the Angels called and I took no hesitation to sign with them."
From there, Teodosio was off to Arizona and then to Low-A Inland Empire in San Bernardino, California to begin his professional career. Life on the west coast was a long way from South Carolina, where he grew up and attended Clemson just a few miles from his hometown. At that moment, the biggest adjustment came off the field.
The stint at Inland Empire was brief but successful, as Teodosio hit .279 in 17 games to get his first taste of Minor League Baseball. Heading into the 2022 season, the taste quickly became reality when he got to play in a few Cactus League games for the Angels during Major League Spring Training. In about nine months, he went from college athlete to teammates with some of the best players in the game, including Mike Trout and Shohei Ohtani.
"Just being in the dugout with those big time guys, it was shocking and surreal to me," he said. "I watched those guys my whole life and I looked up to them. It was cool to see them on their field doing their thing and being in the dugout with them was surreal."
When it came time for the regular season to begin, Teodosio thought there was a chance he could return to Inland Empire, maybe go to High-A Tri-City to start his first full season. Instead, he impressed enough to earn a spot on the Trash Pandas roster, moving up the ranks with many teammates that began their career s in 2021. It was a moment to savor for Teodosio.
"I was thrilled to hear that news. Slightly shocked to be going up to Double-A but not too surprised because I know what my skillset is and I know I belong here," he recalled. "I was blessed in that moment to be closer to the east coast to allow my family to see me play and to be able to play for such a great affiliate."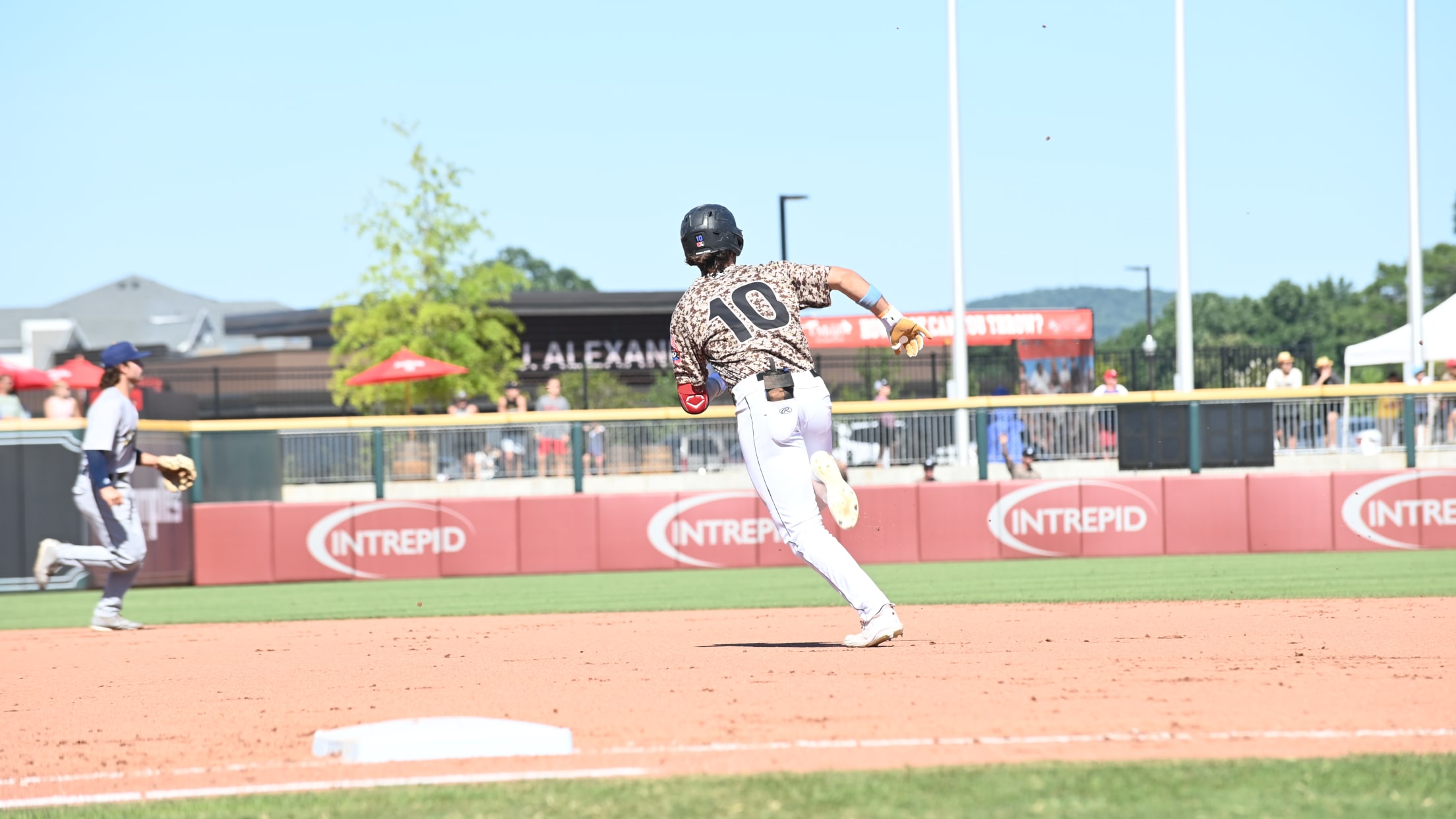 Teodosio has emerged as a mainstay in the Trash Pandas lineup, providing stellar defense and the occasional home run while his 16 stolen bases rank second on the team. Which brings him back to June 19, as the Trash Pandas needed a win over Montgomery to clinch the first-half North Division title on their home field.
With the ball rolling in right field, Teodosio was off to the races, as he explains.
"I got it and took a good swing. I thought I hit it out, and I kept seeing the outfielder go back and further back. He jumped and it hit the top of the wall. After that, I kind of blacked out and started running as hard as I could," Teodosio said. "I was turning past second and I saw Andy not stopping me. I was getting closer to third and I saw that he was sending me and I thought, 'Uh oh, here it goes.' I've had this happen before with a few inside-the-park home runs in my life. The adrenaline started kicking in, I almost tripped going around third. I slid into home and it was a really special moment. The crowd was as electric as it could get."
Teodosio threw his helmet in celebration of the first inside-the-park home run in Rocket City history. The run put the Trash Pandas ahead 2-1 in a game they would win 7-2 to clinch the first playoff spot in franchise history. It was a moment that will go down in Trash Pandas lore.
"That's one of the most memorable ones I'll ever have in my career to be honest with you," he said. "To put us up to send us to the playoffs after no Angels minor league team has been to the playoffs in a few years, it's really cool for me."
With the playoffs already clinched, Teodosio and the Trash Pandas will look to keep riding the positive momentum into the second half of the season.
Game-winning inside the park home run off the @Boeing sign to send us to the playoffs?

Nothing else but @BryceTeodosio13's heroics could be the Play of the Week! pic.twitter.com/SXeaUe5aes

— Rocket City Trash Pandas (@trashpandas) June 20, 2022