Brigman rounding into form for Nuts
Mariners No. 20 prospect tallies third consecutive three-hit night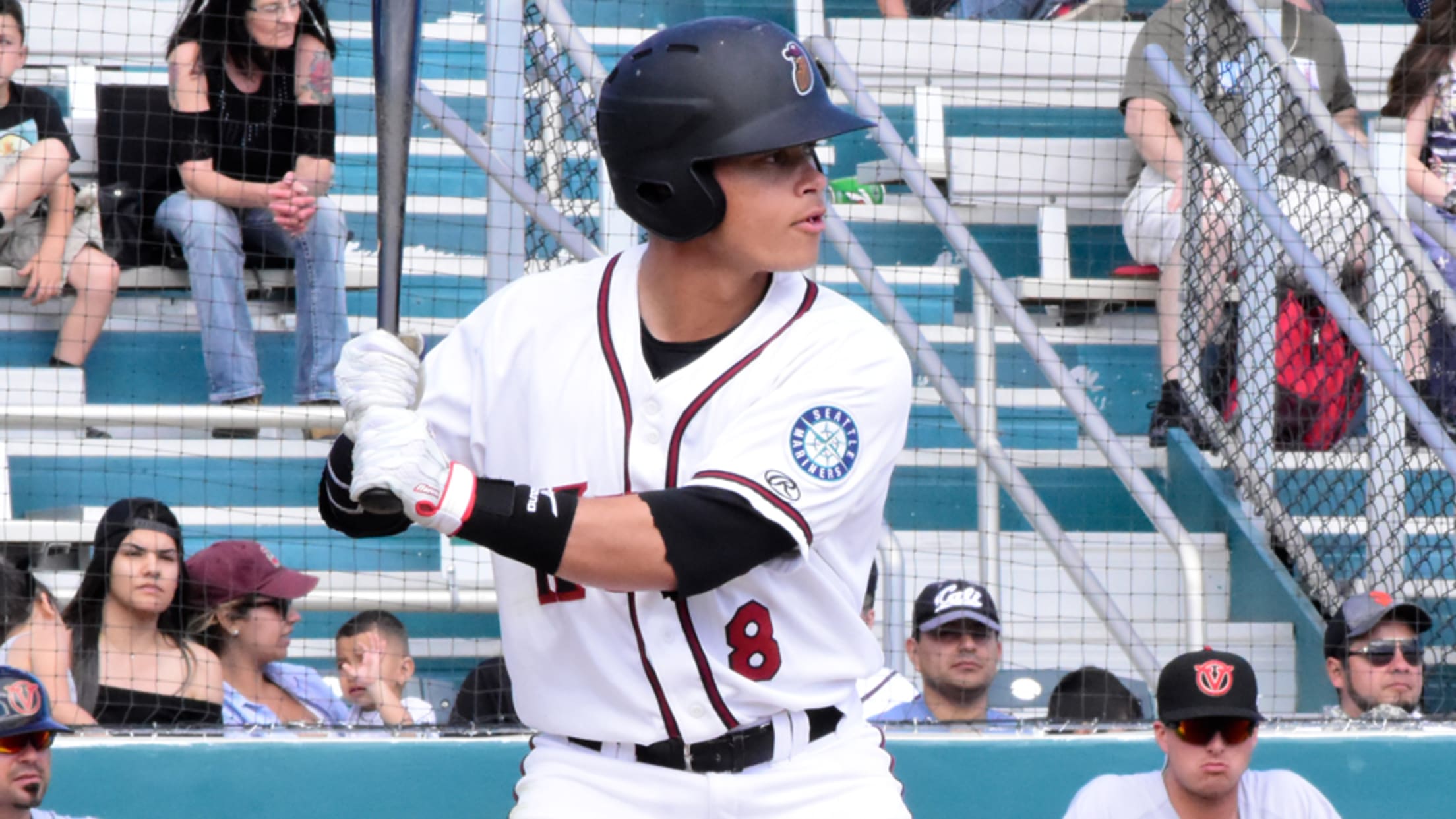 Bryson Brigman leads the California League with 118 hits this season (Natalie Winters/Modesto Nuts)
The Minor League season can be a roller coaster, and Bryson Brigman has been doing his best to make sure the peaks are more pronounced than the valleys. The Mariners No. 20 prospect went 4-for-4 with a triple and two runs scored while starter Darren McCaughan dominated for eight innings as
The Minor League season can be a roller coaster, and Bryson Brigman has been doing his best to make sure the peaks are more pronounced than the valleys.
The Mariners No. 20 prospect went 4-for-4 with a triple and two runs scored while starter Darren McCaughan dominated for eight innings as Class A Advanced Modesto blanked Stockton, 3-0, on Thursday at John Thurman Field.
After slashing.405/.485/.595 in April, Brigman cooled off significantly in May and June, hitting .272 with a .675 OPS.
"One of the biggest things is just trusting himself again," Nuts hitting coach Joe Thurston said. "He did a really good job of just going out there, having fun, competing and doing whatever he could to have good at-bats and let the results take care of themselves. Obviously, he was hitting really well early on and the numbers were really high, and I think it was one of those things where you kind of start to chase that. You start chasing your average and you start chasing the results ... and wanting and thinking that I'm going to put everything in play and I'm going to get a hit.
"I think one of the things he's done a good job of lately is getting back to the things he's done well at the beginning of the year, which is getting himself ready to hit on time and hitting his pitch and trusting the fact that when he does that, good things happen."
Gameday box score
The University of San Diego product has racked up nine hits over his last three games while hitting safely in 10 of 12 contests dating back to July 13. The 4-for-4 outing Thursday raised his average to .310.
Brigman laid down a bunt single down the third-base line to lead off the second inning and tripled to left off Ports starter Evan Manarino to start the fourth. He flicked a single to left on a 1-0 offering from Manarino in the sixth, then legged out an infield single to shortstop in the eighth.
Thurston said he's been impressed with Brigman's maturity this season, especially when the going was tough.
"He handled it well," the coach said. "I think part of his mind-set that helped him was the thinking, 'Well, if I don't get a hit, you don't get a hit.' Just playing the best defense he could play and being the best teammate he could be. Still picking his teammates up and playing the game the right way, still going out there and battle. He might not have had the best results, might not have had the best at-bats along that stretch, but every single moment along that stretch, he was trying to do something to help the team win.
"I'm a firm believer in having team at-bats, battling and competing up there, it kind of shortens those slumps a little bit. When you start looking at the results and trying to swing your way out of it, the bad results last a little bit longer."
Brigman, a third-round pick in 2016, is regarded as a slick-fielding middle infielder, but many scouting reports peg him as a second baseman in the future due to below-average arm strength. Thurston, who was an infielder during his seven-year Majors career, sees it differently.
"He has very good accents toward the ball, as far as ground balls go," Thurston said. "He's got very good range, a very good knack for where the ball is going to be and he's even gotten better, that's the thing with Briggy. He's never satisfied, always trying to learn and trying to get himself better.
"He was never known for having the best arm last year -- I didn't know him last year, but that was one of the things last year, 'Is his arm going to be strong enough to play short?" And right now it's showing, because he's learning how to move his feet. He's not just being stagnant with the baseball. He's moving his feet and doing his best to keep his momentum moving toward first base on every play. There are times where he understands where he has to use arm strength, but he's able to move his feet and take the load off of the arm, but when he needs it he's got it in the tank."
McCaughan (5-8) scattered three hits and two walks while striking out five in eight frames.
"It was good to see him go out there and compete," Thurston remarked. "I'm in the office when they have their pitcher's meetings, and I don't know what it was. I can't pinpoint it, but to me, just from the meeting, he had sounded a little different. He had his gameplan, he trusted his gameplan and he didn't need a lot of conversation about what he was going to do. He was just ready to compete. ... There was no uncertainty, it was just I'm going to stick to my gameplan, I'm going to trust in my defense and I'm going to go out there and win this game.
"I don't really get involved in the meetings, but I'm in there to hear them all the time. There was something about the meeting today that I felt confident that he was going to have a good game."
Mariners No. 13 prospect Joe Rizzo plated Brigman with a sacrifice fly in the fourth and Manny Pazos extended the lead with a two-RBI single in the sixth.
Josh Horton is a contributor to MiLB.com. Follow him on Twitter @joshhorton22