Bullpen Makes Early Lead Stand Up
Three relieves combine for 3.2 shutout innings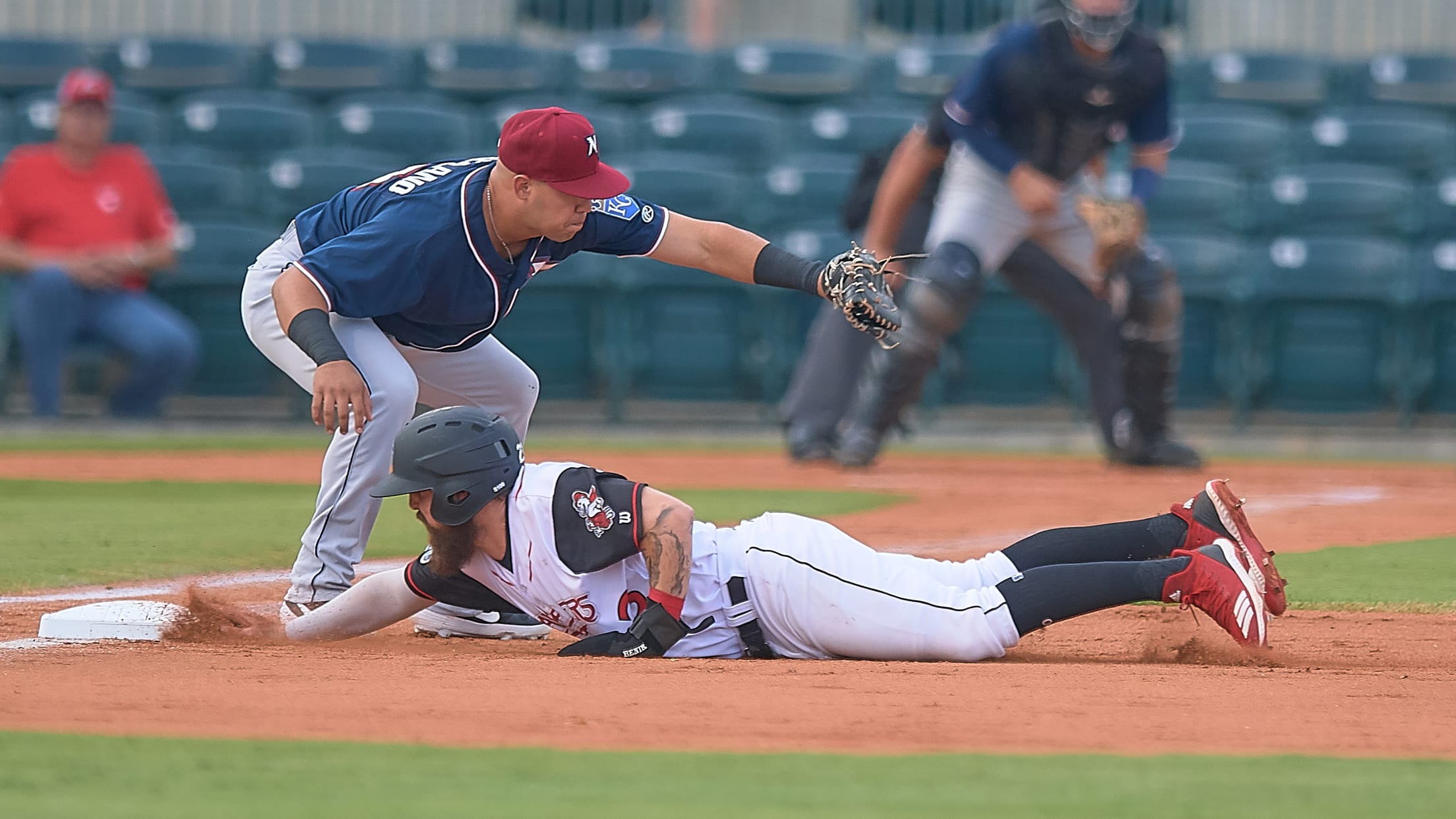 (Mark Wagner)
North Little Rock, AR-The Arkansas Travelers posted five early runs and got 3.2 scoreless innings from their bullpen in a 6-4 win over the NW Arkansas Naturals on Monday night at Dickey-Stephens Park. The Travs scored in each of the first three innings of the game and knocked Naturals starter
North Little Rock, AR-The Arkansas Travelers posted five early runs and got 3.2 scoreless innings from their bullpen in a 6-4 win over the NW Arkansas Naturals on Monday night at Dickey-Stephens Park. The Travs scored in each of the first three innings of the game and knocked Naturals starter Gerson Garabito out in the third inning. Travs starter Justin Dunn was knocked for four runs over just 5.1 innings but Jack Anderson (2 IP, 2 K), Aaron Fletcher (IP, 2 K) and Sam Delaplane (Sv, 0.2 IP, H, K) carried it to the finish line. Delaplane recorded his first save with the Travs.
Moments That Mattered
* Down a run for the second straight inning, Joseph Odom homered opening the bottom of the second. Nick Zammarelli followed with a ground rule double and eventually came home on a groundout by Donnie Walton.
* Arkansas extended the lead in the third on a pair of two out RBI singles from Logan Taylor and Aaron Knapp.
Notable Travs Performances
* 1B Nick Zammarelli: 2-3, BB, run, 2B, RBI
* RF Aaron Knapp: 3-4, RBI
* RHP Jack Anderson: 2 IP, 2 K
News and Notes
* Every Trav hitter reached base safely at least once with five reaching safely at least twice.
* Six different players scored the six Travs runs.
Up Next
The series continues on Tuesday night with left-hander Justus Sheffield (4-2, 1.69) making the start against lefty Dan Tillo (0-0, 0.00). It is a Zoosday Tuesday with free train rides and baseball bingo. First pitch is at 7:10. The game will also be broadcast on the Sports Animal 920, the First Pitch App, TuneIn radio and milb.tv.