Manoah holds Kernels hitless for five innings
Angels prospect leads Bees to one-hit shutout of Cedar Rapids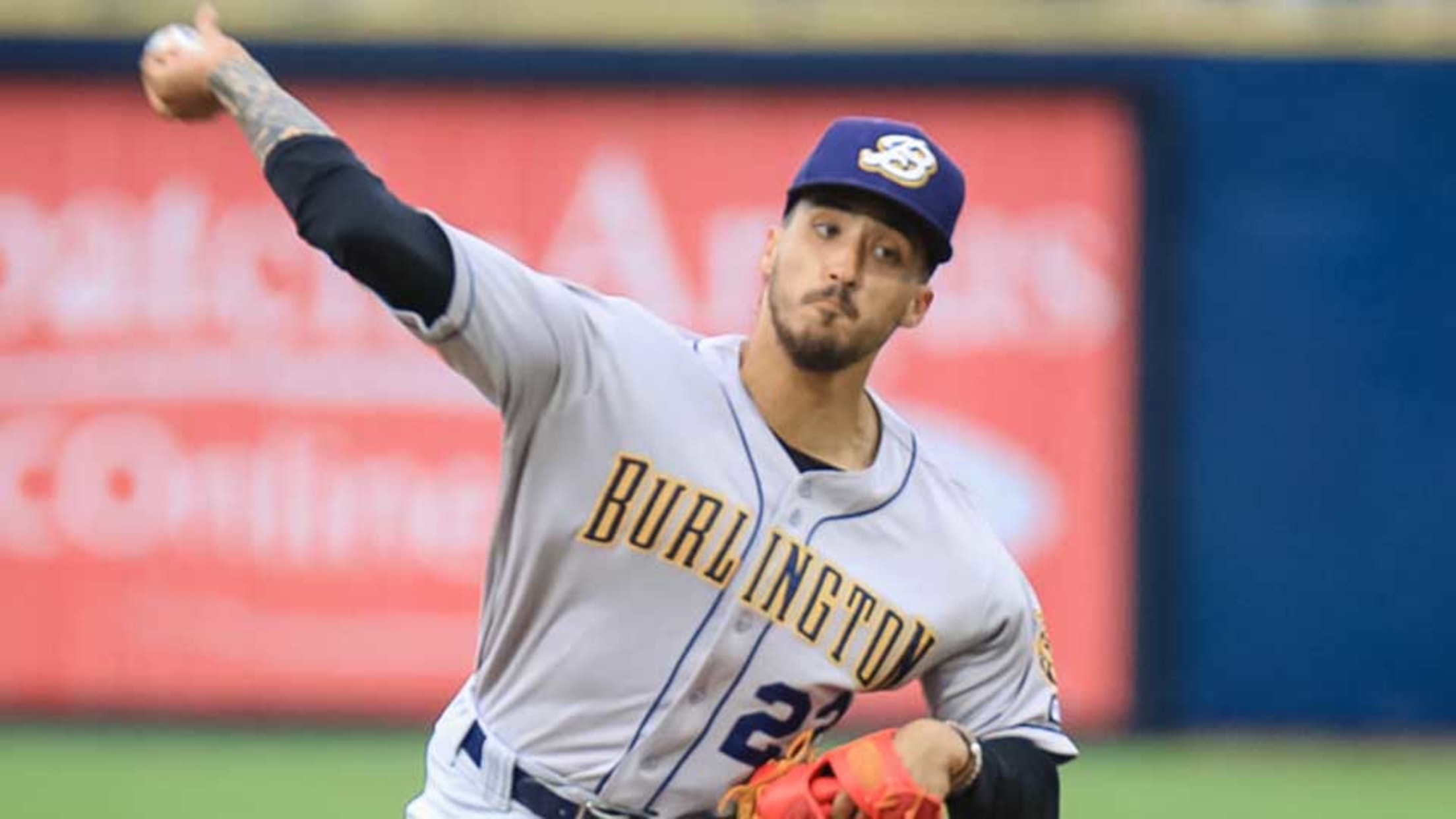 Erik Manoah was a 13th-round pick of the Mets in 2014. (Rich Guill/Quad Cities River Bandits)
After a couple up-and-down seasons in the Mets organization, Erik Manoah Jr. got a fresh start when New York traded him to the Angels for Fernando Salas last August. He intends to make the most of it.The right-hander didn't allow a hit over five innings as Class A Burlington blanked
After a couple up-and-down seasons in the Mets organization, Erik Manoah Jr. got a fresh start when New York traded him to the Angels for Fernando Salas last August. He intends to make the most of it.
The right-hander didn't allow a hit over five innings as Class A Burlington blanked Cedar Rapids, 1-0, at Perfect Game Field on Monday afternoon. He walked four and struck out two while lowering his ERA to 3.91 over 12 appearances, including nine starts. It was the fourth time this season Manoah has tossed at least four frames without allowing a run.
"My mentality from the beginning of the game was to attack the zone, not try to be too perfect with all my pitches and go after hitters the whole game," the 21-year-old said. "Except in the fifth when I walked a couple guys, I'm happy with the job I did and the job my teammates did behind me."
Gameday box score
Manoah (2-4) walked leadoff man Travis Blankenhorn on five pitches in the first before retiring 12 hitters in a row heading into the fifth. He walked Mitchell Kranson on four pitches to open that frame and walked the bases loaded with two outs with Blankenhorn, the Twins' No. 7 prospect, coming to the plate.
"I was a little tired, but that had nothing to do with it," Manoah said. "My mind-set was, 'I know exactly what's going on but I'm not trying to think about it.' I knew I wasn't going to be handed that no-hitter very easily, and I was going to face a challenge at some point during the game. It just happened to be the fifth inning and got down to the final pitch."
After running the count to 3-2 on Blankenhorn, who flied out to right in the third in addition to his walk, Manoah induced a groundout to shortstop Roberto Baldoquin on the seventh pitch of the at-bat -- and Manoah's 73rd of the game -- to get out of trouble and hold the Bees' lead.
"The fans started cheering, full count, 1-0 game, no-hitter on the line," Manoah said. "I just tried to tell myself to relax and not think of anything, make a pitch here and let the defense do the rest. All I can do is make my pitch, stay within myself and not let the pressure get the best of me, and it turned out OK."
Left-hander Ronnie Glenn threw two hitless innings in relief before giving way to closer Blake Smith, who allowed a two-out single to Blankenhorn in the eighth, ending the no-hitter. Smith got Jermaine Palacios to ground out to third for the final out of the inning and worked around a two-out walk to Kranson in the ninth to secure his fourth save, three of which have been two innings in length.
The walks are nothing new to Manoah, who has issued at least three free passes in five starts this season. He walked three batters in his other four starts combined, however, and feels like he's making strides with his new organization.
"I've gone through my rough phases, my ups and downs -- and more downs than ups -- but getting traded allows me to close that chapter of my career, open a new one and start fresh and just be given a new opportunity by a new team," the Miami native said. "I'm relieved of unnecessary pressure and given the opportunity to be myself, go out there and compete."
Juan Moreno's drove in Burlington's run with two outs in the second, plating Sam McDonnell with a sacrifice fly to right. McDonnell had a team-high three hits, and Julian Leon and John Schuknecht added two hits apiece as the trio combined for seven of the Bees' eight knocks.
Tyler Wells (3-1) suffered a hard-luck loss, surrendering one run on four hits and two walks with eight strikeouts over five innings while lowering his ERA to 2.02. The 6-foot-8, 265-pounder is tied with Fort Wayne's Logan Allen for third in the Midwest League with 70 strikeouts.
Chris Tripodi is an editor for MiLB.com. Follow him on Twitter @christripodi.