Call-Up Worthy Q&A: Mets' Gavin Cecchini
Shortstop prospect recalls making MLB debut in midst of playoff race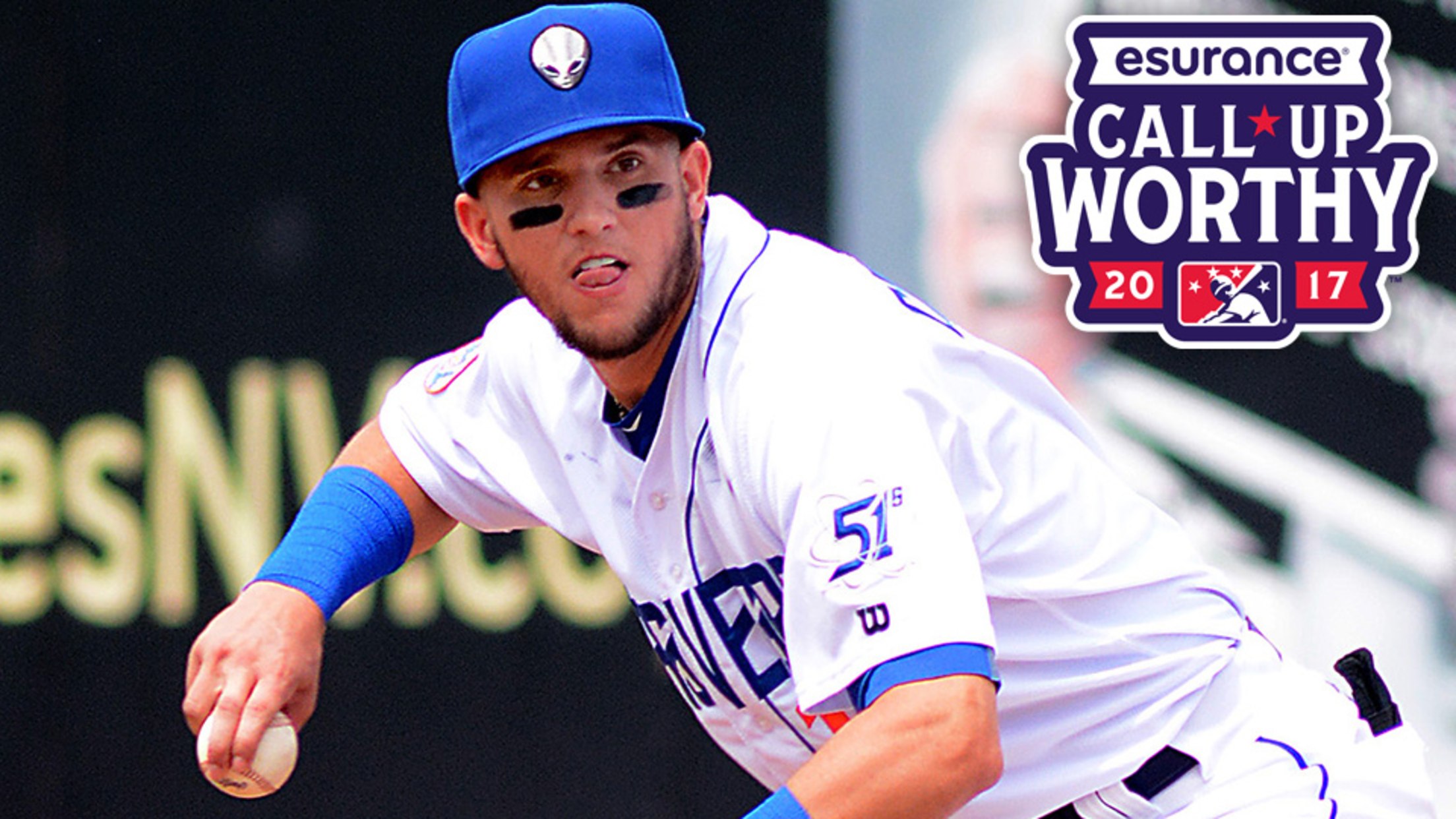 Gavin Cecchini played 461 Minor League games before getting called up to New York in early September. (Steve Spatafore)
In the second installment of our Esurance #CallUpWorthy player ambassador series, MiLB.com spoke with New York Mets shortstop prospect Gavin Cecchini about getting his first taste of the Majors in 2016 in the middle of a Wild Card chase, playing in the Arizona Fall League and how he's preparing for the World
In the second installment of our Esurance #CallUpWorthy player ambassador series, MiLB.com spoke with New York Mets shortstop prospect Gavin Cecchini about getting his first taste of the Majors in 2016 in the middle of a Wild Card chase, playing in the Arizona Fall League and how he's preparing for the World Baseball Classic.
The Mets' first-round pick in 2012 out of A.M. Barbe High School in Lake Charles, Louisiana, Gavin Cecchini spent his first two professional seasons in short-season ball before seeing action with Class A Savannah, Class A Advanced St. Lucie and Double-A Binghamton in 2014. After a strong 2015 campaign with Binghamton, the 23-year-old shortstop impressed with Triple-A Las Vegas this past season before getting the call to the Majors on Sept. 6.
Cecchini hit .325/.390/.448 over 117 games for the 51s in 2016 and impressed in his short time in the Majors as well, smacking two doubles in six at-bats for the Mets, who clinched a playoff berth before losing to the San Francisco Giants in the NL Wild Card Game.
MiLB.com: You spent three full seasons in the Minors before getting called up last September. Were you expecting that promotion?
Cecchini: I knew I was having a really good year and there was a chance I was going to be called up, but in this game you don't really know what's going to happen. You can't try to play GM and think things out before they happen. ... You just have to focus on yourself and getting better every day. One of the things you don't need to focus on is determining when you're going to be called up. When that day came, it was an unbelievable feeling. It was everything I worked for as a kid and dreamed of.
MiLB.com: What was your favorite MLB moment during your month with the Mets?
Cecchini: I think my favorite moment is when we clinched for the playoffs. I'm always about winning and doing anything I can to help the team win, and obviously my role was a little limited because we were in that playoff race; the guys who were there had taken them that far and the manager will go with the guys who've been there all year. When I got my chance, I did really well and showed what I could do for the limited time I was up there. It was awesome clinching in Philadelphia, and being called up is everything you dream of, but another thing that's everything you dream of is being in the playoffs, clinching that playoff [berth] with the champagne and the bottles. There's not a better feeling than celebrating with your teammates.
MiLB.com: What was it like being part of that postseason chase down the stretch?
Cecchini: It was awesome; obviously we keep track of what the big league team is doing, and I got the call and knew that we hadn't clinched yet and were right on the verge. My mind-set was that whatever my role may be, I'm going to be ready for it. It was different than Triple-A when I was playing every day -- as a player, that can be a little tough sometimes to keep your mind sharp and stay ready -- but you've got to find ways to do that. When my name was called upon, I was ready to help the team and contribute.
MiLB.com: What surprised you most about life as a Major Leaguer?
Cecchini: As a young kid, you see players you look up to, you have your favorite players -- mine was Derek Jeter. Some of those guys you watch on TV when you're young are still playing, and next thing you know you're on the same field as them or in the same locker room. I wouldn't call it a surprise, but it's just an unbelievable feeling, like, "Wow, this is really happening." It's an unbelievable feeling to be part of something special like that because only a handful of people in this world are able to call themselves Major Leaguers. People don't understand how much work you have to put in to get to that point. It's not the NFL or NBA -- not to take anything from those guys, but they don't have to go through the Minor Leagues like we do.
MiLB.com: You jumped almost right into the Arizona Fall League after the loss in the NL Wild Card Game. What was it like playing seven-plus months of baseball?
Cecchini: It was definitely a long year; after the Wild Card Game I went home for two or three days and then went to the Fall League for a month and a half. I wouldn't want it any other way -- I want to see how much I can handle and see if I can stay sharp and healthy for that long and keep doing the things I know I'm able to do. When you make it to the World Series, you're playing very long, so I want to get used to that. I plan on playing in the World Series, and what better way to see what you can handle over that long of a season than going to the Fall League? Obviously they aren't the same thing, but I took that time to work on everything I needed to work on.
MiLB.com: What have been your main goals and areas of focus this offseason?
Cecchini: I think it's all aspects of the game: my approach to hitting, my plan on the basepaths and keeping things simple defensively -- making all the routine plays and being consistent with the all-around game. This game is all about being consistent, and the more times you can be consistent, the better you'll be. You have to make adjustments, and you're always going to be working on something. When you think you have everything down is the time the game will bite you in the butt.
MiLB.com: Which teammates have you formed the strongest bonds with over the last few seasons?
Cecchini: That's tough since I moved up pretty quickly, so there are only a handful of players who've come up with me through the Minor Leagues. I love all my teammates. I have pretty much the same relationship with all my teammates, and obviously when you're out there every day and traveling with them, they become family. We're going through the grind together, and there's not a better way to be out there on the field with the guys you're with eight months a year.
MiLB.com: Which ballparks have been your favorite to play in, both in the Minors and Majors?
Cecchini: Obviously I love Citi Field, and that's not just me being biased -- it's a really nice park. They're all really nice; it's all about preference. It's crazy how I hear some people say about certain ballparks, "No, that's one of the worst stadiums" or "It's not very nice" and I get up and see the stadium and think it's unbelievable. I really liked Citi Field -- it's an awesome park and the fan base is unbelievable.
MiLB.com: How much of an honor is it for you to represent Italy in the upcoming World Baseball Classic?
Cecchini: It's unbelievable. I'm totally blessed with the talents God has blessed me with and for my parents being there for me through the way and my coaches, always working with me and helping me become the best player I can be. To be able to take all that and represent the country my family is from, it's an unbelievable feeling and I can't really explain it. To be able to kind of give back and play for that country and try to bring this WBC championship to Italy, there's not a better feeling. I can't wait and I've been working really hard -- one of my goals was to play in the WBC, and what better way than to play for the country where my family is from.
MiLB.com: What's the best memory you've had in the Minors so far?
Cecchini: Scoring the winning run in the 2014 Double-A Championship to win it all. Like I mentioned, I'm really big on winning, so to be able to win the championship and score that winning run, there's not a better feeling than that. If you look around, the teams that are having the most fun are the ones that are winning. It doesn't matter how well you're doing if you're losing; it's not as much fun to go to the park. Whenever you're winning, all the individual things are going to be there -- if you make winning a priority, everything else will fall into place, so that was definitely one of my favorite moments.
Chris Tripodi is an editor for MiLB.com. Follow him on Twitter @christripodi.