Call-Up Worthy Q&A: Tyler Beede
Giants' No. 3 prospect discusses AFL experience, '18 expectations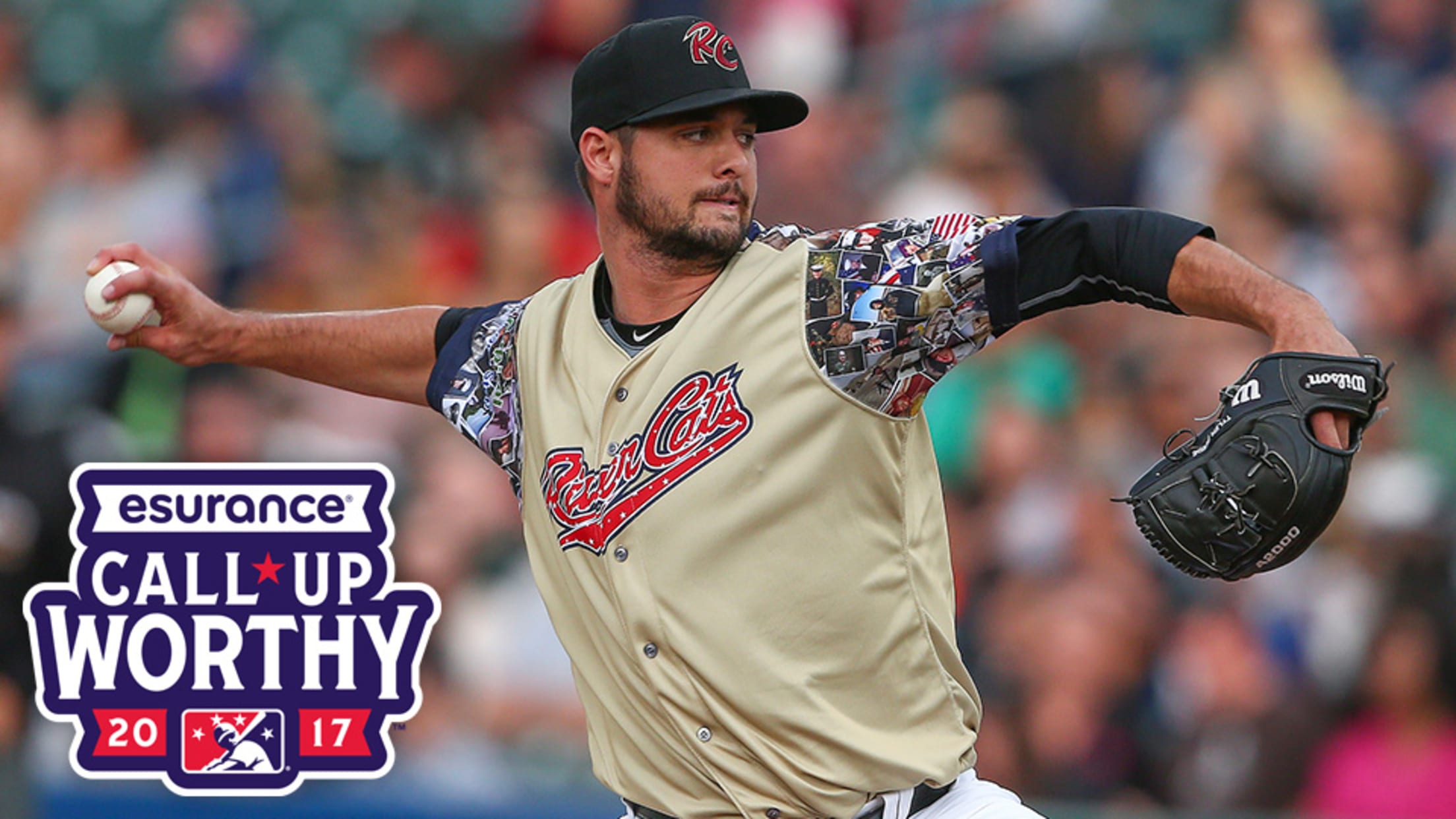 A first-round pick in 2014, Tyler Beede went 6-7 with a 4.79 ERA in 19 starts at Triple-A this season. (Ralph Thompson/Sacramento RiverCats)
In the third installment of a Q&A series with Esurance #CallUpWorthy 2017 player ambassadors, MiLB.com spoke with San Francisco Giants pitching prospect Tyler Beede about overcoming adversity, preparing for the rigors of a full season and his upcoming wedding.Soon after winning a national championship with Vanderbilt in 2014, right-hander Tyler
In the third installment of a Q&A series with Esurance #CallUpWorthy 2017 player ambassadors, MiLB.com spoke with San Francisco Giants pitching prospect Tyler Beede about overcoming adversity, preparing for the rigors of a full season and his upcoming wedding.
Soon after winning a national championship with Vanderbilt in 2014, right-hander Tyler Beede was drafted 14th overall by the San Francisco Giants. The Massachusetts native found himself at Double-A Richmond just 12 months later and is currently knocking on the door to the Majors, despite an injury-shortened 2017 season.
Ranked as the Giants' No. 3 prospect, Beede experienced big league Spring Training for the first time this year and got off to a solid start with Triple-A Sacramento before hitting a rough patch in late May. A groin injury ended his campaign on July 19, and the Giants sent him to the prestigious Arizona Fall League to make up for lost time. We talked to the 24-year-old about his takeaways from 2017, his AFL experience, his upcoming nuptials and more.
MiLB.com: How did this season go for you? How would you evaluate it as a whole?
Beede: I'd say it was a successful year, and I don't say that because I had success on the field but because I learned a lot. I went through a period where I was going through adversity, and I was able to learn a lot about myself through the adversity. That's a more mature mentality I've developed going through ups and downs -- not taking them in a negative light but using them as learning experience. Learning so much about my body, my preparation and how to handle myself through adversity allowed it to be a year of growth. Now it's full circle back in the Fall League, finally pitching where I'm really comfortable with my mechanics, having success and finishing the year strong.
MiLB.com: What was the most difficult adjustment moving up to Triple-A this season?
Beede: The PCL is very challenging -- not only the elevation and the ballparks and the more hitter-friendly league, but also more talented players. Those guys are all big leaguers, whether they've been there before or are younger prospects at their last stop of the Minors. You face a lot of talented players and have to make sure you're making adjustments on the run and preparing yourself. Elevation is a different challenge; you have different stuff than you're used to because the ball is moving differently. I just have to make sure I'm not losing confidence in my stuff because of a certain ballpark I'm pitching in. It's definitely a challenging league to be in, but you learn a lot about yourself and your stuff going through those adversities.
MiLB.com: What's been your most memorable moment in the Minors so far?
Beede: I would say my first complete game, at the end of last year. The Futures Game was a blast two years ago with all those talented players, but being able to throw a complete game is so much more than an individual accomplishment. It showcased our defensive effort, effort behind our plate with the catcher and the culmination of a great season for me. It allowed me to go into Spring Training with a lot of confidence. It's very memorable because I hadn't been a guy who goes deep into games, and last year I developed that mentality, so to be able to go nine was pretty awesome.
MiLB.com: What do you need to do in Spring Training to show the Giants you're ready to contribute at the Major League level?
Beede: I really liked what I did last spring in terms of being myself, going out and competing without adding extra pressure. The way I'm treating the AFL is like Spring Training -- I have things to work on and develop and I'm going out and attacking the strike zone with things I need to accomplish. I'm feeling good about the changes and improvements I'm making and just want to take this momentum and confidence into Spring Training. It was a trying season in San Francisco last year, but there's a lot of returning guys and young guys looking to contribute, so I'm looking forward to getting there and being surrounded by the guys again.
MiLB.com: What was the biggest thing you took away from Spring Training last year?
Beede: There's just a wealth of knowledge surrounding you, whether it be Madison Bumgarner, Jeff Samardzija, Matt Moore. But the biggest thing was Matt Cain's mentality. What he was going through -- the adversity, the doubts surrounding whether he'd be the fifth starter. I just respect the way he went about letting his peers learn from him instead of shutting down and not letting the guys trying to learn and gain an edge. He was so willing to give advice and give us a peek at his routine. He's one of the most successful pitchers the Giants have ever had, and just being able to be a sponge off him was huge. It's just an example of how to treat young players and an example he set.
MiLB.com: Which teammates have you connected with most over the past few seasons?
Beede: There's been a ton, whether it be the guys I've come up with like Ryder Jones or new guys like Steven Duggar and Chris Shaw. There are a lot of great guys and personalities in this organization, which is a testament to the front office and the values they have in place. It's a very welcoming organization and environment, and you see it when you come to Spring Training for the first time. The big league guys welcome you in. They don't treat younger guys any differently. Brandon Crawford has been one of my best friends, and I'm not even on the team.
MiLB.com: You returned to Double-A in 2016 after a tough stint at the end of 2015 and mastered the level. How would you compare that adjustment to what you're trying to accomplish next year?
Beede: I really prepared my body a lot differently going into 2016. I felt like I was laboring toward the end of the year and wasn't finishing strong, and I knew the adjustment I needed to make was with my body. I put on 30 pounds and attacked the year with a better arsenal, harder fastball and sharper curve. Obviously coming off an injury I want to be sure I'm confident where my body's at since it's my goal every year not to miss a start. This Fall League has given me confidence in the prep of where my body's at, and I'm going into Spring Training with the confidence I can pitch 100 percent healthy.
MiLB.com: What has your experience been like in the AFL? Did the Giants mention if they sent you there mainly to get extra reps after missing over a month with a groin injury?
Beede: I think the initial reasoning for me coming here was the innings. I ended the year at 100 innings, and coming here allows me to get more under my belt and work on things. They wanted to see some improvements -- more consistency and finishing healthy, which is probably the most important thing, just getting me through the rehab process, seeing me pitch four to five innings and coming out feeling good. There are a lot of reasons to be here -- obviously a developmental reason and an evaluation going on if I can pitch in the big leagues and compete against big leaguers and carry that into Spring Training. It's been a great time and a great decision.
MiLB.com: What do you think is your biggest obstacle right now to reaching the Majors?
Beede: I think it's just reps. In terms my pitches, my stuff, I think it's big league ready. I don't just say that because of my own personal opinion; I've been able to throw to Buster Posey and he's been able to relay that to me and help me gain the confidence that my stuff is there -- it's just executing quality pitches and doing it consistently. The more I'm out there on the mound, the better off and more comfortable I'll be. I'm looking forward to Spring Training to compete for a spot in the rotation or bullpen and work on my stuff.
MiLB.com: What do you think next season holds for you?
Beede: If you were to ask me that last year at this time, I would've been 100 percent confident that I would've made my [MLB] debut in 2017. I think this year was an opportunity for me to put into perspective how many things I can't control, whether it be my call-up or my time frame to be in the big leagues. I certainly hope I can contribute in 2018, whether at the beginning of the year or during, and I'm 100 percent confident in myself to pitch in the big leagues and contribute. I don't want to put another expectation on it and not have it come to fruition, but I'm looking forward to 2018 as hopefully the year I get called up.
MiLB.com: I heard you're getting married soon, so congrats! What's it like to plan a wedding as a professional pitcher? Not too stressful?
Beede: Thanks! It's November 26 in Austin, Texas. I didn't assume I'd be in the Fall League, but we're glad we made it then. I'd say most of the stress falls on my fiancée. I feel bad not being able to help as much as possible, but she's kind of taken over all wedding planning duties, not just because I've been busy but she likes planning the whole process and has fun with it. Her stress can be my stress, but overall it's been a fun process and we're looking forward to the day coming to fruition.
MiLB.com: Any big honeymoon plans?
Beede: We're gonna hold off on the honeymoon. We do the PAO [Pro Athletes Outreach] Increase Conference, a Christian athletes conference that happens every year. This year it's in San Antonio the three days following the wedding, so that'll be the honeymoon I guess. But no trip this year, maybe next year -- just going to get ready for the offseason and start capitalizing on the time I do have to prepare.