Cardinals best Blue Jays in slugfest, 10-5
Alexis Wilson doubles twice, drives in four, as Redbirds take series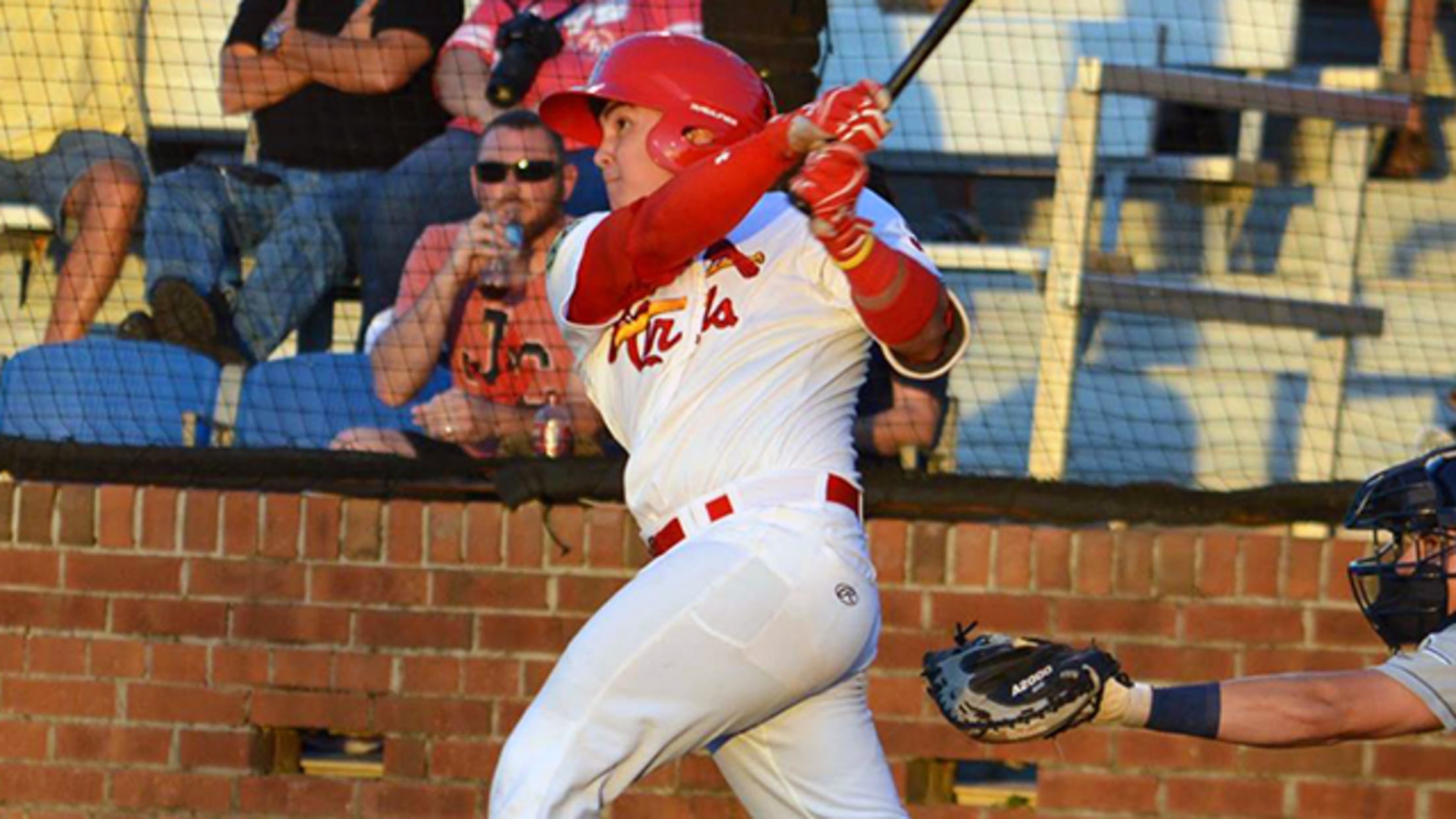 C Alexis Wilson reached base four times and drove in a career-high-tying four runs, as the Cardinals bested the Blue Jays, 10-5, on Friday night at Bowen Field. (Bret Jacomet)
BLUEFIELD, Va. - C Alexis Wilson reached base four times - doubling twice - and drove in a career-high-tying four runs, as the Cardinals captured their first series in Bluefield since 2014, as Johnson City knocked off the Blue Jays, 10-5, on Friday night at Bowen Field.With the win, Johnson
BLUEFIELD, Va. - C Alexis Wilson reached base four times - doubling twice - and drove in a career-high-tying four runs, as the Cardinals captured their first series in Bluefield since 2014, as Johnson City knocked off the Blue Jays, 10-5, on Friday night at Bowen Field.
With the win, Johnson City has now captured 8-of-their-last-10 series and improved their overall mark to 30-24. Bluefield's loss dipped their 2017 record to 36-19.
The Cardinals victory, coupled with Greeneville's loss to Pulaski, has put them a full game ahead of the Astros for the final playoff spot in the Appalachian League western division.
Trailing 3-2, the Redbirds regained the lead for good thanks to some defensive miscues in the fourth. SS Starlin Balbuena (1-5, 2 R, 3 SO) and RF Carlos Talavera (1-4, R, BB, SO) ignited the inning with back-to-back singles, while CF Chase Pinder (1-3, 2 R, 2 BB) loaded the bases on a walk. 3B Brady Whalen (0-6, R, RBI, 2 SO) would strikeout, but a wild pitch allowed a run to score and tie the game at three. The next batter - Wilson (2-4, 2 2B, 4 RBI, BB) - followed with a groundball to third. A throwing error allowed a pair of runs to score, as the Cardinals jumped in front, 5-3.
Johnson City broke the game open in the fifth. Balbuena reached on a dropped third strike wild pitch, while 2B Irving Lopez (2-4, 2 R, 2B, RBI, SO) was hit by a pitch and Pinder drew a free pass to fill up the bags, again. With two outs, Whalen hit a ground ball to third, but the throw to second was late. Everyone was safe on the fielder's choice, giving the Redbirds a 7-3 edge. Then, it was Wilson's turn to deliver. The 21-year-old cracked a 3-2 pitch down the left-field line for a bases-clearing, three-run double, putting the Birds in the driver's seat, 9-3.
The Cardinals added another tally - making it 10-3 - in the sixth, as LF Walker Robbins (2-4, R, BB, SO) singled and scored on a RBI knock by Lopez.
Bluefield added single runs in the seventh and eighth - on a wild pitch and a RBI double by 3B Jesus Severino (2-3, 2B, RBI, SO) but that was as close as they would draw.
Johnson City jumped out to an early 2-0 lead, scoring runs in the first and second. Lopez doubled and Pinder singled to start the opening frame, while Wilson put the Redbirds on the board with a sacrifice fly to left. In the second, 1B Carlos Rodriguez (2-5, R, 2 SO) and Robbins singled before a pair of wild pitches brought home the lead runner.
C Ryan Gold (2-4, 2 R, 2B, HR, 3 RBI, SO) put the Blue Jays ahead briefly, 3-2, clubbing a three-run jack to right - his fourth of the year - in the bottom of the second.
It was another solid performance for RHP Zach Prendergast (5.0 IP, 7 H, 3 R, 3 ER, BB, 6 SO) going five strong and punching out six for his third victory of the season.
Bluefield's RHP Josh Winckowski (3.2 IP, 8 H, 5 R, 2 ER, BB, 2 SO) was battered for five runs (two earned) on eight hits in 3.2 innings and was handed his second defeat of the year.
Wilson (2-4, 2 2B, 4 RBI, BB) led the Johnson City charge with a game-high four runs batted in. Lopez (2-4, 2 R, 2B, RBI, SO), Rodriguez (2-5, R, 2 SO) and Robbins (2-4, R, BB, SO) all added multi-hit efforts in the win.
Johnson City will go for their second sweep of the season, as RHP Franyel Casadilla (1-4, 7.78 ERA) is slated to take the hill. Bluefield is projected to turn the ball over to the league's ERA leader, LHP Randy Pondler (2-1, 2.23).
The Cardinals Pre-Game Show will kick off the broadcast at 6:50 p.m. ET, leading up to the 7:05 p.m. ET start at Bowen Field. Thursday evening's contest can be heard on JCCardinals.com or via the TuneIn Radio and MiLB First Pitch apps.
Following the six-game road trip, the Redbirds will return home to open up a three-game series against the Greeneville Astros, the rookie affiliate of the Houston Astros, on Wednesday, August 23. It will be Hot Dog Heaven Night as all hot dogs that evening will be sold for just 50 cents.
Single-game tickets are still available and can be purchased online at JCCardinals.com or by calling the Cardinals' Ticket Office at (423) 461-4866.
ABOUT THE JOHNSON CITY CARDINALS
The Johnson City Cardinals are the Rookie affiliate of the St. Louis Cardinals. Members of the ten-team Appalachian League, Cardinals baseball has been entertaining families and fans of America's national pastime in the East Tennessee region for 80 years. To learn more about the Johnson City Cardinals, visit www.jccardinals.com.