Flaherty rides fast track to St. Louis
Voit, Valera, Mejia also provide help at Major League level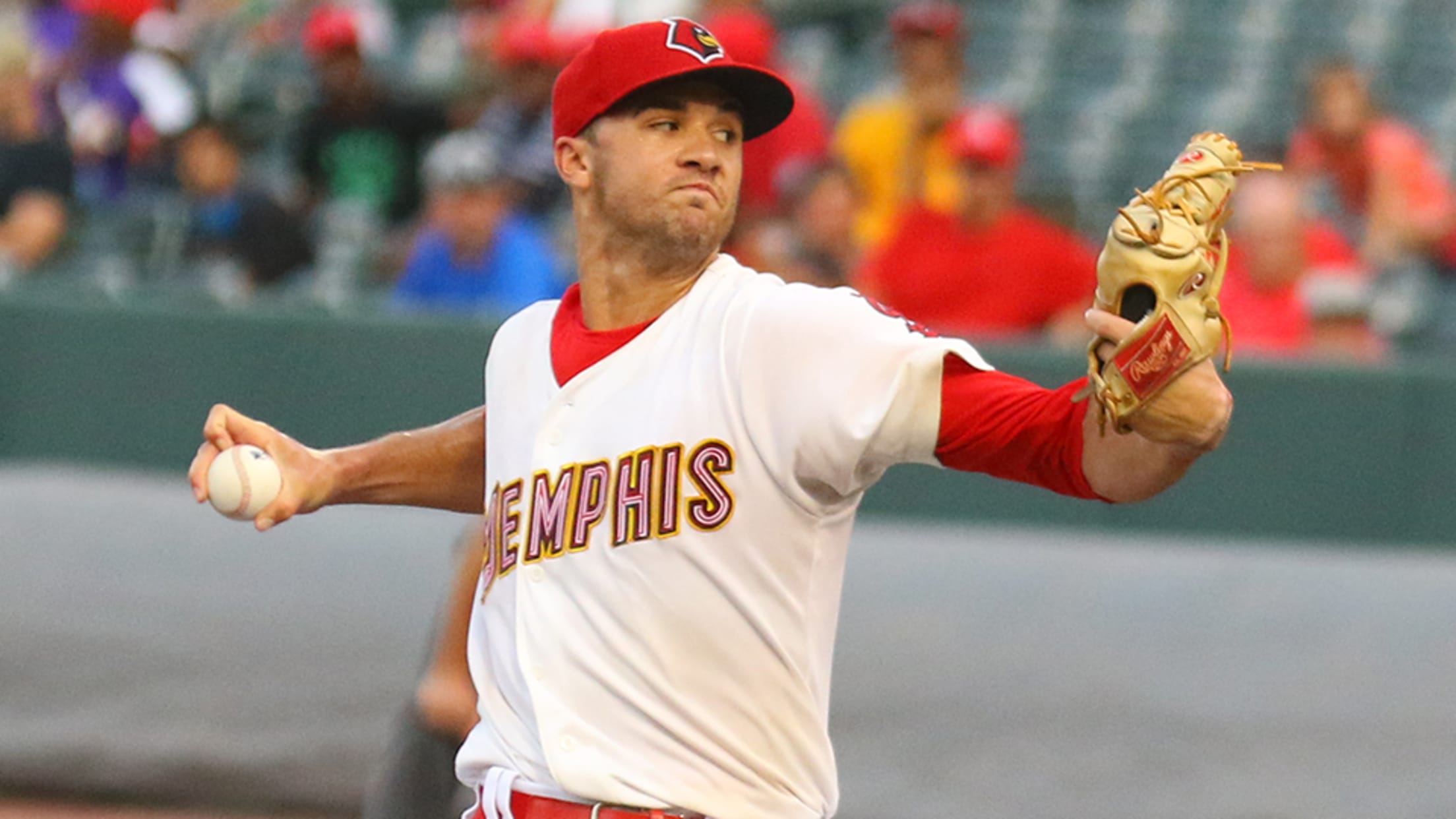 Jack Flaherty registered a 1.04 WHIP over 148 2/3 innings across two levels this season. (Roger Cotton/Memphis Redbirds)
This offseason, MiLB.com is taking a look at the most outstanding campaigns by players in each system across Minor League Baseball and honoring the players -- regardless of age or prospect status -- who had the best seasons in their organization.For many, the two main metrics of success for a
This offseason, MiLB.com is taking a look at the most outstanding campaigns by players in each system across Minor League Baseball and honoring the players -- regardless of age or prospect status -- who had the best seasons in their organization.
For many, the two main metrics of success for a farm system are helping the big league club and producing winning teams. By those measures, Cardinals director of player development Gary LaRocque is very pleased.
Despite several players getting called up to help in St. Louis, Cardinals affiliates thrived. Three made their respective league playoffs, with Class A Advanced Palm Beach sharing the Florida State championship and Triple-A Memphis winning the Pacific Coast League title.
"We had 11 players go up for the first time from the Double-A and Triple-A levels. And, actually, Magneuris Sierra went up from the [Class A Advanced] level," LaRocque said. "We feel as though this year was another step in [the right] direction for our players in our system."
Cardinals Organization All-Stars
Catcher -- Andrew Knizner, Peoria (44 games), Springfield (51 games): In his first full season, Knizner climbed to Double-A. The 2016 seventh-round pick began the season in the Midwest League, then skipped Palm Beach en route to the Texas League. Knizner fit right in at the upper level, posting a .324 average in 51 games. In total, the 22-year-old batted .302/.349/.471 with 12 homers and 51 RBIs.
"His offense was very consistent, so we were also encouraged to know that he moved up a couple levels and he got to the Double-A level here in a key year and actually was very productive, and then followed it up with the Arizona Fall League," LaRocque said. "So it's been a very good year for Andrew and he's right on track."
LaRocque also said he was pleased with Knizner's defense. After converting to catcher when he was drafted, the North Carolina State product has steadily improved his blocking and caught stealing rate. Knizner threw out 45 percent of would-be basestealers while allowing only three passed balls. He's also spent some time at first base to give him more at-bats and versatility.
Honorable mention: Ivan Herrera hit .335 in 49 games in the Rookie-level Dominican Summer League.
First baseman -- Luke Voit, Memphis (74 games), St. Louis (62 games): Voit got his first taste of the Majors when he made his debut on June 25. Although the Missouri State product bounced between the Pacific Coast League and the National League, he didn't let it get to him while he was with Memphis.
Voit, who is from the Wildwood suburb of St. Louis, produced a .327/.407/.565 slash line with 13 jacks and 50 RBIs in the PCL. The 26-year-old committed five errors, a full-season low for him.
"Luke hit in the middle of that lineup and was always a threat. And that's the carrying tool for him is going to be offensively," LaRocque said. "He also continued his work at first base to continue to improve, and so clearly you add the combination … it earned him the chance to go to the big leagues when we had the need."
Second baseman -- Breyvic Valera, Memphis (117 games), St. Louis (five games): In his eighth year as a pro, Valera enjoyed his finest season. The 25-year-old ranked third in the system with a .314 average and slugged eight long balls after totaling six in his first seven campaigns.
The versatile Venezuela native spent some time in the outfield and at third before getting his first call to The Show in September. LaRocque said players like Valera and Voit used their experience in the upper levels to dominate at the plate as they advanced to the Majors.
Third baseman -- Patrick Wisdom, Memphis (127 games): In 2016, Wisdom battled a fractured bone in his hand while overhauling his swing. This season, it all came together for the healthy 26-year-old. He led Cardinals Minor Leaguers and posted career bests with 31 homers and 89 RBIs in the PCL.
"It took time. He's moved through this system and he's been both patient and aggressive, and he's improved defensively," LaRocque said. "He's put together some real strong at-bats and he's a threat at the plate, with his good defense at third base, and he put together the numbers this year. Great work ethic, great makeup and he really had a good 2017."
Shortstop -- Alex Mejia, Springfield (63 games), Memphis (55 games), St. Louis (29 games): Another guy who got his first taste of the Majors, Mejia put together the best season of his career. The University of Arizona product posted personal bests with a .291/.341/.413 slash line, seven roundtrippers, 57 RBIs and 30 walks.
Mejia remains another versatile option for the Cardinals, getting looks at all four infield positions in both the Majors and Minors this season.
Honorable Mention: Taylor Bryant led the system with a .324 average in 43 games in the Rookie-level Gulf Coast League.
Outfielders -- Nick Martini, Springfield (23 games), Memphis (98 games): Martini found himself repeating the same two levels for a third straight year, but with much better results. The left-handed hitter hit .294 with eight homers, 66 walks and 70 RBIs -- all career highs.
Martini also committed just one error all season as he patrolled all three outfield spots. The Kansas State product elected free agency in November.
Offseason MiLB include
Jose Adolis Garcia, Springfield (84 games), Memphis (40 games): The Cardinals signed Garcia in February and they were pleased from the outset. The 24-year-old Cuban batted .290 with 15 jacks and 65 RBIs in his U.S. pro debut. And as impressive as he was at the plate, he really made his mark on the grass.
"Adolis as an outfielder can play all three positions. He's got a good arm, he's very athletic, he gets good jumps into the gaps, understands the game, solid baserunner; his running speed is a plus," LaRocque said. "So he's bringing pluses to the table. There's ways that he can beat you. And then you turn around and watch his performance offensively as he came through and you say, 'Wow, it's been a real solid year for him all the way around.'"
Anthony García, Springfield (101 games), Memphis (14 games): While Garcia got off to a tough start in the PCL, he got back on track in the Texas League and went on to produce his best campaign since 2012. The Puerto Rico native hit .282/.359/.466 with 16 dingers and 72 RBIs, which ranked second in the Cardinals system.
Garcia continued to put his defense on display, committing two errors in 117 chances. The 25-year-old is a natural left fielder but also spent time in right and center before becoming a free agent.
Utility -- Andy Young, Peoria (58 games), Palm Beach (57 games), Springfield (two games): After a strong pro debut in 2016, the 37th-round pick moved quickly in his first full season. After hitting .284 with 12 homers and 54 strikeouts in the Midwest League, Young hit .265 with five jacks and 49 strikeouts with Palm Beach. While there was a clear transitional period as he adjusted to the new level, LaRocque said the pitcher-friendly Florida State League was a good challenge for the 23-year-old.
"He's still learning his strike zone. He's still learning how to handle and get into hitter's counts," he added. "He's a young man with a lot of athleticism and we were very fortunate to see him put together a real good year. He's a great worker and I think he became a little more selective when he got to Palm Beach for the most part. He produced offensively, it's just developing the consistency now against better pitching."
Young spent about half his time at second base, also seeing action at short and third and even playing a game in right field. LaRocque said the Cardinals are balancing the Indiana State product's natural skills at second with the idea of creating value for him around the field as Young totaled six errors in 117 games.
Left-handed starting pitcher -- Austin Gomber, Springfield (26 games): After a tough first half in which he posted a 5.09 ERA in 12 starts, Gomber settled in. The 24-year-old finished 10-7 with a 3.34 ERA and 51 walks over 143 innings, leading all Cardinals southpaws with 140 strikeouts.
"His breaking ball has always been his potential as a swing-and-miss pitch and yet, ironically, he gets his share of strikeouts against right-handed hitters," LaRocque noted. "He's got a fastball that's very effective as well."
Command remains the key to Gomber's development. The 6-foot-5 hurler cut his walks per nine innings from 4.6 to 2.4 in the second half.
Right-handed starting pitcher -- Jack Flaherty, Springfield (10 games), Memphis (15 games), St. Louis (six games): It was quite the year for the 2014 first-round pick. Flaherty collected Texas League Player of the Month honors in April and went on to post a 1.42 ERA over 63 1/3 innings with Springfield before a promotion to Memphis. With the Redbirds, the 22-year-old notched a 2.74 ERA over 85 1/3 frames, earned a spot in the All-Star Futures Game and Pacific Coast League Player of the Month honors for August. Then he got the call for his Major League debut.
Leading the organization with a composite 2.18 ERA, 14 wins and 147 strikeouts, it was no surprise the Cardinals' top pitching prospect was named their Minor League Pitcher of the Year. He issued 35 free passes over 148 2/3 innings across his two Minor League stops.
"It's been noted many times, when he started out, the first thing that was most impressive about Jack was that he had that fastball command for a young pitcher -- he could work to both sides of the plate well," LaRocque said. "He started to understand contrast as he got into the system, where his breaking ball and his off-speed pitches were effective. He could use those pitches in counts where hitters couldn't just sit on a fastball. He's become far more effective in dealing with getting into pitcher's counts and learning how to put hitters away with good stuff."
Relief pitcher -- Eric Carter, Peoria (33 games), Palm Beach (nine games), Springfield (three games): Like so many Cardinals prospects, Carter zoomed through the system in his first full season. The right-hander started the year with a 2.51 ERA, 50 strikeouts and 17 walks over 43 innings in the Midwest League and only got better.
Carter yielded one run over his final 14 innings across Class A Advanced and Double-A, tallying 17 punchouts against six walks. In total, the 25-year-old converted 13 of 15 save opportunities.
"He's got a very high fastball spin rate -- it stands out," LaRocque said. "His fastball can be a swing-and-miss pitch for him, which is very interesting. It's always great when we measure that on any of our pitchers and who sits in that upper echelon of pitchers that have that capability. He continues to improve and he needs to use his curveball more. But again, he's got the ability to get swings and misses, and we're pleased with his progress."
Kelsie Heneghan is a contributor to MiLB.com. Follow her on Twitter @Kelsie_Heneghan.