Redbirds' Bader locked and loaded at the plate
Cardinals No. 6 prospect homers, scores career-high four runs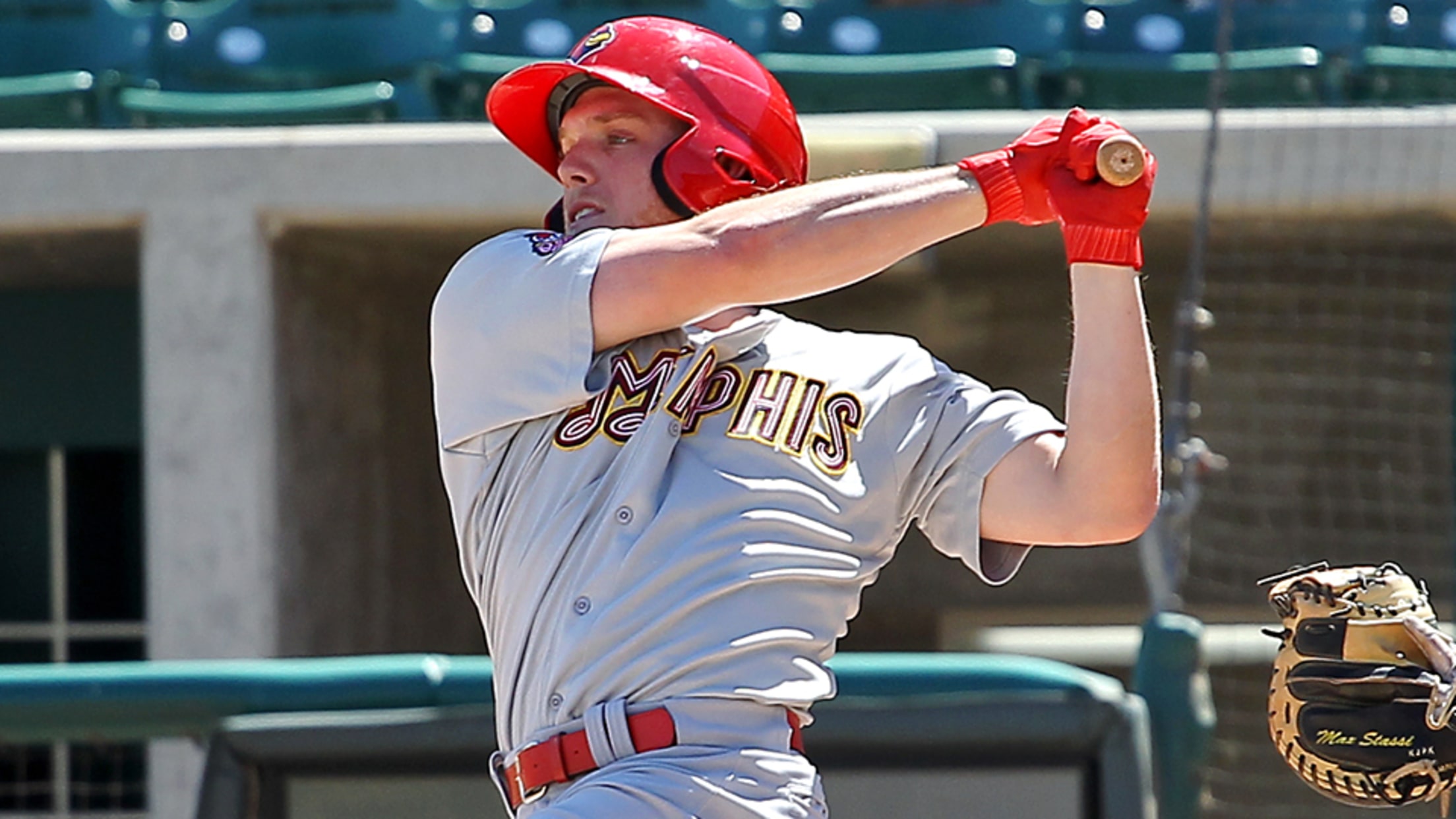 Harrison Bader has raised his batting average 34 points to .301 in eight games since May 18. (Ben Sandstrom/MiLB.com)
There are many fine details that go into a good swing, but Harrison Bader realizes none of that matters if you're not ready to hit."I think what it all really boils down to, regardless of where you put your hands, how wide your stride is, whatever it may be, one
There are many fine details that go into a good swing, but Harrison Bader realizes none of that matters if you're not ready to hit.
"I think what it all really boils down to, regardless of where you put your hands, how wide your stride is, whatever it may be, one thing that always has to be consistent is getting into a good hitting position," Bader said. "So mechanically speaking, you just have to have the confidence and load up earlier and earlier on every pitch you see and just do your best to swing in your hot zone."
The Cardinals No. 6 prospect turned that approach into results on Friday. He belted a homer among three hits and scored a career-high four runs in Triple-A Memphis' 13-3 rout of Sacramento at Raley Field.
Gameday box score
In the second inning, the 22-year-old outfielder drilled a 2-0 pitch from Giants No. 21 prospectChris Stratton to left field for a solo shot, his eighth long ball of the season.
Bader followed with an infield single to shortstop in the fourth before scoring on a two-run double by Nick Martini. In the fifth, the Bronxville, New York, native walked and scored on a single by Todd Cunningham. The 2015 third-round pick then registered his fourth run in the sixth after collecting a single and coming home when Martini drew a bases-loaded walk.
"It's a really contagious lineup," Bader said. "Even if you steal second or third, you're not going to steal home so you need somebody behind you to hit you in. I just do my job at getting on base, and the guys behind me have been doing a really good job at putting the ball in play hard somewhere, allowing me to run the bases and score. It's a lot of credit to them."
It is the third time since May 18 that the University of Florida product has recorded at least three hits. He had four-hit performances on May 19 and May 22 and raised his batting average to .301, his highest since the second game of the season.
"It's just been a season where you've just got to keep having a positive outlook on things regardless of results," he said. "I kind of hit a little stride and we are playing well and putting up a lot of runs. The guys are really positive so I think I just had a good day with regards to that."
Bader also raised his average against right-handers 15 points to .267 after collecting all of his hits off Stratton, Tyler Rogers and Dusten Knight.
"The game has an interesting way of shaking out, so I just kind of attribute it to that," Bader said. "I'd like to think I'm perfectly capable of hitting any righties up there, but it's just one of those things in baseball."
No. 2 Cardinals prospect Carson Kelly, also ranked 34th overall by MLB.com, had three hits, including a solo homer. Paul DeJong, St. Louis' No. 11 prospect, belted his 11th homer, singled and scored twice.
"We are always just exchanging information with the guys, always doing our best to help the guy behind you because ultimately, if he's doing well, you'll get some good pitches to hit, too. So, it all comes back in a circle," Bader said.
Trey Nielsen (1-0) gave up a run and four hits with two strikeouts over three innings for Memphis in relief of Josh Zeid.
Michael Peng is a contributor to MiLB.com. Follow him on Twitter @MichaelXPeng.