Cardinals' Baird unhittable in second start
St. Louis' 23rd-round pick sharp over five frames for Spikes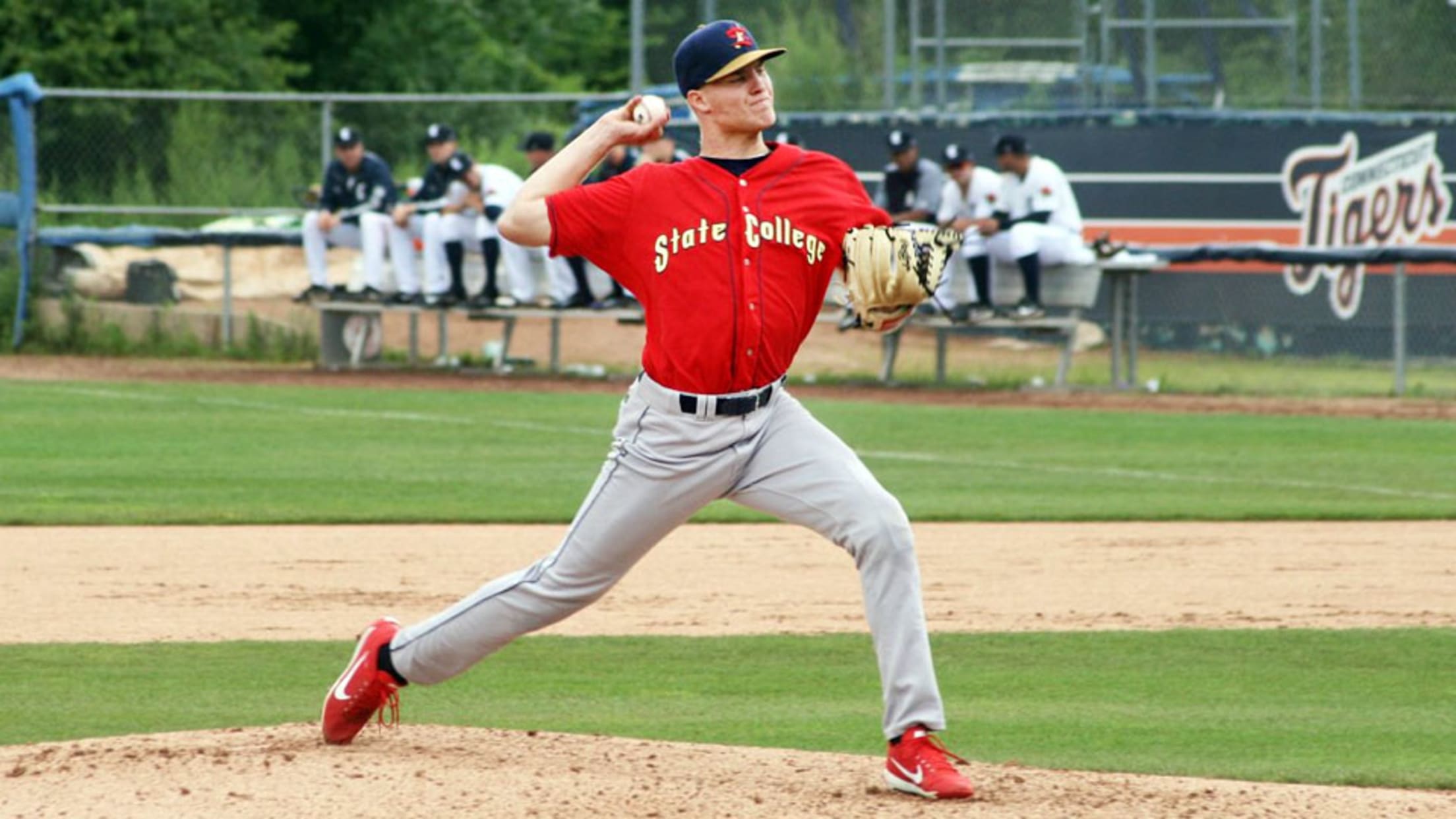 Michael Baird has struck out 27 and walked two in 24 1/3 innings this season for State College. (Brian Walton/The Cardinal Nation)
On a short leash, Michael Baird couldn't afford to make many mistakes on Wednesday."Where I did screw up today, I fixed it," Baird said with a laugh. "It was really fun."Baird was unhittable for five innings in just his second Minor League start in State College's 3-0 loss at Connecticut
On a short leash, Michael Baird couldn't afford to make many mistakes on Wednesday.
"Where I did screw up today, I fixed it," Baird said with a laugh. "It was really fun."
Baird was unhittable for five innings in just his second Minor League start in State College's 3-0 loss at Connecticut on Wednesday afternoon. He struck out six and walked one in his seventh career appearance since the Cardinals made him their 23rd-round pick in last month's Draft.
"It would have been cool to get the win, but it was fun to be out there again," he said. "I was throwing strikes and felt good, especially with respect to my release point."
The Southern Illinois product faced the minimum of 15 batters, picking off the only baserunner he allowed in the third inning.
"It was a long at-bat, I think he (Clark Brinkman) hit a pop fly down the line, it was tough, close to the fence and got dropped," he said. "It was an 11-pitch at-bat and I threw a pitch that was borderline, called a ball. It could have gone either way. So I just varied my looks, I thought he might have been going and I picked him off."
Baird threw 43 of his 64 pitches for strikes before handing the game to his bullpen, which kept it hitless into the seventh. Hector Villablobos (1-1) allowed an unearned run and a walk in a hitless sixth before Edgar Gonzalez was touched for a pair of runs on three hits in 1 1/3 frames.
Baird, born in Arizona but raised in Colorado, said he was on a tight pitch count as part of St. Louis' overall plan to limit his workload this season in the New York-Penn League. Why? The righty is fresh off his senior season at Southern Illinois, where he went at 5-5 with a 3.16 ERA in 15 starts before signing with the Cardinals on June 15. In four seasons at SIUC, he went 18-17 with a 3.69 ERA, 245 strikeouts and 84 walks in 326 2/3 innings over 61 appearances, 45 of which came as a starter.
His role with the Spikes, for now, seems to be fluid. He's worked mostly out of the bullpen to avoid logging too many innings and the numbers, regardless, have been good: in 24 1/3 innings, he's struck out 27, walked two and allowed four runs on a dozen hits. Batters are hitting .146 against him.
"When I came in, at SIUC, I had 99 2/3 innings pitched after 15 starts, so they're watching my pitch counts and workload," he said. "I'm a piggy-back starter and bullpen guy who got a start earlier and because of an injury today, but they're just monitoring my pitch count so I'm kind of doing a little of both. I'm ready for whatever the Cardinals need me to do. It's been been a good transition."
Baird's only other Minor League start came on July 5, when he held Auburn to three hits over four innings. He's allowed just one earned run in his last 16 innings over four appearances.
Gameday box score: Tigers 3, Spikes 0
Connecticut starter Chance Kirby (2-1) was nearly as sharp as Baird, striking out six while holding the Spikes to a pair of hits and a walk over six frames. The 23-year-old Kirby, Detroit's 25th-round pick this summer, combined with Dylan Stock and Ethan DeCaster for a two-hit shutout. Alexis Garcia drove in all three of the Tigers' runs.
Baird said he focused on locating his fastball and throwing strikes on Wednesday.
"Biggest thing I had getting ahead of hitters," he said. "I threw a lot of first-pitch strikes, fastball-slider mostly, and mostly high fastballs, inside fastballs, sliders low. The biggest thing was attacking the hitters and putting pressure on them, making them swing the bat and filling up the zone."
Baird said he realized around the fourth inning that his no-hitter was alive. He also remembered he was on a 60-pitch limit.
"The biggest thing in my first year is overall health and keeping my workload low," said Baird, who recalled his only other flirtation with a no-hitter came during his sophomore year in college, when it was broken up with one out in the ninth. "I understood [getting pulled] but I was frustrated walking out of the game. I was rooting for my guys -- I wanted a whole staff no-hitter. But it was a little frustrating. Overall it was fun getting outs and representing the Cardinals well today."
It's a humble outlook for the 6-foot-5 righty who celebrated his 23rd birthday on July 9. He said it was a childhood dream to play professional baseball.
"It's definitely a dream come true," he said. "You dream of getting drafted since you were a kid. I didn't think it would be physically or mentally as rough as it's been, especially since you're done with school and it's just baseball. It's been taxing a little bit, you've gotta be locked in every day trying to get better, facing better hitters and this atmosphere. It's been a smooth transition -- as smooth as it can be be, but a little different. But it's been fun and a good experience and overall a blessing."
Baird said he plans to go with the flow of his first pro season, soaking in the lifestyle and changes. He plans to work on fastball location and keeping his slider low in the zone.
"The biggest thing I think is just getting my feet wet and staying healthy," he said. "I'm taking little tips and things the Cardinals want me to start working on to be a better pitcher a knowing myself better. Fine-tuning, having as much success and fine-tuning what they want me to work on to be the best I can be for the organization."