Cardinals split Sunday's twinbill with Yankees
Pulaski takes game one, 3-2; Johnson City wins in nightcap, 4-2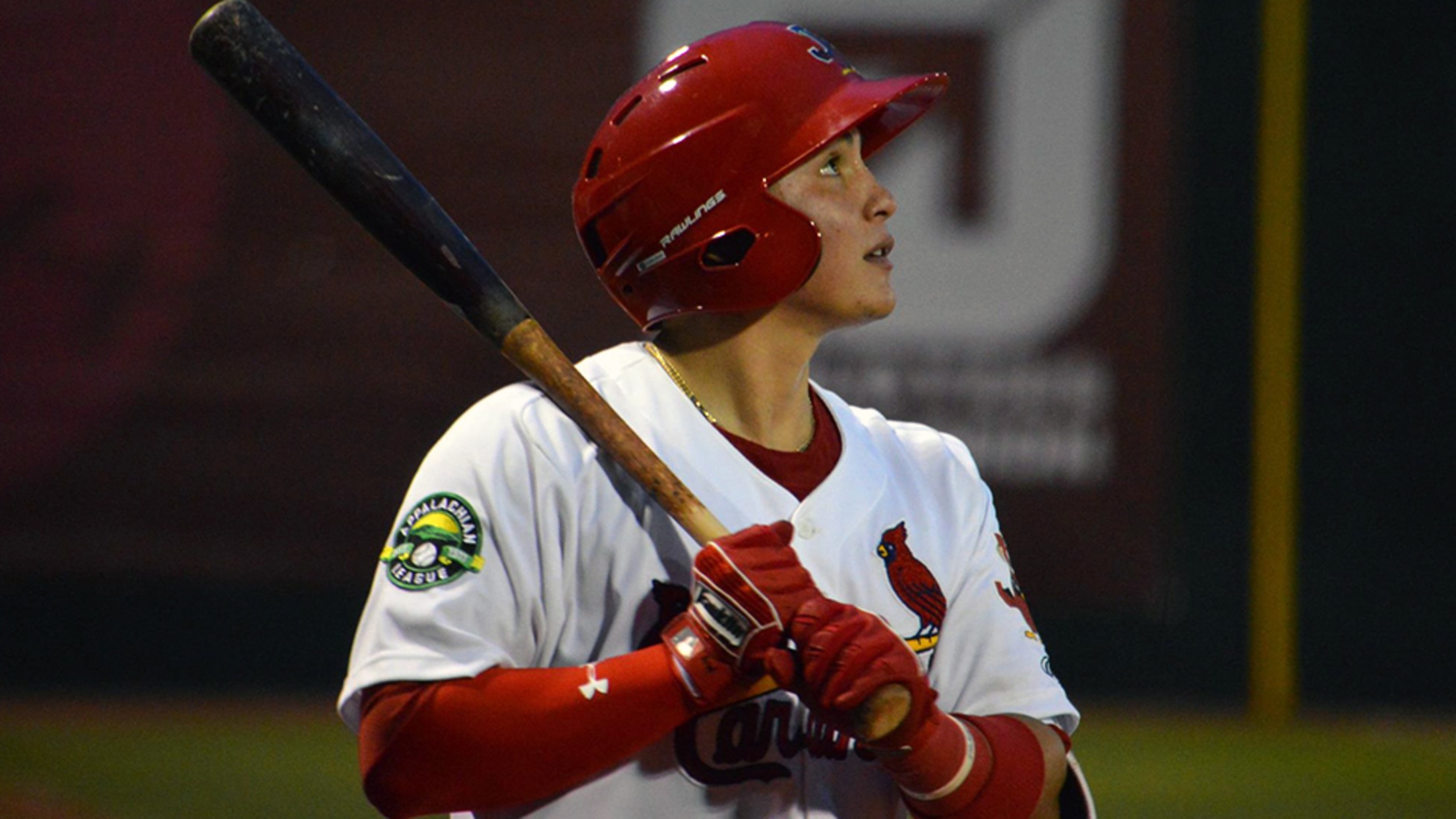 DH Irving Wilson finished a home run shy of the cycle in game two of Sunday's doubleheader, going 3-for-3 with a double, triple and two RBI, as the Cardinals split the twinbill with the Yankees at TVA Credit Union Ballpark. (Bret Jacomet)
JOHNSON CITY, Tenn. - In a pair of closely contested games, the Johnson City Cardinals and the Pulaski Yankees each came away with a win in Sunday's doubleheader. Pulaski snuck away with a 3-2 victory in game one, while Johnson City snagged a 4-2 triumph in game two in front of
JOHNSON CITY, Tenn. - In a pair of closely contested games, the Johnson City Cardinals and the Pulaski Yankees each came away with a win in Sunday's doubleheader. Pulaski snuck away with a 3-2 victory in game one, while Johnson City snagged a 4-2 triumph in game two in front of 1,539 fans at TVA Credit Union Ballpark.
With the split, the Cardinals saw their record jump to 7-4 on the year, while the Yankees control an 8-3 mark.
DH Irving Wilson (3-3, R, 2B, 3B, 2 RBI) and RF Chase Pinder (2-2, 2 R, 2B, BB) stole the show in the Redbirds' victorious nightcap. Trailing 1-0 in the second, Wilson slugged a triple into the left-center field gap and scampered home on a wild pitch to tie it at one.
In the fourth, the duo combined to put the Birds ahead. Pinder ignited the rally with a double down the left field line, but the next two batters could not drive him in. On a 1-0 pitch, Wilson did the deed. The right-handed swinger slapped a base-hit through the left side - scoring Pinder - to put Johnson City in front, 2-1.
After 3B Dermis Garcia (2-3, R, 2B, HR, 2 RBI, SO) blasted a game-tying home run in the top of the sixth, the Cardinals rallied to grab the advantage for good in the bottom of the frame.
Pinder drew a one-out walk and scooted to third on a single to right by 1B Carlos Rodriguez (1-3, R). LF Walker Robbins (0-2, RBI, SO) put the Redbirds back ahead, as his sacrifice fly to center brought home Pinder to give Johnson City a 3-2 edge. Following a pitching change, Wilson slammed a RBI double off the wall in right to make it a 4-2 affair.
LHP Jacob Patterson (1.0 IP, SO) came on in the top of the seventh to shut the door. The left-hander tossed a three up, three down inning to seal his second save of the year.
LHP Brett Seeburger (4.0 IP, 5 H, R, ER, BB, 5 SO) was impressive in his first professional start, allowing just one run over four innings. RHP Thomas St. Clair (2.0 IP, H, R, ER, 3 SO) garnered his first pro win, striking out three in two frames.
Pulaski's RHP Gilmael Troya (5.2 IP, 6 H, 4 R, 4 ER, 2 BB, SO) suffered his first loss of the season, yielding four runs on six hits in 5.2 innings of work.
The Yankees - however - were able to earn a split of the doubleheader taking the day's lid-lifter.
In the first, CF Pablo Olivares (1-3, R) was plunked leading off the game and advanced to second on a wild pitch. Following a one-out walk, Garcia (1-3, 2B, 2 RBI, SO) cranked a two-run double down the left-field line to put Pulaski in front, 2-0.
Johnson City was able to even the tide with runs in the first and fourth. 2B J.D. Murders (0-3, R, SO) reached on an error in the opening frame and advanced to third on a double by 3B Brady Whalen (1-3, 2B). A wild pitch would allow Murders to score and make it a 2-1 Pulaski advantage.
In the fourth, DH Wood Myers (1-2, R, BB) singled to left and 1B Luis Bandes (1-3, 2B) clanged a double off the left-field wall. Another errant pitch allowed Myers to cross home plate to even the game at two.
The Yankees grabbed the lead for good in the fifth. 2B Eduardo Torrealba (1-3, R, 2B, SO) slapped a double to left and Olivares followed with a single. The ball was misplayed in the outfield, which allowed Torrealba to score instead of stopping at third and Pulaski jumped ahead, 3-2.
RHP Wellington Caceres (6.0 IP, 4 H, 2 R, ER, 2 BB, 5 SO) earned the win for the Yanks, allowing two runs (one earned) over six innings. RHP Matthew Wivinis (1.0 IP 2 H, 2 SO) threw a scoreless seventh to earn his first save of the season.
Johnson City's starting RHP Johan Oviedo (3.0 IP, 2 H, 2 R, 2 ER, 2 BB, 2 SO) did not factor into the decision after being hit for two runs on two hits in three frames. RHP Robert Calvano (3.0 IP, 3 H, R, ER, BB, 4 SO) was saddled with his second loss after yielding the game's go-ahead run.
SS Delvin Perez (2-3) was impressive in game one, collecting a game-high two hits. In the nightcap, Wilson (3-3, R, 2B, 3B, 2 RBI) and Pinder (2-2, 2 R, 2B, BB) combined to go 5-for-5 with three runs, three extra-base hits and two RBI.

The Cardinals wrap up their six-game homestand on Monday, as LHP Jacob Schlesener (0-0, 0.00 ERA) is expected to take the mound for Johnson City. Pulaski is projected to counter with RHP Carlos Espinal (0-0, 4.50 ERA).
The Cardinals Pre-Game Show will kick off the broadcast at 6:45 p.m. ET, leading up to the 7:00 p.m. ET start at TVA Credit Union Ballpark. Monday evening's contest can be heard on NBCSportsTriCities.com, JCCardinals.com or via the TuneIn Radio and MiLB First Pitch apps.
Following the final out of Monday's game will be the Cardinals' first fireworks show of the season in honor of Independence Day on Tuesday. In addition, it will be the team's first Dollar Monday of the 2017 campaign with Natty Light, soda, hot dogs, popcorn, candy and Dr. Enuf being sold for just one dollar.
Season and single-game tickets are still available and can be purchased online at JCCardinals.com or by calling the Cardinals' Ticket Office at (423) 461-4866.
ABOUT THE JOHNSON CITY CARDINALS
The Johnson City Cardinals are the Rookie affiliate of the St. Louis Cardinals. Members of the ten-team Appalachian League, Cardinals baseball has been entertaining families and fans of America's national pastime in the East Tennessee region for 80 years. To learn more about the Johnson City Cardinals, visit www.jccardinals.com.