Cards strike early, cruise late to top Royals, 6-3
Walsh and St. Clair retire final 16 batters to close out win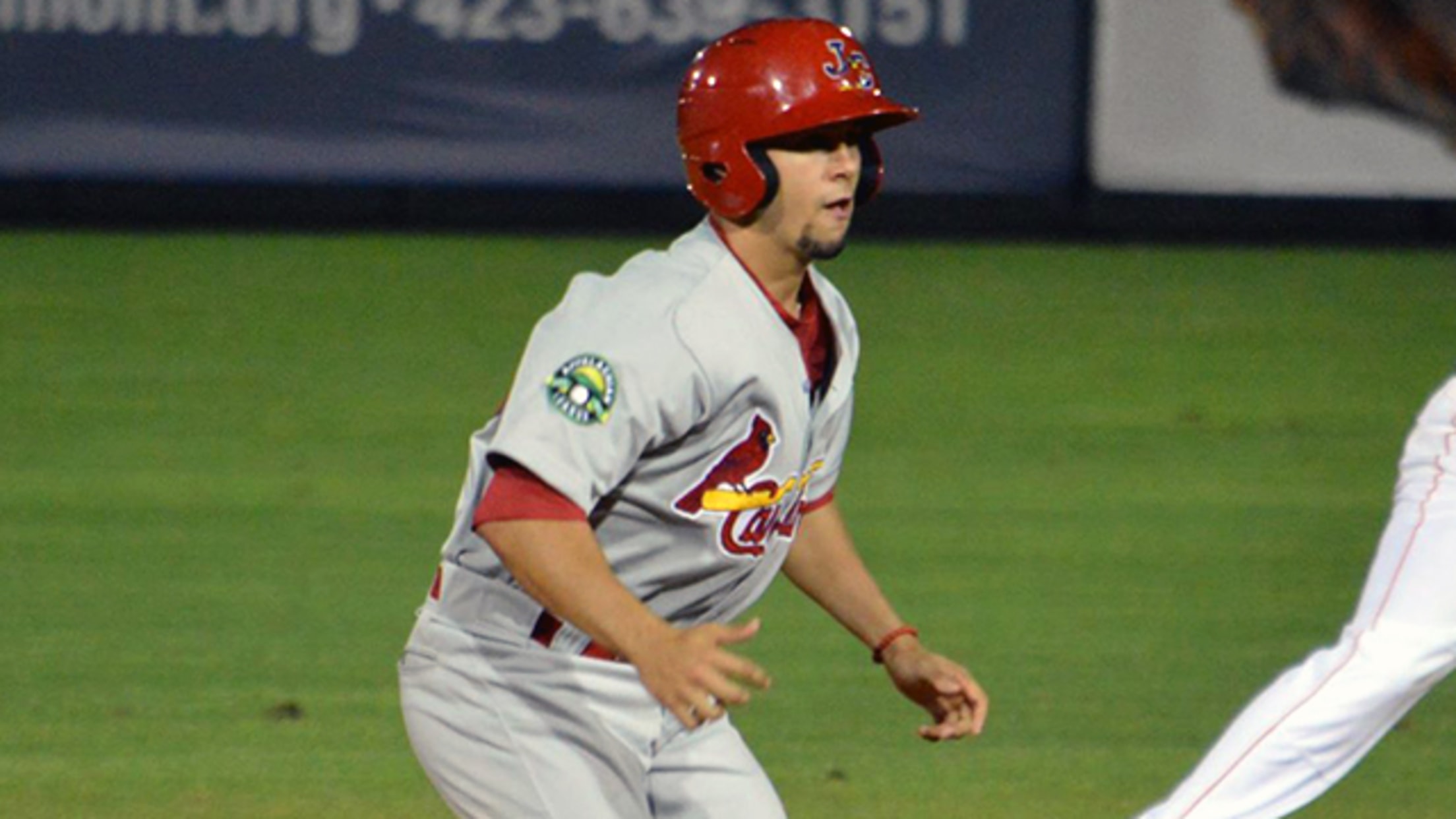 CF Chase Pinder collected a career-high three hits and drove in two runs, as the Cardinals beat the Royals, 6-3, on Tuesday night at Burlington Athletic Stadium. (Bret Jacomet)
BURLINGTON, N.C. - Johnson City jumped out to an early 4-0 lead and never looked back, as the combination of RHP Jake Walsh and Thomas St. Clair retired the final 16 batters of the game, as the Cardinals defeated the Burlington Royals, 6-3, on Tuesday night at Burlington Athletic Stadium.With the win, the Redbirds improve
BURLINGTON, N.C. - Johnson City jumped out to an early 4-0 lead and never looked back, as the combination of RHP Jake Walsh and Thomas St. Clair retired the final 16 batters of the game, as the Cardinals defeated the Burlington Royals, 6-3, on Tuesday night at Burlington Athletic Stadium.
With the win, the Redbirds improve to 11-15 on the season and won their first lid-lifter of a series since June 28 vs. Greeneville. The loss drops Burlington to 9-16 on the campaign.
Scoreless going to the third inning, the Cardinals erupted for four runs to grab the lead for good. RF Jonathan Rivera (1-4, R) started the inning with a single to left and SS Irving Lopez (1-3, R, BB, SO) added a walk. CF Chase Pinder (3-5, R, 2B, 2 RBI) followed by cranking a RBI single to center to put the Birds in front, 1-0.
Two batters later, DH Luis Bandes (1-2) got aboard with an infield single to short to load the bases. C Julio Rodriguez (2-4, R, 2 2B, 2 RBI, SO) proceeded to whack a two-run double to right-center to extend the advantage to 3-0. A wild pitch would allow another runner to cross, giving the Cardinals a 4-0 edge.
Burlington answered back with three runs in the bottom of the fourth. 1B Reed Rohlman (0-3, R, SO) was plunked with one out and two batters later 3B Oliver Nunez (1-4, R, 2B, SO) cracked a double to right-center. With men at second and third, C Sebastian Rivero (2-4, R, 2 RBI) slapped a two-run single to left to cut the Johnson City lead to 4-2.
LF Travis Jones (1-4) singled and 2B Jose Marquez (2-3) reached on a fielder's choice to load the bases. DH Michael Gigliotti (0-2, RBI, 2 BB) then drew a bases-loaded walk to force home a run and pull the Royals to within 4-3.
That was a close as they would get, as Walsh (3.1 IP, 2 SO) entered and struck out SS Jeison Guzman (0-4, 2 SO) to end the inning. Thanks to the 21-year-old and St. Clair (2.0 IP), Burlington did not put another man on base for the remainder of the ballgame.
The Cardinals added a pair of insurance tallies in the seventh and eighth. 2B J.D. Murders (3-4, R) singled to left and scooted to second on a sacrifice bunt before scoring on a RBI double by Pinder to make it 5-3. In the eighth, Rodriguez doubled and scored on a run-scoring ground out by 1B Carlos Rodriguez (0-3, RBI, BB, 2 SO).
Walsh (3.1 IP, 2 SO) earned his team-leading third win of the year, sitting down all 10 men he faced on Tuesday. St. Clair (2.0) came on in the eighth and retired the final six men in order to garner his second save of the season.
RHP Alvaro Seijas (3.2 IP, 6 H, 3 R, 3 ER, 2 BB, 2 SO) put down the first six men in-a-row to start the game, but received a no-decision for Johnson City.
Burlington RHP Nolan Watson (4.0 IP, 6 H, 4 R, 4 ER, 2 BB, 3 SO) suffered his first loss of the season after allowing four runs in four innings during his second rehab start.
Pinder (3-5, R, 2B, 2 RBI) and Murders (3-4, R) shined for the Redbirds, as the duo collected a game-high-tying three hits. Julio Rodriguez (2-4, 2 2B, 2 RBI, SO) also added two hits and runs batted in during the Cardinals' win.
The Cardinals will go for the series win on Wednesday, as they are slated to send RHP Johan Oviedo (1-1, 3.75 ERA) - St. Louis' No. 25 prospect according to MLBPipeline.com - to the mound. LHP Joey Markus (0-1, 18.00 ERA) is expected to take the ball for the Royals.
The Cardinals Pre-Game Show will kick off the broadcast at 10:45 a.m. ET, leading up to the 11:00 a.m. ET start at Burlington Athletic Stadium. Tuesday evening's contest can be heard on NBCSportsTriCities.com, JCCardinals.com or via the TuneIn Radio and MiLB First Pitch apps.
Following the six-game road trip, the Redbirds will return home for a six-set homestand, starting with a three-contest series against the Danville Braves, the rookie affiliate of the Atlanta Braves, starting on Friday, July 21. It will be Salute to Heroes Night at the ballpark, as Johnson City will honor veterans past and present with select discounts inside the stadium. Following that night's game, there will be a spectacular Fireworks Show presented by Xtreme Painting.
Single-game tickets are still available and can be purchased online at JCCardinals.com or by calling the Cardinals' Ticket Office at (423) 461-4866.
ABOUT THE JOHNSON CITY CARDINALS
The Johnson City Cardinals are the Rookie affiliate of the St. Louis Cardinals. Members of the ten-team Appalachian League, Cardinals baseball has been entertaining families and fans of America's national pastime in the East Tennessee region for 80 years. To learn more about the Johnson City Cardinals, visit www.jccardinals.com.