Chester collects five hits for P-Rays
Tampa Bay 12th-rounder swipes two bases, plates two runs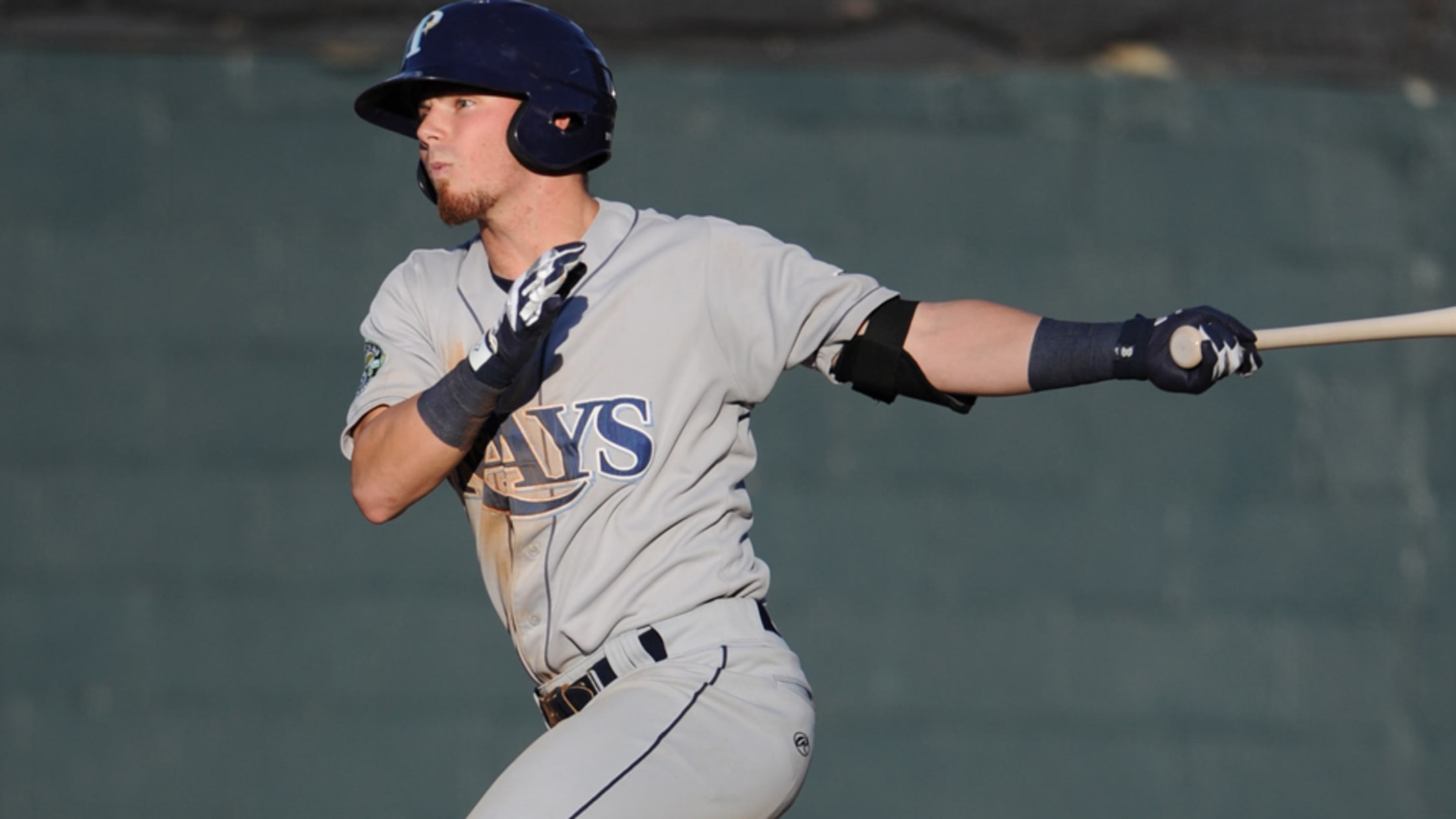 Carl Chester has collected multiple hits in 13 of the 28 professional games he's played since debuting June 22. (Tracy Proffitt/MiLB.com)
On the last day of their trip from Orlando to West Virginia, Carl Chester's parents, Dana and Jill, were treated to a memorable game. In fact, their son made it a perfect one."Seeing five hits come across the scoreboard for me, that's pretty special, especially with my parents in the
On the last day of their trip from Orlando to West Virginia, Carl Chester's parents, Dana and Jill, were treated to a memorable game. In fact, their son made it a perfect one.
"Seeing five hits come across the scoreboard for me, that's pretty special, especially with my parents in the stands," Chester said. "They listen to all the games on the radio, but this [trip] was their first time seeing [me play as a pro]. ... I guess I had to give them something to go home with."
The 2017 12th-round pick went 5-for-5 with a triple, a double, two RBIs, a run scored and two stolen bases to lead Rookie-level Princeton to an 8-4 win over visiting Kingsport on Sunday.
Gameday box score
Chester logged a four-hit game on July 16 and scored four runs Thursday. His perfect day at the dish made him 10-for-17 (.588) over his last four games and boosted his season slash line to .333/.436/.444 with five doubles, four triples and eight steals over 28 games.
"I think the coaches have really helped me relax a little more at the plate and see some more pitches, kind of get my timing down," he said. "I'm also getting into the swing of things more, playing every day. I'm realizing the work you need to put into that, and I'm seeing it pay off."
The 21-year-old outfielder led off the game with a base hit to left field off Mets left-hander Aneury Olivo. Trying to score from first on a single by Zach Rutherford, he got caught at the plate.
"I got a good jump off the bat, but in that situation, in the first inning with no score, I just need to stay put with the No. 3 and 4 hitters coming up, let them swing the bat with me on base," Chester admitted. "If the score was different, maybe I [would want to be] that aggressive, but in that situation, I should stay put. After, I had conversations with the coaches, and they told me that too."
The next inning, though, his speed and aggression paid off with back-to-back stolen bases. After poking a two-run hit up the middle, Chester swiped second and third.
"When I got to first base, [Rays outfield and baserunning coordinator Skeeter Barnes] told me to go on the lefty's first move, because we'd just scored and his mind was going to be off me for a little bit," he said. "I took second, and once I was there, I looked over and both coaches gave me a little nod."
In the fourth, the University of Miami product dug out an infield hit to boost his confidence.
"It's kind of through the roof," Chester said. "The next couple at-bats, obviously you're not going to take any of them off, because I was taught you can never do that. I wanted to add some more to the board and help the team put up some more runs."
• Get tickets to a P-Rays game »
Two innings later, he drove the eighth pitch of an at-bat against righty Edwin German deep to center for a triple.
"I swung at a few curveballs in the dirt to start that at-bat, so I had to step out and take a deep breath," Chester said. "I fought some pitchers' pitches off, and on 3-2, I got a fastball over the heart of the plate and put a good swing on it. I was battling to get that pitch."
When he doubled to center against righty Marbin Montijo in the seventh, it marked the fourth time in the game Chester hit the ball in that direction.
"Me and a couple of the [other] players have been talking, and it's easy to get away from staying up the middle," the Longwood, Florida native said. "You can get pull-happy, start rolling over balls, but my teammates and I were talking about how to stay back up the middle -- if it's inside, let your hands react, and if it's the other way, go with it."
Joel Peguero (2-1) earned the victory after scattering six hits over five shutout innings.
Jeremy Vasquez, New York's 28th-round pick, hit his sixth home run -- a two-run shot -- for Kingsport.
Josh Jackson is a contributor to MiLB.com. Follow and interact with him on Twitter, @JoshJacksonMiLB.