Carolina notes: Cubs' Swarmer on his game
Pelicans righty applying lessons from 2017 stint in upper levels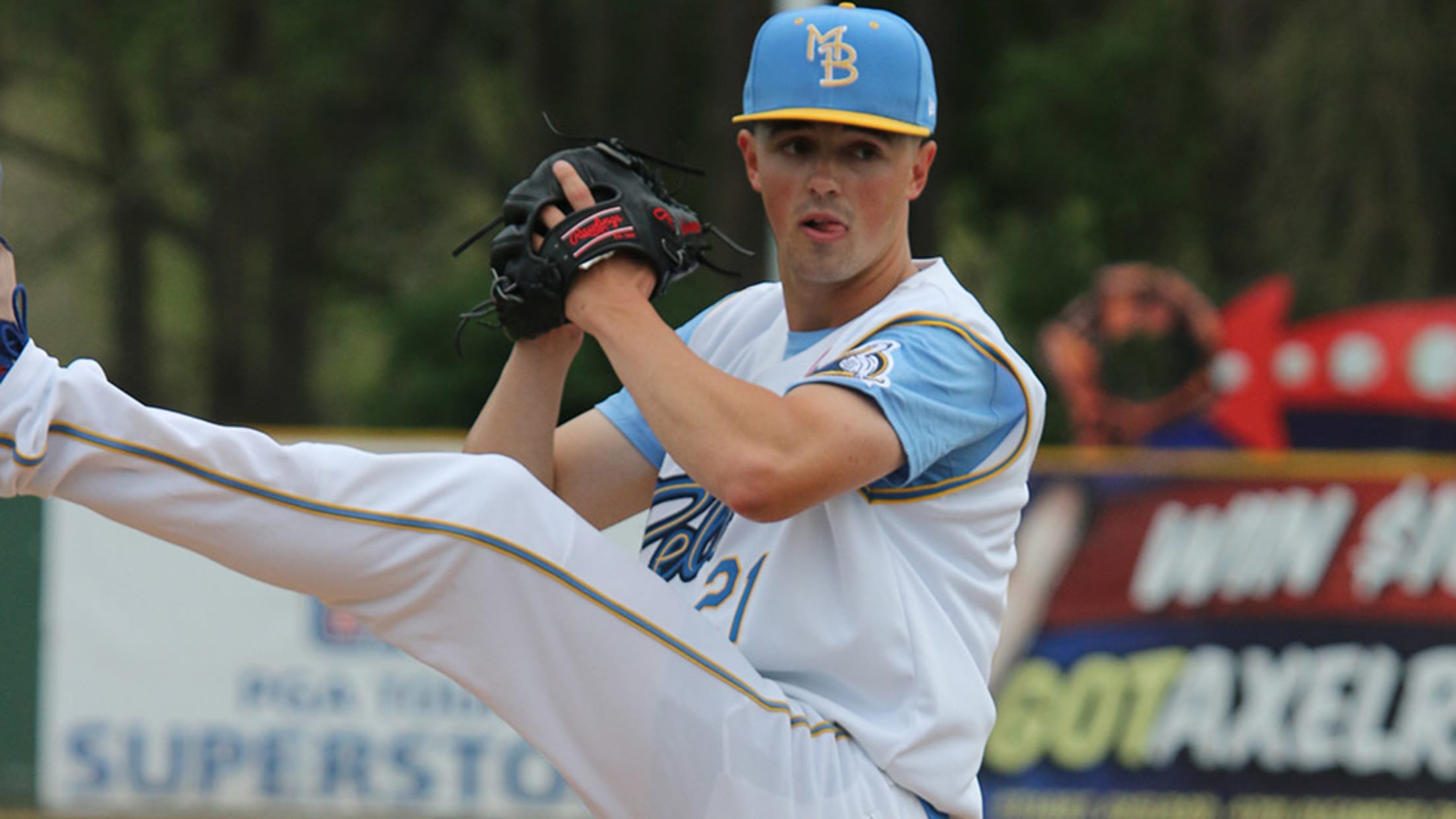 A 2016 19th-rounder, Matt Swarmer boasts the Carolina League's second-best ERA this season at 1.32. (Larry Kave/Myrtle Beach Pelicans)
The end of last season was a bit of a whirlwind for Matt Swarmer.The Cubs' 19th-round selection from the 2016 Draft, Swarmer spent the majority of the year at Class A South Bend before getting an unexpected call for a spot start at Triple-A Iowa on Aug. 19 and then
The end of last season was a bit of a whirlwind for Matt Swarmer.
The Cubs' 19th-round selection from the 2016 Draft, Swarmer spent the majority of the year at Class A South Bend before getting an unexpected call for a spot start at Triple-A Iowa on Aug. 19 and then making his final two starts of the campaign for Double-A Tennessee.
The 24-year-old right-hander, who was dominant in his I-Cubs appearance but then struggled with the Smokies, was approached one day in the Tennessee clubhouse by some teammates, and the conversation eventually led to the question, "What did you do in Triple-A that you didn't do in Double-A?"
Swarmer soon realized why he was coughing up runs in Double-A after throwing a seven-inning shutout at Triple-A: he was overthrowing, and it showed.
Then he received a pertinent piece of advice.
"A couple guys told me, 'Don't try to overwork it -- just pitch your game,'" Swarmer said. "It's just another game, another game of baseball. I took that into perspective and didn't overwork. I just kept pitching my game, and it's still going pretty well."
Swarmer has been himself at the start of this season with Myrtle Beach. He was the Cubs' Minor League Pitcher of the Month for April, boasts the Carolina League's second-best ERA at 1.32 and is tied with two other starting pitchers for the fewest walks allowed with three.
"I didn't let anything get to me," he said. "I try to spot up my pitches. Each pitch has a purpose for the next one, so I just try to set up for the next pitch. If some guy gets a hit off me, I don't let my emotions show. I keep battling and keep pitching my game for the most part."
The Mohnton, Pennsylvania, native has won his last three starts with the Pelicans and allowed only one earned run over the last 22 2/3 innings. He allowed back-to-back leadoff hits that netted a run for Buies Creek on April 16, but he retired the next three batters to begin the impressive stretch.
While the conversation with his teammates at Tennessee was a central point in his development, he also gained insight into how hitters attack pitches at those upper levels, which he can use moving forward.
"It definitely helped. It definitely showed where my stuff plays out because … I learned mostly if you get ahead of the batters, they chase most of your pitches," Swarmer said. "What I took from Double-A and Triple-A was, at Double A, their hitters are a lot more aggressive because they're free swingers mostly; and then Triple-A, they're just looking for their pitch, so they're more patient, I noticed. … The hitters are definitely a lot better, and I have to pitch smarter."
Swarmer has also grown mentally stronger as he pitches in his third season at the Minor League level. He doesn't allow hits to derail innings, something that characterized appearances early in his career.
He pointed to one instance in particular in his most recent start, on May 5 at Lynchburg.
Trenton Brooks led off the second inning of a scoreless game with a double to right field. Swarmer, however, quickly escaped the inning with Brooks stranded at third base. It was the quintessential instance of Swarmer not trying to do anything extra and trusting that he could escape the inning without allowing a run.
"I just really bore down after that and got locked into the zone, and I got my way out of it without a run given up," he said. "I just don't let stuff get to me. I usually stay calm and take deep breaths, and just try to throw strikes and hopefully get the hitter chasing when I get ahead in the count."

In brief
Going the distance:
Lynchburg right-hander
Zach Plesac
threw the Carolina League's
first complete game Sunday
in a 2-0 victory against Myrtle Beach. The nephew of Dan Plesac faced one batter over the minimum and needed a mere 74 pitches to fire the two-hitter. The Indians' 12th-round selection from 2016 did not issue a walk for the first time this season, throwing 11 or fewer pitches in each inning.
One hit after another:
Potomac left fielder
Telmito Agustin
leads the Carolina League with a .390 batting average, a .646 slugging percentage and a 1.062 OPS. What's been the key to his success, despite drawing only four walks? The Nationals' No. 27 prospect has posted 11 multi-hit games this season, including a four-hit barrage on April 29 at Lynchburg. In the past week, the 21-year-old Agustin has recorded four multi-hit games and owns a nine-game hitting streak.
All good things eventually end:
Lynchburg outfielder
Mitch Longo
's hitting streak ended at a Carolina League season-best 17 games after he was lifted from Sunday's game against Myrtle Beach for precautionary reasons. The Indians' No. 27 prospect had eight multi-hit games during the streak and raised his batting average from .125 to .319, and he's reached base in all 25 of his appearances this season.
Damien Sordelett is a contributor to MiLB.com.