Mudcats pull off rare 9-2-6-2 triple play
Brewers' Harrison, Aviles and Hummel combine on wild trifecta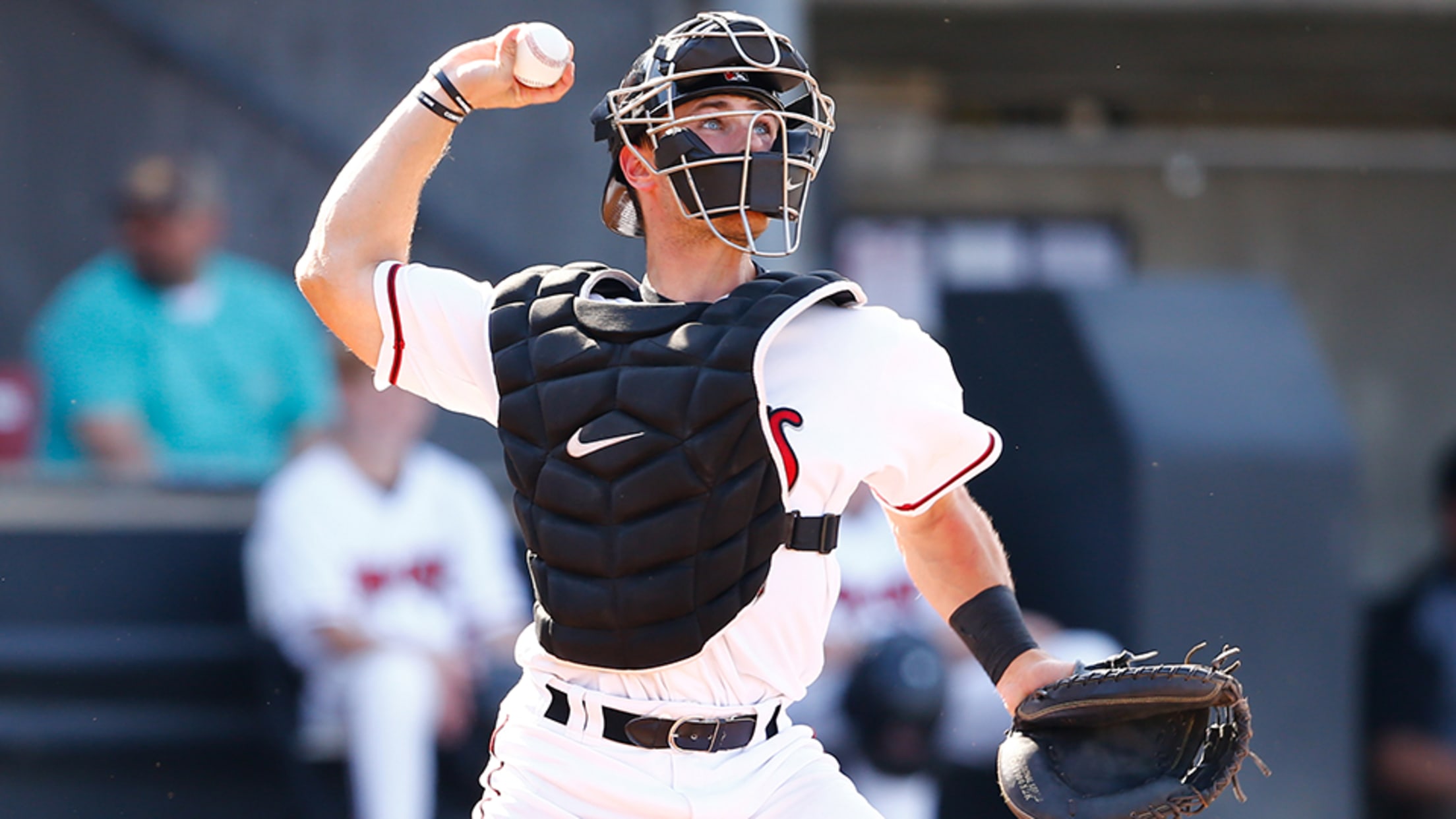 In 35 games behind the plate in the Carolina League this season, Cooper Hummel has 27 assists. (Chris Robertson/MiLB.com)
So far this season, Five County Stadium has seen a successfully executed hidden-ball trick, an on-field proposal and a beer-drenched foul ball. In the Class A Advanced Mudcats' 7-1 loss to the Hillcats, Carolina's friendly confines added an unusual triple play to that list.The visiting Hillcats forced No. 21 Brewers
So far this season, Five County Stadium has seen a successfully executed hidden-ball trick, an on-field proposal and a beer-drenched foul ball. In the Class A Advanced Mudcats' 7-1 loss to the Hillcats, Carolina's friendly confines added an unusual triple play to that list.
The visiting Hillcats forced No. 21 Brewers prospect Cody Ponce from the game with two hits and a walk to load the bases with no outs in the sixth inning. Luke Barker took over for Ponce to face the righty-swinging Jodd Carter and got out of the jam with just two pitches.
Barker's first delivery missed down and away and his next was lifted softly to right fielder Monte Harrison about 30 feet short of the warning track. The Brewers' No. 14 prospect circled to make the catch and threw home. Connor Marabell, Lynchburg's runner at third, froze a few steps off the bag, but Sicnarf Loopstok got caught off second.
"Monte's great in the outfield. He's got a great arm. I think some of the guys in this league don't necessarily know how good of an arm that he has," Mudcats catcher Cooper Hummel said. "I wasn't exactly sure he was going to go from third because it was more of a routine fly ball, probably mid-depth. Nothing too deep, and with that arm, it's pretty tough to run on. I don't think the guy on second really realized that."
Hummel fired to shortstop Luis Aviles Jr., who chased down Loopstok and applied the tag just in front of third. Marabell broke for the plate during the rundown and Aviles threw a bullet back to Hummel, who caught it above his head, dug a knee into the ground in front of the plate and made the tag for the final out.
"Knowing that a guy is coming at you -- I love that," Hummel said. "I kind of wish sometimes we still had the collision because I love that intensity and adrenaline rush it gives you. I just had to put myself in a good position to make a play there and make a tag."
The fact that Carolina got three outs on one play didn't sunk in for Harrison until he realized it was time to jog off the field.
"For me it was definitely routine, I didn't think anything of it," the 2014 second-round pick said. "I was like, 'Wait a minute. We had no outs. Whatever, let's hit now.'"
• Get tickets to a Carolina Mudcats game »
The triple play was the seventh turned in the Minors this season.
Ponce (7-8) was saddled with the loss after allowing six runs -- five earned -- on nine hits and two walks with a pair of strikeouts over five-plus innings. Harrison went 0-for-2 with a walk and a run scored and added a double in the nightcap, a 3-2 loss for the Mudcats.
Loopstok homered in both games, going a combined 3-for-6 with three RBIs in the twinbill.
Gerard Gilberto is a contributor to MiLB.com. Follow and interact with him on Twitter, @GerardGilberto4.