Carolina notes: Clement hits ground running
Indians No. 25 prospect thriving with Hillcats following promotion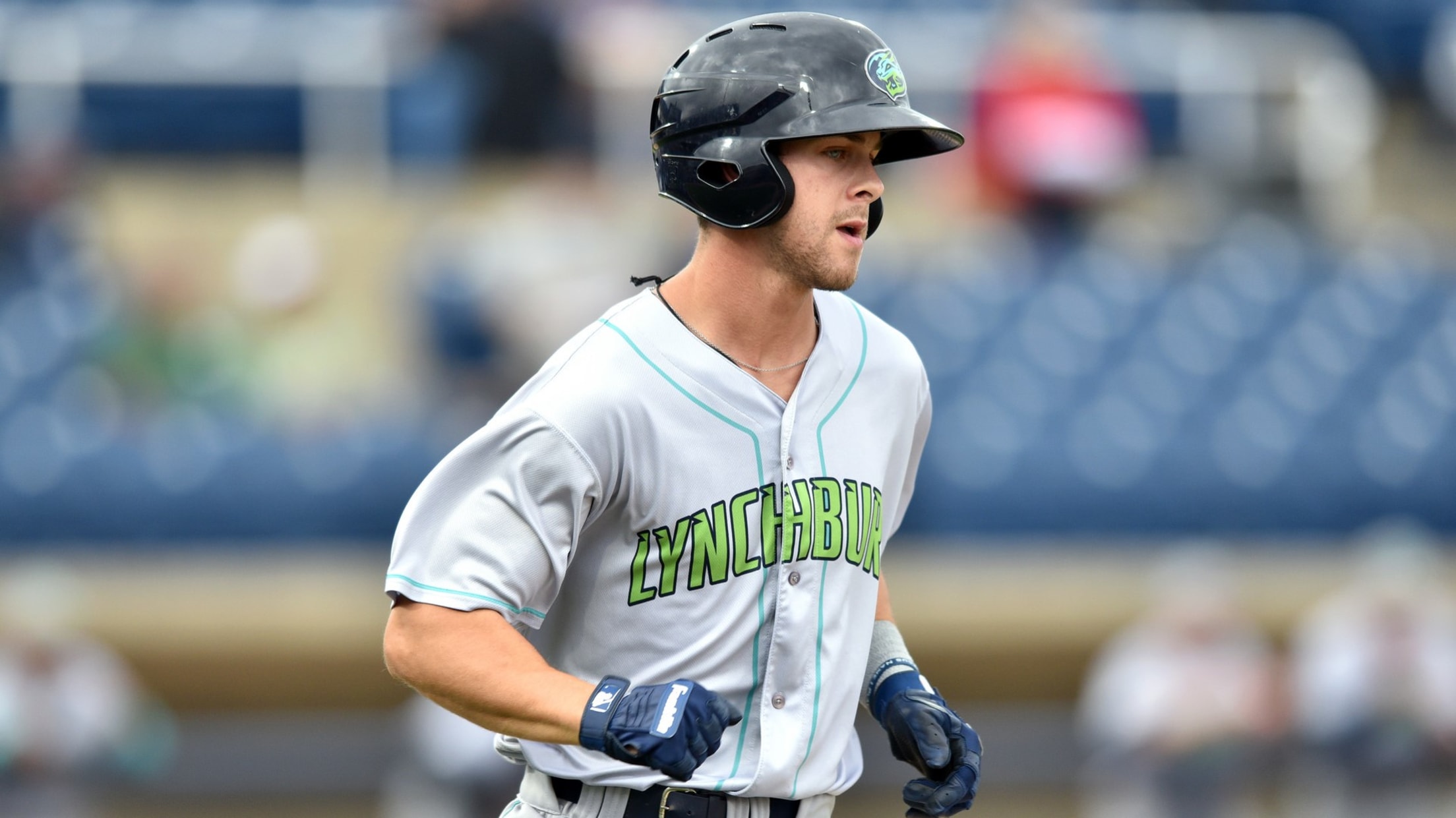 Ernie Clement is hitting .341 with a .427 on-base percentage in 22 games at the Class A Advanced level. (Ken Inness/MiLB.com)
Ernie Clement couldn't help but chuckle as he described his evolution into becoming such a difficult batter to strike out. The Lynchburg Hillcats shortstop harkened back to his freshman season at the University of Virginia when he hit either eighth or ninth in the potent Cavaliers lineup.His task each at-bat
Ernie Clement couldn't help but chuckle as he described his evolution into becoming such a difficult batter to strike out. The Lynchburg Hillcats shortstop harkened back to his freshman season at the University of Virginia when he hit either eighth or ninth in the potent Cavaliers lineup.
His task each at-bat was to turn the lineup over and get in position to score. He began learning how to work the counts, which pitches he needed to be selective with, which ones to attack early in the counts and also finding soft spots in the defense to hit the ball.
Clement essentially had a leadoff hitter's mind-set, and he's thriving at the top of the order since being promoted to the Cleveland Indians' Class A Advanced affiliate on June 23.
The six-foot, 170-pound Clement is hitting a robust .341 with a .427 on-base percentage in 22 games for the Hillcats, and he has struck out three times in 88 at-bats.
"It's really just finding ways to get on base any way I can and having a team at-bat type approach. It's really not my at-bat, it's for the team," Clement said. "If I can get on base, it's going to help our chances of winning. I think it's been a pretty simple approach, just finding ways to get on base, work counts when I have to and jump on pitches early in the count when I have to.
"I think there's a good balance between knowing when to swing early in the count and when to kind of work a count. That's what they really emphasize in pro ball. It's been really cool and hopefully I can keep getting a lot better with getting on base because I'll have to."
The Indians' No. 25 prospect reached base in his first 20 games with the Hillcats, and he has hit in the leadoff spot since his second appearance in a Lynchburg uniform.
Clement hit .267 with 34 runs scored, 14 doubles, 15 RBIs and 21 strikeouts in 54 games with Class A Lake County before the promotion.
"I think the adjustment has been pretty smooth, and that's a testament to all the guys in this organization and the coaching staffs that I've had," Clement said. "They've prepared me well for each step. All my teammates are awesome, too. They just want to go out and win. I think we mesh well together and it's been really fun."
The Rochester, New York native and Indians' fourth-round selection in the 2017 Draft was one of the most difficult hitters to strike out in his final two seasons at Virginia. He was ranked as the toughest to strike out in the nation as a junior in 2017 as he struck out once every 36.3 at-bats.
Even though his strikeout numbers have expectedly increased since joining the professional ranks, Clement remains focused on limiting his strikeouts and focusing on putting the ball in play to give him a chance to get on base.
According to FanGraphs, his batting average on balls in play is identical (.341) in Lynchburg, while it was more than 20 points higher than his batting average in Lake County (.290).
The higher percentage on balls in play can be linked to Clement hitting the ball on the ground on nearly half of his batting balls. Almost 48 percent of his batted balls in Lynchburg are on the ground, similar to his near 49-percent clip in Lake County.
"As you move up these levels, the fielders get pretty good. The harder contact I can make the better, but at the same time with two strikes it's really important to put pressure on the defense any way I can," Clement said. "Try to just find a way to get a ball in play and sneak one.
"It comes with the territory, too. I've gotten a lot better with knowing the strike zone, and there's certain pitches early in the count that I used to get myself out on and I've kind of really worked on laying off those pitches, especially with two strikes."

In brief
Fourth turns out to be the charm:
Wilmington infielder
Gabriel Cancel
has found a sweet spot in the Blue Rocks' lineup, and it just so happens to be as the cleanup hitter. The Kansas City Royals' No. 21 prospect is hitting .338 with 22 RBIs while batting fourth this season, compared to his .254 clip when he hits elsewhere in the order. Cancel has been one of the Carolina League's best hitters with runners in scoring position recently with 35 RBIs in his last 31 games to give him a team-best 55 for the season.
Grand walk-off:
Nearly a year and one week to the date of its last occurance, the Winston-Salem Dash enjoyed a walk-off win in grand fashion.
Laz Rivera
hit a grand slam in the 10th inning Monday night to lift the Dash to a thrilling victory over the Buies Creek Astros. The walk-off slam was the first for the Dash since
Zack Collins
accomplished the feat on July 10, 2017, when his blast in the 11th inning lifted Winston-Salem over the Carolina Mudcats. It was Rivera's first homer since July 4.
Bullpen required?
Myrtle Beach's starting pitching has been nearly unflappable for almost three consecutive weeks. The rotation owns a sparkling 2.10 ERA spanning the past 17 starts by allowing only 21 runs (20 earned) on 59 hits over 85 2/3 innings. The dominant stretch came immediately on the heels of a dismal week in which the starting rotation was hammered for 24 earned runs on 39 hits in 28 1/3 innings over seven games.
Damien Sordelett is a contributor to MiLB.com.