Carolina notes: Sagdal's adjustment pays off
Repeating league, Washington prospect has cut down strikeouts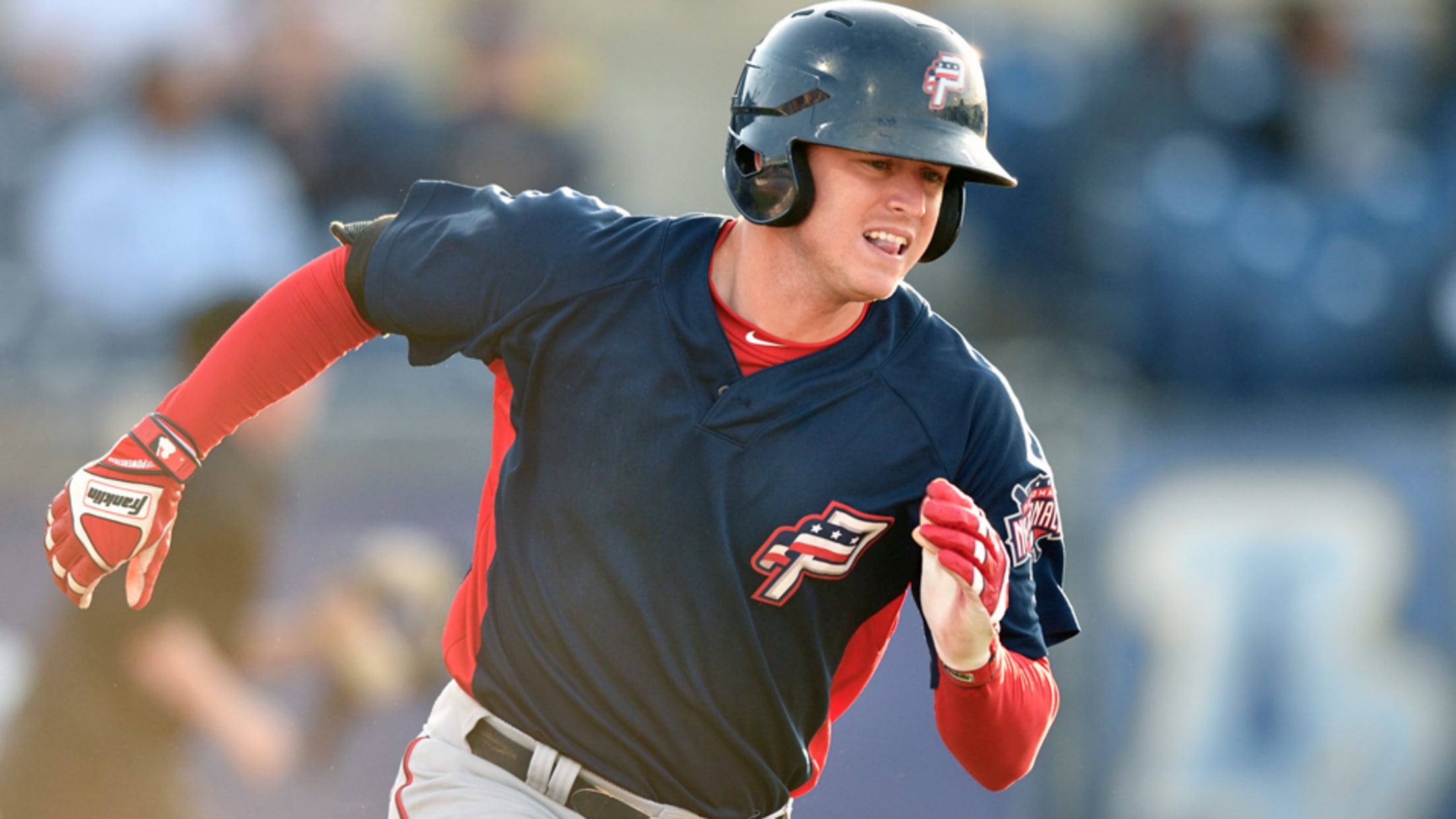 Ian Sagdal is second in the Carolina League with a .317 batting average and third with a .376 on-base percentage. (Ken Inness/MiLB.com)
The Washington Nationals tasked Ian Sagdal with refining his swing over the last offseason. The organization wanted to see the 2015 16th-round Draft pick develop a better two-strike approach and cut down on taking big swings.Sagdal returned home to Wenatchee, Washington, and decided to try something new with his offseason
The Washington Nationals tasked Ian Sagdal with refining his swing over the last offseason. The organization wanted to see the 2015 16th-round Draft pick develop a better two-strike approach and cut down on taking big swings.
Sagdal returned home to Wenatchee, Washington, and decided to try something new with his offseason work. He brought in his brothers, Patrick Sagdal and Elijah Smiley, to take batting practices with him. Instead of mundane, routine sessions, he chose to loosen up and have competitions with his brothers.
The 25-year-old implemented the relaxed approach into this hitting when he returned to the Potomac Nationals this season. He looked forward to hitting with two strikes instead of crumbling under the pressure and striking out like he did in 2017.
Sagdal has thrived at the plate while playing both corner infield positions with the P-Nats this season. He is second in the Class A Advanced Carolina League with a .317 batting average and third with a .376 on-base percentage.
"Last year I could tell when I got to two strikes, it was kind of like, 'Oh crap, I need to make sure I put the ball in play,'" he said, "As opposed to this year, it's kind of like, 'You know what? It's his count right now, but that doesn't mean I can't do some damage with the pitch he gives me.' I think that's really the biggest difference for me this year. Even though it's not my count, I can still do some damage here and there. Obviously, you're not going to get a hit every at-bat or every strike you get, so I try to do what I can with the pitches I get."
The Washington State product struggled in 2017 with a career-high 116 strikeouts while batting .258/.307/.400. The strikeouts outweighed his career-high 69 RBIs and second straight 10-homer season and motivated the 6-foot-3, 190-pounder's offseason work with his brothers. He focused on choking up with two strikes in order to make a good swing rather than a big swing.
"I think that's really the big thing for me this year, battling with two strikes as opposed to chasing after bad pitches, and just really seeing the ball up in the zone rather than trying to adjust as the pitch is coming in," Sagdal said. "I think that's been the biggest part for me this year. It's trying to cut down on the big swing and put the ball in play."
He has put his relaxed mindset to good use during the season. He once feared hitting when down two strikes. Now he welcomes those opportunities when he knows opposing pitchers are bringing their best deliveries and tries to work the count back into his favor.
His weighted on-base percentage (wOBP) of .376 nearly matches the .377 mark he set in 2016 during an All-Star season with Class A Hagerstown.
"Honestly, those are my favorite at-bats, when I get down, 1-2, 0-2, early and I battle my way back to a 2-2, 3-2 count," Sagdal said. "That makes you feel a whole lot better about yourself because you're seeing pitches. You're recognizing balls out of the hand as opposed to, 'OK, well, I need to swing no matter what because it's 0-2 or 1-2.' I'm definitely seeing off-speed a lot better this year and I think I'm just seeing it deeper, making sure I'm choking up on the bat and putting a good swing on the ball. If he makes a mistake, I have to make sure I don't just foul it off. I want to make sure if he throws that ball over the plate, I can put that ball in play and hopefully hard somewhere."
Sagdal's home run numbers have dropped this season (he hit his sixth homer of the season on Aug. 24 against Lynchburg), but he has driven in 55 runs and his 117 hits are seven shy of matching his career high set in 2016.
"My home run numbers are down this year, but I'm hitting a lot more line drives. ... Some of them haven't carried out. Earlier this year, I was struggling a little bit getting the ball in the air, but I was hitting the ball hard on the ground and it was getting through holes," Sagdal said. "As long as I'm getting on base and guys like Rhett [Wiseman] can score me, then I feel like I'm doing my job. As long as I'm getting on base and giving us opportunities to win ball games, I think that's all you can ask for. I'm not going to be that guy that's going to go out and hit 45 home runs in a year. If I did I'd be happy, but I'm more about trying to get as many RBIs and score as many runs as possible for other guys."

In brief
Already locked in:
The Buies Creek Astros came up short in securing a Mills Cup postseason bid last season, losing out to fellow Carolina League newcomer Down East for the second-half playoff spot. The Astros secured a postseason spot this year with a dominant second half, earning a trip to the Southern Division semifinals series against first-half winner Winston-Salem thanks in large part to the best pitching staff in the Carolina League. The Astros lead the 10-team league in ERA (3.08), strikeouts (1,204) and WHIP (1.15).
Chasing Dalbec:
Boston Red Sox prospect
Bobby Dalbec
enjoyed a stellar 100 games with Salem. He clubbed 26 home runs and that mark still leads the Carolina League. But Frederick's
Wilson Garcia
is closing in. Garcia, who hit 22 homers in his first seven Minor League seasons, is three behind Dalbec with 23 long balls and is heating up this month. Garcia has hit four homers and is batting .316 in his last 10 games.
Alvarado eyes the 12th:
Frederick right-hander
Cristian Alvarado
has been the Keys' workhorse this season. He leads the Carolina League in innings pitched with 143 and is fourth with 115 strikeouts. He is also seeking his league-leading 12th victory. Alvarado, whose previous high in victories in a season was 10 back in 2016 with Class A Delmarva, is 11-10 this season and is tied with
Wil Crowe
for the league lead in victories. Crowe was 11-0 with Potomac before being promoted to Harrisburg on Aug. 7.
Damien Sordelett is a contributor to MiLB.com.