Carolina's World Series Streak
The Mudcats have had a former player appear in six consecutive Fall Classics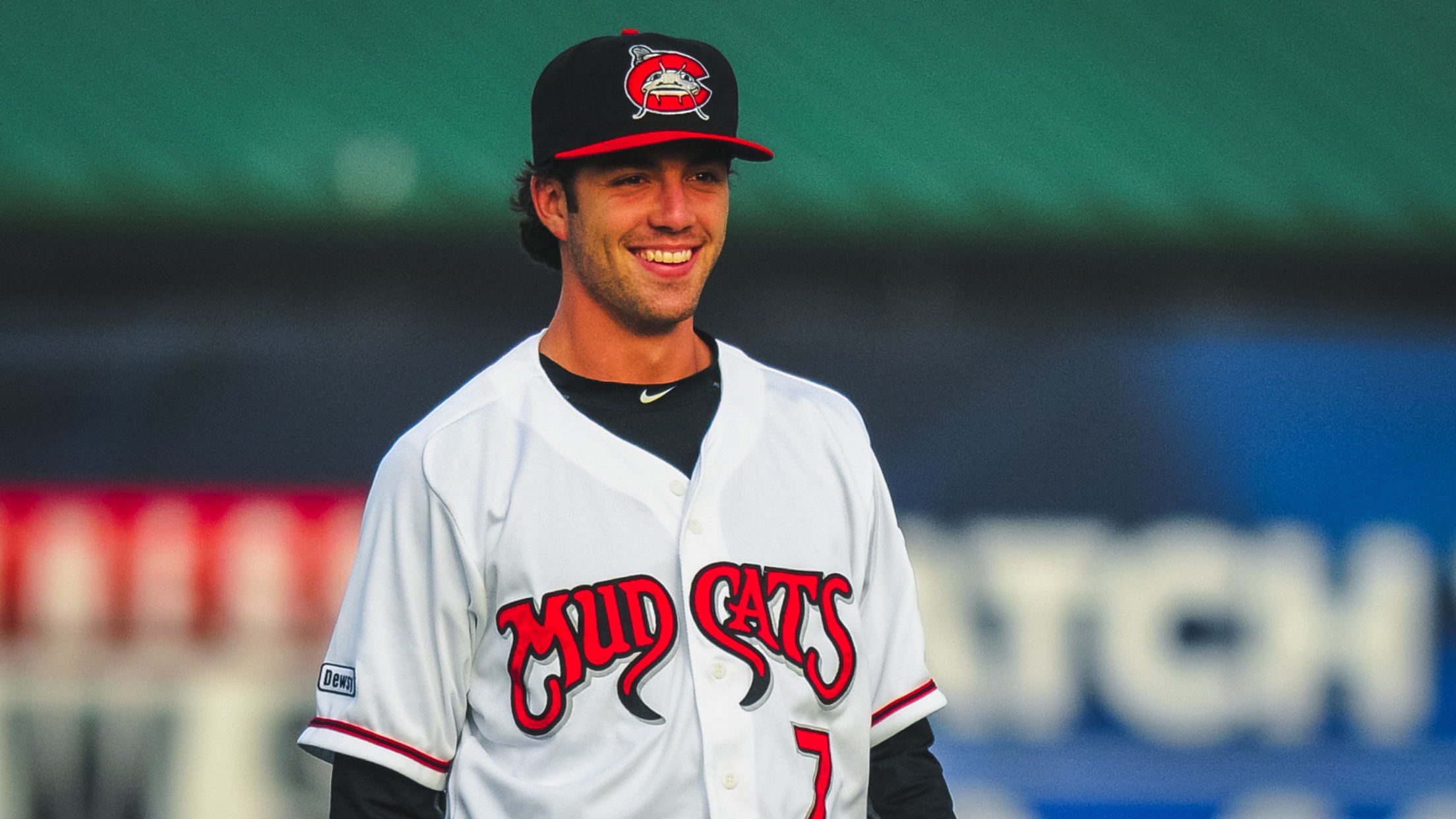 With former Carolina Mudcats Dansby Swanson, A.J. Minter and Johan Camargo all on the Atlanta Braves 2021 World Series roster, the Mudcats have now been represented in six consecutive World Series with at least one former player appearing in the Fall Classic since the 2016 season. Additionally, the Mudcats have
With former Carolina Mudcats Dansby Swanson, A.J. Minter and Johan Camargo all on the Atlanta Braves 2021 World Series roster, the Mudcats have now been represented in six consecutive World Series with at least one former player appearing in the Fall Classic since the 2016 season.
Additionally, the Mudcats have now had a former player win a World Series title in three of the last six seasons.
Swanson, who homered twice for Atlanta in the 2021 World Series versus Houston, appeared in 21 games and hit .333/.441/.526, 12 2B, 1 HR, 10 RBI with the Mudcats in 2016. Like Swanson, Minter (0-0, 0.00 ERA, 8 G, 9.1 IP, 4 BB, 10 SO) also played briefly for the Mudcats in 2016 while Camargo (130 G, .258/.315/.335, 15 2B, 6 3B, 1 HR, 32 RBI) was a Carolina League All-Star with the Mudcats in 2015. All three players spent time with the Mudcats during Carolina's two-year stint as an affiliate of the Braves from 2015 through 2016.
The 2020 World Series, meanwhile, featured the Los Angeles Dodgers and the Tampa Bay Rays and saw the Mudcat-less Dodgers win their first world title since 1988. While that Dodgers club did not boast any former Mudcats, the 2020 Rays did with Joey Wendle and Yandy Diaz both representing Carolina in the Fall Classic. Wendle (107 G, .295/.372/.513, 32 2B, 5 3B, 16 HR, 64 RBI) and Diaz (76 G, .286/.396/.367, 7 2B, 5 3B, 2 HR, 37 RBI) played for the Mudcats during Carolina's final season as an affiliate of the Cleveland Indians in 2014.
In 2019, former Mudcats pitcher Anibal Sanchez helped the Washington Nationals to a World Series victory over the Astros. Sanchez pitched with the then-Florida Marlins affiliated Mudcats in 2006 (3-6, 3.15 ERA, 15 G, 15 GS, 85.2 IP, 27 BB, 92 SO) before appearing in two rehab assignments with Carolina in 2008 (1-0, 3.46 ERA, 2 G, 2 GS, 13.0 IP, 5 BB, 12 SO).
Congratulations to 2006 Mudcat Anibal Sanchez who has won the World Series with the Washington Nationals.

Sanchez pitched to a 3.15 ERA in 15 starts for Carolina, striking out 92 in 85.2 IP. #MajorLeagueMudcats pic.twitter.com/7Rf7Q2g5sj

— Carolina Mudcats (@CarolinaMudcats) October 31, 2019
Yasmani Grandal, a catcher for the Mudcats in 2011 (45 G, .301/.360/.474, 4 HR, 26 RBI), reached the World Series with the Dodgers in both 2018 and 2017. Grandal and the Dodgers were defeated by the Boston Red Sox in 2018, while former Mudcats outfielder Cameron Maybin and the Astros defeated Grandal and the Dodgers in 2017. Maybin actually made his MLB debut with the Detroit Tigers before playing for the Mudcats in 2008 (108 G, .277/.375/.456, 15 2B, 8 3B, 13 HR, 49 RBI).
Two #MajorLeagueMudcats are going at it tonight in the #WorldSeries. Good luck to @CameronMaybin ('08) and @YazmanianDVL08 ('11). pic.twitter.com/UlfIMHbiwJ

— Carolina Mudcats (@CarolinaMudcats) October 24, 2017
In what was a series for the ages, the 2016 Chicago Cubs, featuring former Mudcats Travis Wood, Chris Coghlan and Aroldis Chapman, defeated Cleveland four games to three. Wood pitched for the Mudcats in 2009 where he turned in one of the best seasons in franchise history. That 2009 campaign saw Wood go 9-3 with a 1.21 ERA, 37 walks, 103 strikeouts and 0.97 WHIP over 19 G/GS and 119.0 innings pitched with the then-Cincinnati Reds affiliated Mudcats. Coghlan and Chapman also played for Carolina during the club's Reds Era with Coghlan (132 G, .298/.396/.429, 144 H, 32 2B, 5 3B, 7 HR, 74 RBI) playing in Carolina in 2008 and Chapman (1-1, 6.14 ERA, 5 G, 2 GS, 7.1 IP, 6 BB, 11 SO) appearing with the Mudcats as part of a rehab assignment in 2011.
Cleveland, meanwhile, featured a bevy of former Mudcats including Cody Allen, Mike Clevinger, Ryan Merritt, Andrew Miller, Danny Salazar, Francisco Lindor and Tyler Naquin. Allen (0-0, 0.00 ERA, 2 G, 4.0 IP, 8 SO) and Salazar (1-2, 2.68 ERA, 16 G, 16 GS, 53.2 IP, 19 BB, 53 SO) both pitched with Carolina in 2012, while Lindor (83 G, .306/.373/.410, 100 H, 19 2B, 6 3B, 1 HR, 27 RBI) and Naquin (108 G, .277/.345/.424, 27 2B, 6 3B, 9 HR, 42 RBI) were Mudcats in 2013. Merritt also pitched for Carolina in 2013 (0-0, 5.00 ERA, 2 GS, 9.0 IP, 1 BB, 6 SO) before returning in 2014 (13-3, 2.58 ERA, 25 GS, 160.1 IP, 25 BB, 127 SO) where he would be teammates with Clevinger (0-1, 4.79 ERA, 5 G, 4 GS, 20.2 IP, 11 BB, 15 SO). Miller made a rehab appearance with the then-Marlins affiliated Mudcats in 2008.
Good luck to former Mudcats shortstop @Lindor12BC in Game 1 of the World Series later tonight! #RallyTogether pic.twitter.com/f7szWHUrQz

— Carolina Mudcats (@CarolinaMudcats) October 25, 2016
Stretching back a bit further, the Mudcats have additionally been represented in 10 of the last 11 World Series matchups. The lone outlier being the 2015 season when neither the Kansas City Royals nor New York Mets had a former Mudcats player on their World Series' rosters.
In 2014, however, both Jason Vargas (2005 Mudcats) and Josh Willingham (2003, 2004, 2006 and 2008 Mudcats) played for the Kansas City Royals against the San Francisco Giants. Holliday also played in the 2011 World Series against the Texas Rangers.
The 2013 Fall Classic saw Quintin Berry (2011 Mudcats) and the Red Sox take on Matt Holliday (2002 Mudcats) and the St. Louis Cardinals. Berry also appeared alongside former Mudcats Miguel Cabrera (2003 Mudcats) and Anibal Sanchez in 2012 with the Detroit Tigers.