Carpenter Wins Second PCL Pitcher of the Week Award of 2017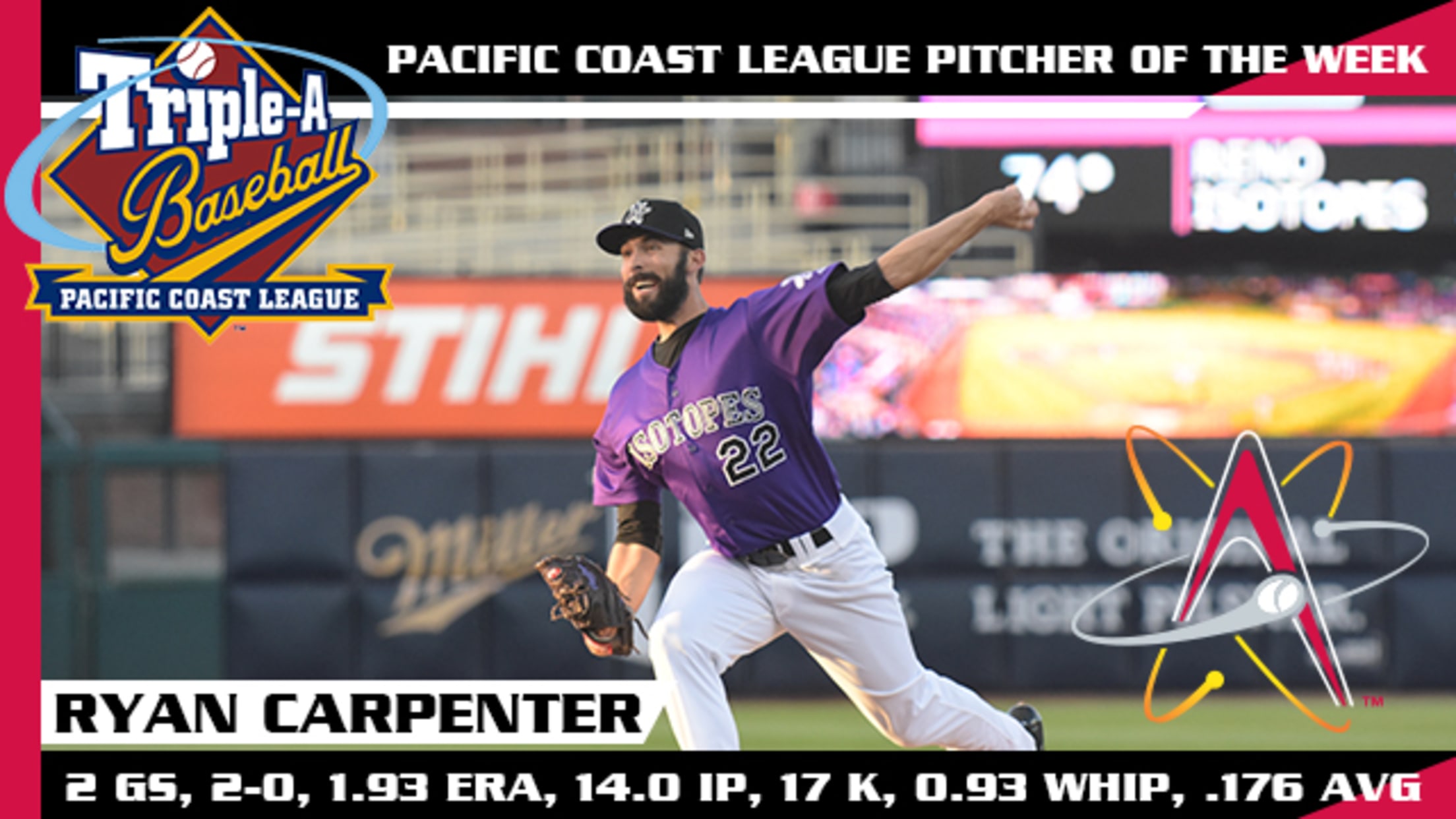 Albuquerque Isotopes pitcher Ryan Carpenter has been named the Pacific Coast League's Pitcher of the Week for the period of August 28-September 4. This is the second time this season Carpenter, who was also named to the 2017 All-PCL Team, has earned the honor. Carpenter previously won the accolade for the
Albuquerque Isotopes pitcher Ryan Carpenter has been named the Pacific Coast League's Pitcher of the Week for the period of August 28-September 4.
This is the second time this season Carpenter, who was also named to the 2017 All-PCL Team, has earned the honor. Carpenter previously won the accolade for the week of June 26-July 2. The left-hander is the first Isotopes pitcher to ever receive multiple Pitcher of the Week awards in a single-season.
Carpenter made two starts this week going 2-0 with a 1.93 ERA (3er/14.0ip), 0.93 WHIP, and .176 opponents average. The southpaw's 17 strikeouts were the most in the league. Carpenter punched out 10 batters in his first start on Monday, Aug. 28 vs. Reno while allowing only two runs over seven innings. The 27-year-old made his final start of the season Saturday at Reno, pitching seven strong innings and limited the Aces to one run and three hits.

The Isotopes 2017 Pitcher of the Year put together one of the most complete seasons on the hill in Isotopes history. Carpenter recorded a team-best 10 wins, 4.15 ERA, 16 quality starts, and his 161 strikeouts were four shy of John Ely's single-season Isotopes record from 2012. The Glendale, AZ native led the PCL in innings pitched (156.0) and also finished among the top five in the league in ERA, wins, strikeouts, WHIP (1.28), opponents batting average (.266), strikeouts per nine (9.32), lowest walks per nine (2.27) and fewest baserunners per nine innings pitched (12.07). Carpenter's strikeout total was also the highest by a left-handed pitcher in the PCL since Tacoma southpaw Tim Conroy struck out 166 batters in 1985.
With Carpenter's award, the Isotopes have now combined for seven Player/Pitcher of the Week honors during the 2017 season, surpassing the previous franchise-high of six from 2008. Jordan Patterson and Ryan McMahon both earned two Player of the Week honors, while Jeff Hoffman also took home a Pitcher of the Week accolade from the PCL this season.