Cartaya's Big Night Leads Camels to Walk-Off Win
Camels catcher homers to tie the game as part of 3-for-3 day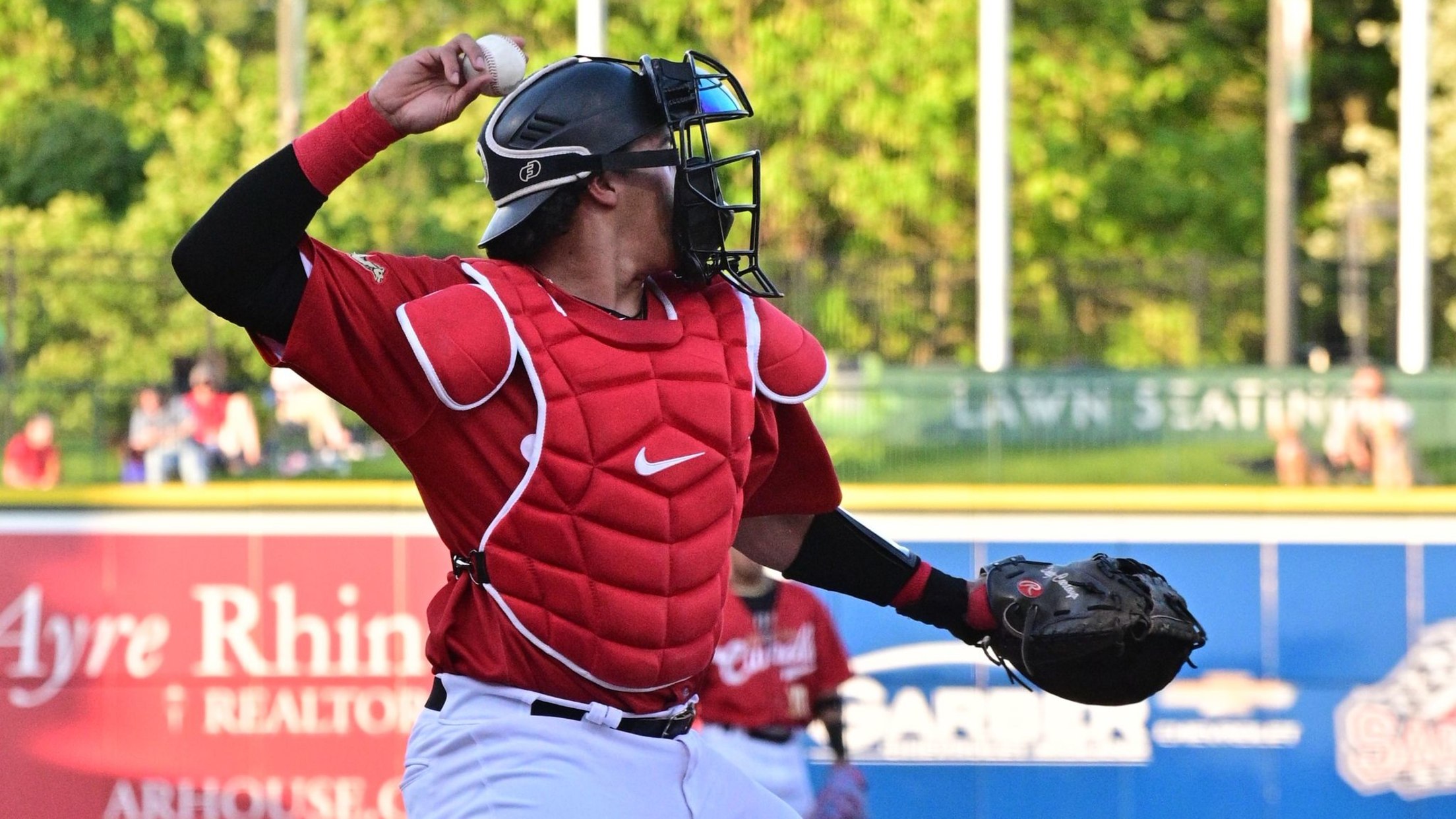 (Robert Spears Photography)
MIDLAND, Mich. – With only 16 more chances to see the No. 1 prospect in the Dodgers' organization, Diego Cartaya rewarded the 2,795 fans that came Wednesday night to Dow Diamond to see him and the Great Lakes Camels. Cartaya went 3-for-3 at the plate, including a game-tying home run
MIDLAND, Mich. – With only 16 more chances to see the No. 1 prospect in the Dodgers' organization, Diego Cartaya rewarded the 2,795 fans that came Wednesday night to Dow Diamond to see him and the Great Lakes Camels.
Cartaya went 3-for-3 at the plate, including a game-tying home run in the eighth inning, and had a key defensive play behind the plate as the Camels defeated the Peoria Chiefs in walk-off fashion, 3-2, in 10 innings.
The Camels (61-43, 21-17 second half) opened the scoring in the third inning, beginning with a Cartaya one-out double up the right field line. Imanol Vargas followed suit with an opposite-field single, driving in Cartaya to put Great Lakes in front, 1-0.
Great Lakes, the Los Angeles Dodgers' High-A partner, saw a great start from right-hander Nick Frasso in his organizational debut. Frasso, acquired from the Toronto Blue Jays in a deadline deal, spun three scoreless innings with three hits, no walks, and four strikeouts.
Peoria (46-58, 18-20) responded to the Camels' third-inning run with two in the fourth frame. L.J. Jones got things started with a solo shot, his 11th home run of the season, to tie the game at one. Francisco Hernandez singled with two outs, stole second base then scored on a throwing error, and the Chiefs had a 2-1 lead.
The Chiefs, High-A affiliate of the St. Louis Cardinals, had success from their starting pitcher as well. Wilfredo Pereira left in line for the win, tossing 5 2-3 innings of one-run baseball. He struck out seven while allowing five hits and a walk.
Cartaya's heroics came through in the eighth inning. On the second pitch of the frame, the Camels catcher blasted a baseball 408 feet over the left field wall, tying the game at two.
After a scoreless ninth both ways, the game went to extra innings.
In the tenth inning, Peoria's placed runner was Tommy Jew, their active leader in stolen bases. He started the inning on second base, and Todd Lott reached first on an error to put two men aboard with nobody out. One pitch later, they took off on a double steal, successfully moving both runners into scoring position and eliminating a force double play opportunity. After a routine groundout to Vargas that kept both runners at their bases, Jew attempted to score on the next ground ball to Vargas. He fired low to Cartaya, who picked the ball out of the dirt, spun around, and tagged out the speedster to keep the game tied. Ryan Sublette (W, 6-1) induced a flyout to finish his second scoreless inning and send the Camels to the plate.
Harold Restituyo started the inning on second base, and one pitch from Andre Granillo (L, 1-2) is all the Camels needed to win the game. Luis Yanel Diaz laid down a sacrifice bunt attempt, and Restituyo sprinted for third base. Peoria first baseman Osvaldo Tovalin fielded the ball and threw it past third base and into foul ground, allowing Restituyo to score the winning run.
It was a return to form somewhat for the Great Lakes bullpen. Antonio Knowles tossed two scoreless, hitless innings with a walk and two strikeouts. Braydon Fisher allowed a hit in his one inning, but struck out a batter in his scoreless frame. Sublette finished things off with two taxing scoreless innings, also not allowing a hit. He walked one batter and struck out two in another double-digit strikeout game for Great Lakes.
At the plate, Cartaya was the headliner with a 3-for-3 day including a double, a homer, and a walk, plus two runs scored. Vargas also had a multi-hit game, going 2-for-4 with an RBI.
The Camels tie the series with Peoria at a game apiece, heading into the third game of the set on Thursday at 7:05 p.m. at Dow Diamond. Nick Nastrini (4-3, 4.15 ERA) gets the start for Great Lakes, opposing fellow right-hander Zane Milles (3-7, 4.38 ERA) for Peoria. Pregame coverage on ESPN 100.9-FM begins with the Loons On-Deck Circle, driven by Garber Chevrolet Midland, at 6:50 p.m.
It's Michigander Night at Dow Diamond, presented by Michigan Brand Meats – celebrate all things that make the Mitten State great and a few of the things that make us furious. The first 1,000 fans through the gate get a Loons foam mitten. Plus, it's another Thirsty Thursday, presented by J.P. O'Sullivan Distributing: take 50% off draft beer all night long, and partake in live trivia in the Cove Bar. Tickets are still available at Loons.com.
The Great Lakes Loons have been a Single-A partner of the Los Angeles Dodgers since the team's inception in 2007. Dow Diamond serves as the team's home and also houses the Michigan Baseball Foundation, a 501(c)(3) non-profit public charity, and ESPN 100.9-FM. For tickets or information about the Loons, call 989-837-BALL or visit Loons.com.