RockHounds' Meisner posts seven zeros
A's No. 28 prospect allows three hits in extending shutout streak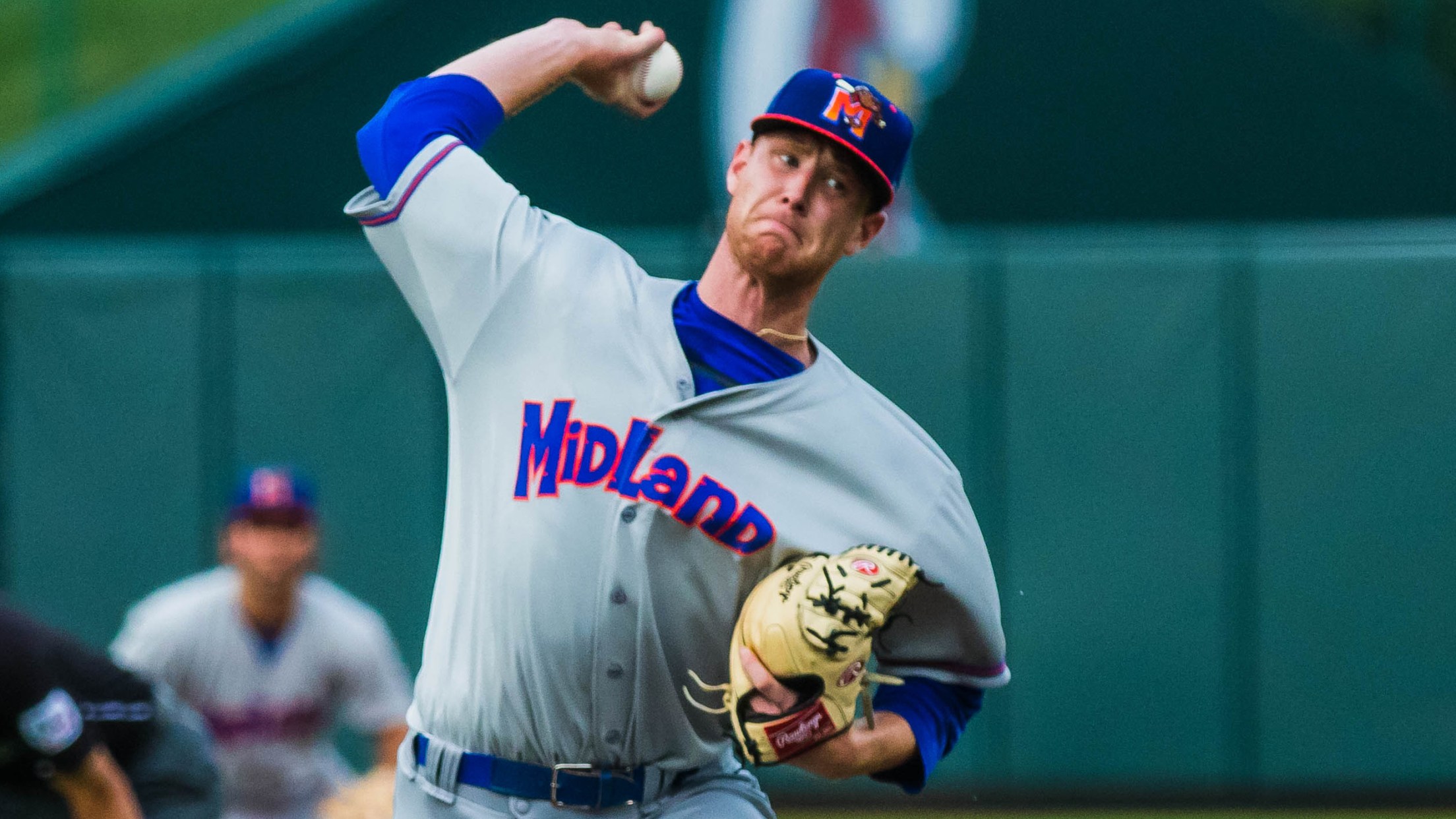 Casey Meisner has issued two walks over his last 19 innings in the Texas League. (Jeremy Davis/MiLB.com)
Through his first five starts for the Double-A RockHounds, Casey Meisner produced a 7.59 ERA and a 1.92 WHIP in 21 1/3 innings. Since then, he's looked like a completely different pitcher. Oakland's No. 28 prospect yielded three hits and a walk while striking out six in seven innings as Midland
Through his first five starts for the Double-A RockHounds, Casey Meisner produced a 7.59 ERA and a 1.92 WHIP in 21 1/3 innings. Since then, he's looked like a completely different pitcher.
Oakland's No. 28 prospect yielded three hits and a walk while striking out six in seven innings as Midland blanked San Antonio, 6-0, on Sunday. It marked the third straight quality start for Meisner, who hasn't given up a run in his last 14 innings.
"I got moved up and I didn't do so well and that stinks, but I finally found a groove and feel like I've settled in," he said. "I know it's about how I finish and not how I started."
Gameday box score
Meisner (4-3), who hurled six three-hit innings in his last outing, has logged a 0.95 ERA and a 0.68 WHIP over his last three starts for the RockHounds.
"Earlier in the year, I wasn't as consistent with all of my pitches," the Texas native added. "But that's what bullpen sessions are for. In the bullpen, I cleaned up my delivery and tried to be more fluid and make all of my pitches more consistent. That's really helped me."
The 22-year-old right-hander started the game with six straight outs before surrendering a single to Stephen McGee to start the third. Three pitches later, the inning was over.
"I was pounding the fastball down to get ahead in the count," the 2013 third-round pick said. "I tried to make them go on the defensive, instead of me. I was able to throw my pitches consistently so they didn't know what was coming. I just tried focused on making good pitches and hope they roll over. If I throw quality strikes, then they have to swing at it and put the ball in play. My defense made the plays behind me to help keep rolling."
Following a leadoff walk to third-ranked Padres prospectLuis Urías in the fourth, Meisner recorded seven consecutive outs before Alberth Martinez's one-out base hit in the sixth.
Battling some fatigue and 100-degree heat, Meisner got out of the sixth and worked around a single by Franmil Reyes in the seventh to finish off his best outing since getting promoted to Double-A on June 26.
"It always feel good to finish out your game strong and not get pulled. It was really hot there -- like a hundred degrees or so -- and I'm not going to lie, I was pretty tired in the seventh," he said. "That's where the mental part comes into it. You have to keep battling and not lose focus. I was in a groove so I tried to keep it rolling and stay consistent. My pitches were there when I needed them. When stuff hits the fan, you still got to lock it in, focus and stay with your gameplan."
Meisner has posted a 4.15 ERA and a 1.28 WHIP with 108 strikeouts in 115 innings between Class A Advanced Stockton and Midland this year.
• Get tickets to a RockHounds game »
Athletics No. 5 prospect Jorge Mateo hit his third triple in six games with Midland. The 22-year-old is batting .267 with four extra-base hits and three RBIs since being traded from the Yankees.
Michael Leboff is a contributor to MiLB.com.