Mize's no-hitter is Performance of Year
Top Tigers prospect allowed two baserunners in Double-A debut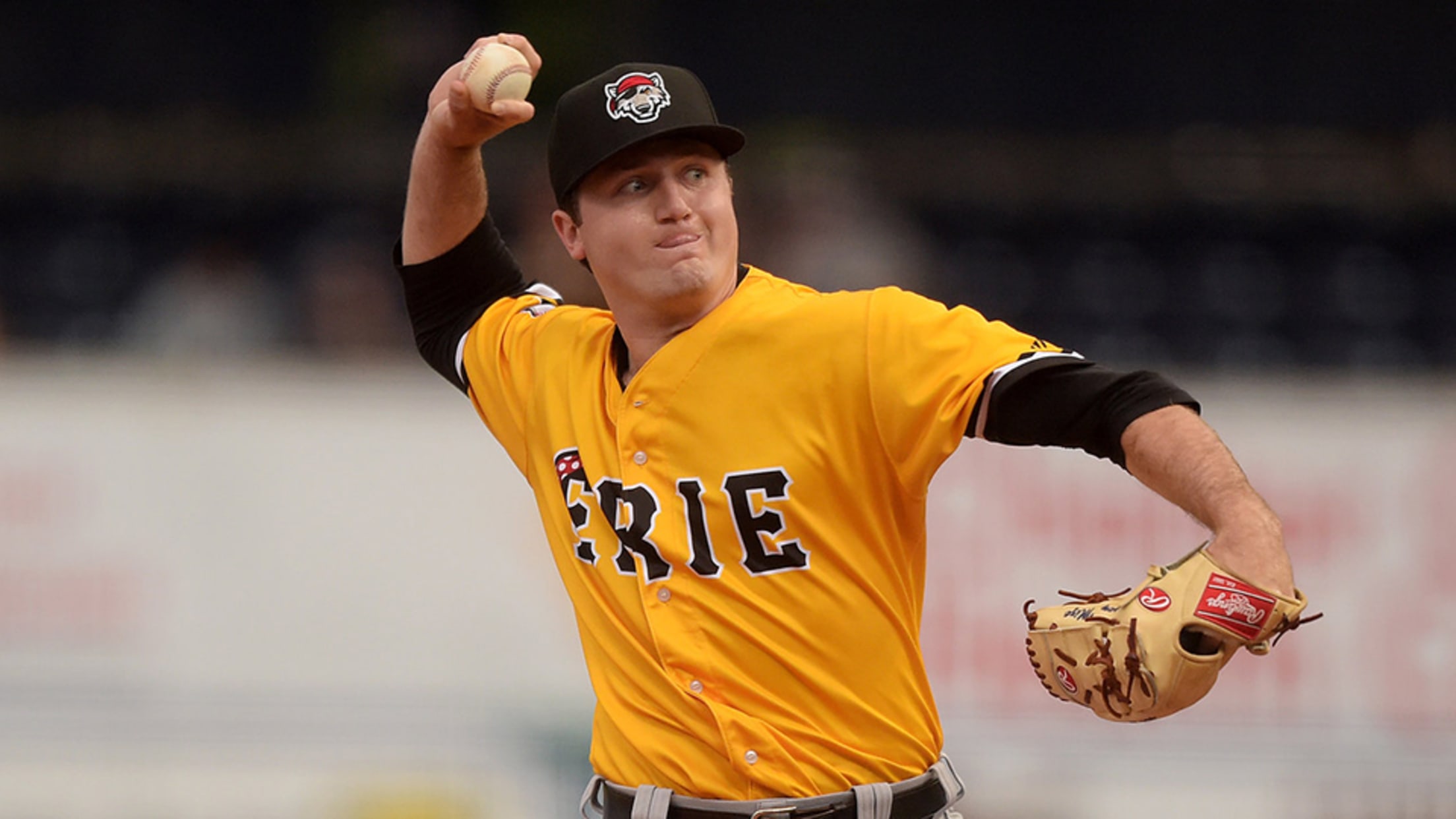 On April 29, 2019, MiLB.TV viewers watched in amazement as top Tigers prospect Casey Mize twirled a no-hitter in his Double-A debut. (Kevin Pataky/MiLB.com)
Casey Mize can always count on his friends back home in Alabama to keep him grounded, even when he's at the top of his game.MLB.com's No. 7 overall prospect had just thrown a no-hitter in his Double-A debut for the Erie SeaWolves, somehow surpassing the ample hype that has followed him since
Casey Mize can always count on his friends back home in Alabama to keep him grounded, even when he's at the top of his game.
MLB.com's No. 7 overall prospect had just thrown a no-hitter in his Double-A debut for the Erie SeaWolves, somehow surpassing the ample hype that has followed him since he was the top overall pick in the 2018 Draft. His buddies wanted more.
"OK, the next outing you are going to go nine innings perfect," they all said, Mize recalled.
While they might have been kidding, they were right about one thing: they predicted the feat in his first Eastern League start, one that's earned Mize the Performance of the Year as voted on by MiLB.com staff. Erie edged Altoona, 1-0, on April 29.
"It was funny because my first four starts of the season I went five innings, six innings, seven innings, eight innings and then I got called up," the Auburn product said. "In my last start in High-A, I went eight innings and gave up one hit and they said, 'OK, the next start, you are going to go nine-inning no-hitter.' Fortunately, I was able to do that."
And, Mize said that day in Altoona, he did not have great fastball command. Looking back, he backtracked somewhat.
"I think after, I said my fastball command was horrible," the top-ranked Tigers prospect said. "I don't think it was horrible, but I do think I had a point where it was not great. It was not what I expect out of myself. I had my other pitches, which stepped up big. I was able to throw my cutter, splitter and slider for strikes, but my fastball command wasn't horrible -- like I might have said -- but it definitely wasn't as good as I like it to be."
SeaWolves pitching coach Mark Johnson also didn't think Mize's fastball was that bad.
"If he says he didn't have his best fastball, he still threw well enough," Johnson said. "He kept them off-balance and kept them guessing. He has four quality pitches and he has a good mix and feel for what he wants to do."
Either way, he had enough to get through nine frames on 98 pitches. The right-hander struck out seven, but it was the defense behind him that provided a comfort level on the mound.
"I was finding a lot of bats but missing a lot of barrels and my defense made a lot of great plays behind me," Mize said. "I think it was Derek Hill, Jose Azocar and Sergio Alcántara who made the three best plays of the game, but there were others in there that were included as well. Really spectacular plays that allowed me to go out there and do that."
The 22-year-old used the word "comfortable" often, and rightly so. Making his first start for a new team in a new park in a new league, anything that might be even remotely familiar would be helpful in calming the nerves. Noting that he had played with many, if not most, of his teammates during Spring Training and with Class A Advanced Lakeland, it was the one guy he hadn't worked who might have made the biggest difference: catcher Jake Rogers.
"That was my first time throwing to him and he did an outstanding job," Mize said. "The way I went under 100 pitches was trusting my defense and trusting Jake, what he was putting down back there and just trying to find bats but miss barrels."
So, with all the nerves and excitement that accompany a debut, did Mize know what was unfolding at Peoples Natural Gas Field? You better believe it.
"I'm not going to be one to say that I didn't even know I had it or I wasn't thinking about it," he said. "It definitely creeps in -- and that's the challenging part. I was definitely thinking about it. I'm very well aware of what I have going on, so it definitely creeps in, but you have to black it out."
Creeping in so much that Mize just wanted to get back on the mound. If his offense was retired in order, that would've been more than fine with him.
"I'm cool with us going three up and three down because I just want to get back out on the mound," he said, even though the SeaWolves had just a 1-0 lead. "The longer innings is when it gets a little iffy."
With two outs in the ninth, Mize induced a popout from Pirates No. 11 prospectJared Oliva to set off the celebration. Plunking Oliva on his third pitch of the game and walking Bligh Madris with two outs in the seventh inning were all that kept him from a perfect game. In the end, the 22-year-old was just happy to celebrate with his new teammates.
"I think there was a lot of excitement and that I made a pretty good first impression, which was good," Mize said. "I knew I wanted to make a good first expression because I was probably going to spend most of my season, if not all, which I did, there."
There aren't many ways to make a better first impression than throwing a no-hitter. After doing that, however, were people going to expect that every game? Mize laughed.
"The bar was definitely set high," he said, "but I think people knew I wasn't going to be able to keep that pace."
But you can be sure his friends back home will still be wanting more.
Brian Stultz is a contributor to MiLB.com. Follow him on Twitter @brianjstultz.