Castro's homer lifts Power to doubleheader split
West Virginia takes game two, 2-1, after falling 5-2 in game one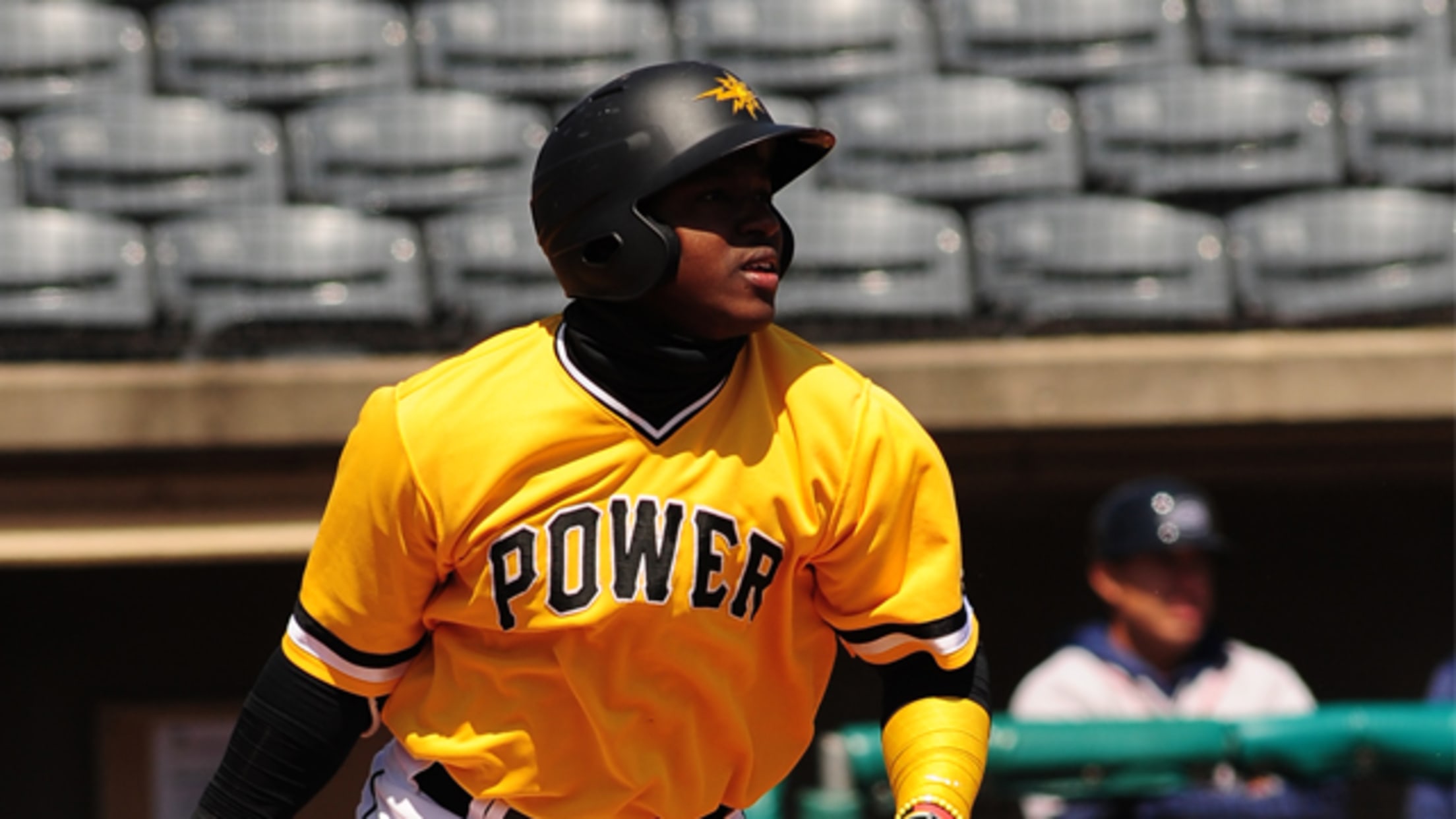 Rodolfo Castro's seventh-inning home run pushed West Virginia in front for good in game two of Monday's doubleheader. (Sam Santilli)
LAKEWOOD, N.J. (May 14, 2018) - Rodolfo Castro's seventh-inning home run in game two of Monday's doubleheader gave West Virginia a 2-1 win in the nightcap and a twin bill split against the Lakewood BlueClaws at FirstEnergy Park.
LAKEWOOD, N.J. (May 14, 2018) - Rodolfo Castro's seventh-inning home run in game two of Monday's doubleheader gave West Virginia a 2-1 win in the nightcap and a twin bill split against the Lakewood BlueClaws at FirstEnergy Park.
GAME 1: LAKEWOOD 5, WEST VIRGINIA 2 (F/7)
Deon Stafford hit his third home run of the season, but West Virginia's offense could not overcome a 3-for-3 effort from Lakewood third baseman Dalton Guthrie, who's fourth-inning home run marked the difference in the BlueClaws' 5-2 win over the Power in game one of Monday's doubleheader.
Stafford belted his solo shot in the top of the fourth inning to tie the game at two apiece, but Guthrie's shot off Beau Sulser (2-1) matched him and gave Lakewood the lead for good. Sulser ultimately went 2.1 innings on the mound in relief of Travis MacGregor, who left the game after just 1.2 innings. Despite taking the loss, Sulser only allowed three hits and struck out one in his fifth appearance with the Power (21-14).
West Virginia got on the board in the first inning for the second straight game, as Oneil Cruz led off with a single against Lakewood starter David Parkinson (3-0). After Chris Sharpe moved Cruz to second base with a sacrifice bunt, Calvin Mitchell plated Cruz with a single, registering his team-leading 25th run batted in and giving the Power a 1-0 lead.
However, the BlueClaws (20-16) would respond in the bottom of the inning, as MacGregor surrendered four consecutive singles to begin the game, with Nick Maton's driving in Jake Schiener to knot the game at one.
Lakewood would take their first lead in the second, as Guthrie connected for his first of two doubles, and Kevin Markham singled him in to make it 2-1. Following the pair of blasts in the fourth, Guthrie was the catalyst in a pair of insurance runs for Lakewood, as the Sarasota resident stroked a one-out double against Drew Fischer and scored on a ground ball from Markham that Cruz misfired to first. Two batters later, Daniel Brito would bring in the final BlueClaws run of the evening with a single to center that scored Markham and gave Lakewood a 5-2 edge.
Addison Russ (S, 6) notched his sixth save of the season after spinning the final two frames for the BlueClaws, giving up just one hit in his outing.
Cruz did extend his hitting streak to a team-best 14 games with his first-inning single to left. The Dominican native currently holds the longest active hitting streak in all of Low-A baseball.
GAME 2: WEST VIRGINIA 2, LAKEWOOD 1 (F/7)
With the game tied at one in the seventh inning, Lakewood (20-17) reliever Kyle Dohy (1-3) took over for Ramon Rosso, who spun six innings of one-run ball and struck out 11 in his second start against the Power in 2018. Castro worked the count full against Dohy before crushing the seventh pitch he saw over the left-field fence for his fourth home run of the season to give West Virginia (22-14) a 2-1 lead.
Blake Cederlind (3-2) finished off the BlueClaws in the seventh, working around a one-out single from Dalton Guthrie to earn his third victory of the year. Cederlind ultimately worked the final two innings of game two, ceding that single and a walk while striking out a batter as well.
Lakewood took a 1-0 lead in the fourth as Markham drilled a solo home run to right off Power starter Hunter Stratton. That was the only run Stratton would allow, however, as the right-hander tossed five innings and surrendered five hits while fanning six.
West Virginia quickly tied the game in the top of the fifth, as Ryan Peurifoy reached base on a ground ball to first that ricocheted off BlueClaws first baseman Quincy Nieporte. The next batter, Raul Hernandez, roped a double into the left-field corner, scoring Peurifoy all the way from first to knot the game at one.
The Power are now 6-4 in doubleheader games in 2018, while registering their 11th comeback win of the season in game two. In the win, Cruz saw his 14-game hitting streak snapped after the infielder went 0-for-3 with three strikeouts.
West Virginia concludes its four-game series with Lakewood on Tuesday evening at FirstEnergy Park, with first pitch set for 6:35 p.m. The Power will send LHP Domingo Robles (2-3, 3.82 ERA) to the rubber, while the BlueClaws counter with lefty Will Stewart (4-0, 1.46 ERA). Pregame coverage begins at 6:15 p.m. on WSCW 1410 AM The Light, as well as online at wvpower.com, via the TuneIn Radio App and the MiLB First Pitch App.
After their trek through Maryland and New Jersey and a league-wide off day on Wednesday, May 16, West Virginia returns to Appalachian Power Park to face off with the Lexington Legends in a four-game series. The Power's second May homestand includes another Rock 105 Thirsty Thursday, a postgame fireworks show, presented by UniCare Healthplan of West Virginia and Electric 102.7, a Kidz Sunday Funday and an umbrella giveaway on Saturday, May 19. West Virginia will also host Power to End Stroke Night on Thursday, May 17, along with Military Appreciation Night on Friday, May 18. For tickets and more information, call the Power at 304-344-2287 or visit wvpower.com.