Cats over Dogs once again
New Hampshire edges out Portland in another one-run game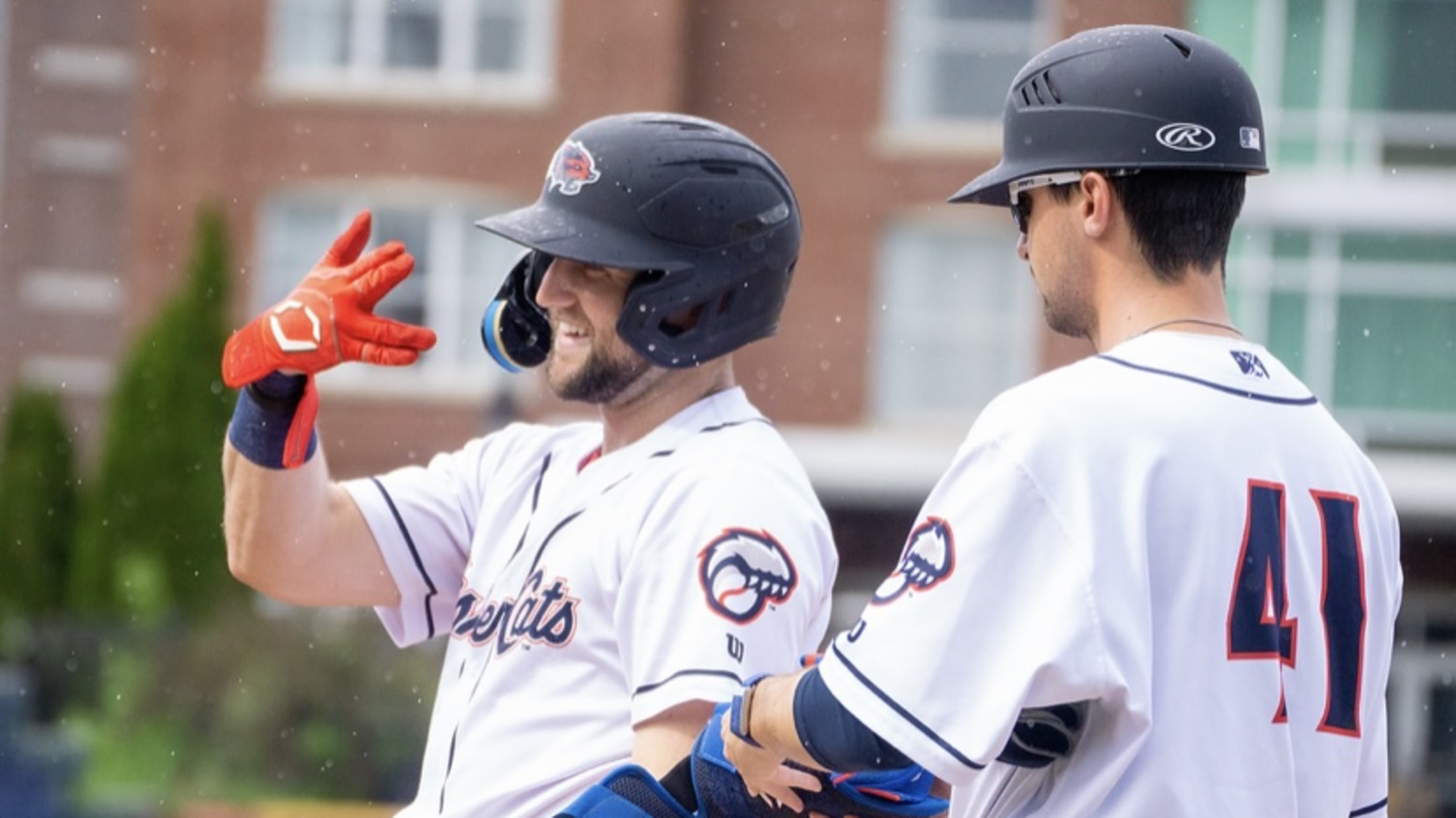 (Photo courtesy of Kristin Basnett)
Manchester, N.H. – A spotty radar gave way to a brisk Wednesday evening for baseball, and newcomer Cam Eden delivered the only RBI hit for the Fisher Cats all night. The New Hampshire Fisher Cats (21-25) won, 4-3, over the Portland Sea Dogs (Boston Red Sox, 22-25) for their third
Manchester, N.H. – A spotty radar gave way to a brisk Wednesday evening for baseball, and newcomer Cam Eden delivered the only RBI hit for the Fisher Cats all night. The New Hampshire Fisher Cats (21-25) won, 4-3, over the Portland Sea Dogs (Boston Red Sox, 22-25) for their third straight win, tied for their longest winning streak of the season.
Andrew Bash (W, 2-1) earned his second straight win in relief, tossing 3.2 innings and allowing four hits and one earned run. He walked no batters and struck out four.
Bash's only run came thanks to some bad luck. Portland's Devlin Granberg struck out but reached first on a wild pitch. After a fielder's choice and another wild pitch, the Sea Dogs scored on a bloop double to right field.
Bash, a righty drafted by the Los Angeles Angels in 2019, has let up one or zero runs in three of his four outings with New Hampshire this season.
The Fisher Cats took the lead without an RBI hit in the bottom of the fourth. Phil Clarke was hit by a pitch with the bases loaded, and LJ Talley walked to score another. New Hampshire led, 2-1, after six.
Center fielder Cam Eden came up big in the seventh inning. He belted a 2-RBI double to right-center field to score Talley and Will Robertson. Eden hit .297 with four doubles and a triple in 10 games with the High A Vancouver Canadians before his promotion yesterday.
Gabriel Ponce faced the minimum in 2.0 scoreless innings and earned his second hold of the year. Luis Quinones threw 2.1 scoreless in his start, and Jake Elliott allowed two ninth inning runs but held on for his second save.
New Hampshire continues their homestand on Thursday, June 2 at 6:35 p.m. versus the Portland Sea Dogs (Boston Red Sox). Tickets can be found at NHFisherCats.com, via email at [email protected], over the phone at (603) 641-2005, or in-person at the Fisher Cats box office at 1 Line Drive in Manchester.