CC Falters Late Friday Night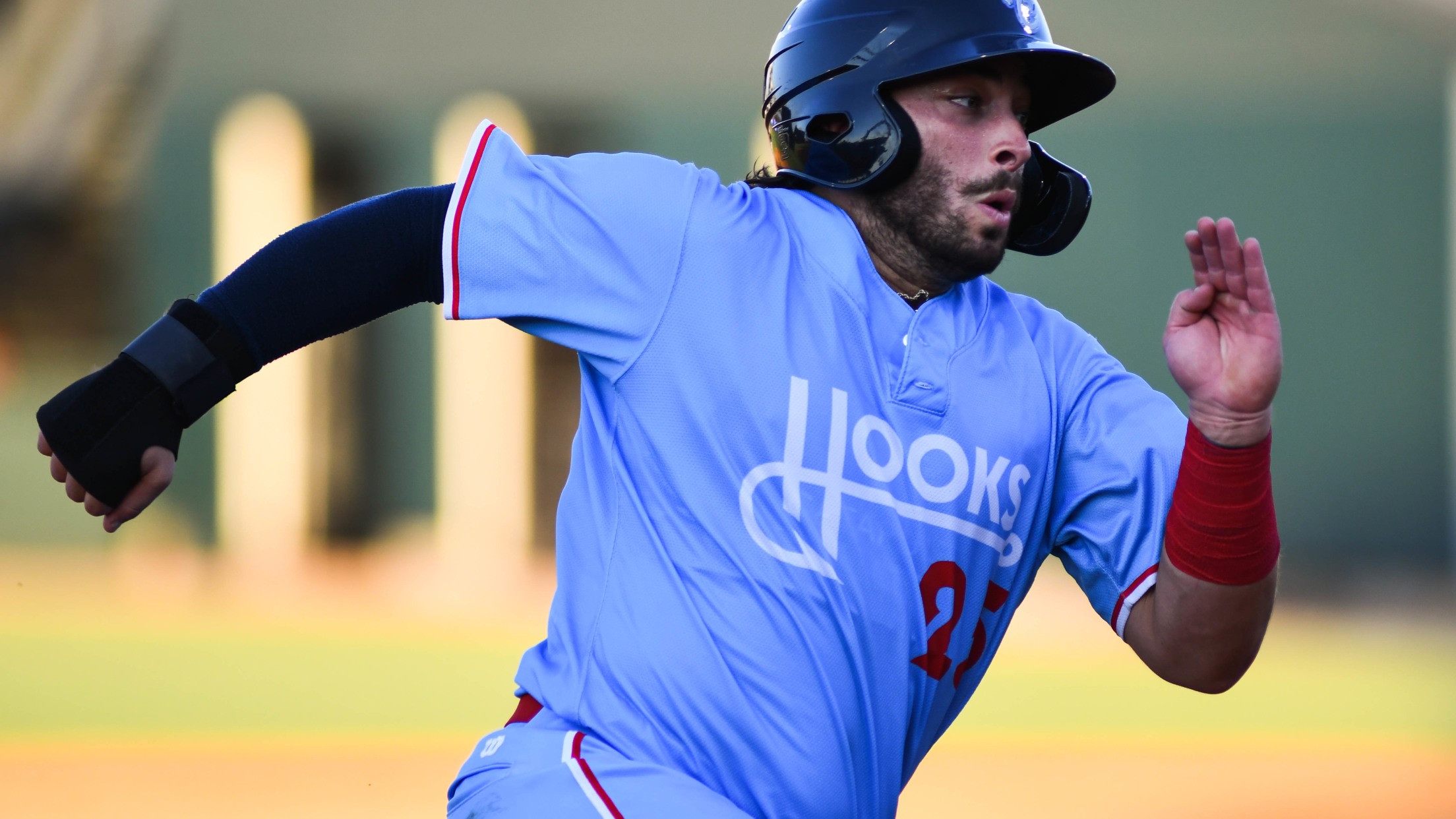 Scott Manea belted his ninth home run of the year Friday night in Amarillo. (Charlie Blalock)
AMARILLO – The Sod Poodles mustered eight runs over their final four at-bats Friday night, rallying to beat the Hooks, 8-4, before 5,794 fans at Hodgetown. Corpus Christi has dropped three in a row after the club's five-game win streak was snapped on Wednesday. Home runs by Scott Manea, Matthew
AMARILLO – The Sod Poodles mustered eight runs over their final four at-bats Friday night, rallying to beat the Hooks, 8-4, before 5,794 fans at Hodgetown.
Corpus Christi has dropped three in a row after the club's five-game win streak was snapped on Wednesday.
Home runs by Scott Manea, Matthew Barefoot and Cesar Salazar established an early 3-0 lead for the Hooks against Luis Frías. Ross Adolph added an RBI single in the fourth, plating David Hensley for a 4-0 bulge.
Tyler Brown, making his second Double-A appearance, blanked Amarillo over the first four innings. Singles by Lyle Lin and Connor Duzenack opened the fifth, snapping a stretch of nine consecutive outs by Brown.
Following a wild pitch, Lin came home on a ground out which pushed Duzenack to third. Dominic Fletcher was next and appeared to send a sac fly into right field, but Barefoot made the catch and fired a strike to home plate to cut down the runner for the final out.
Don't run on Matthew Barefoot!

Thanks to the fine finish by Korey Lee, CC gets out of a jam with this spectacular double play. pic.twitter.com/tSPyti2Mb3

— Corpus Christi Hooks (@cchooks) August 14, 2021
Trailing 4-1, the Sod Poodles proceeded to send eight men to the plate in the sixth against Matt Ruppenthal. A one-out walk and hit-batsman began the downturn. Ryder Jones then hit a pop to the right side of the infield, which Hensley allowed to fall on the clay with the hope of making a double play. Instead, the ball took a big bounce past Hensley, allowing Amarillo to load the bases.
With two away in the frame, Lin and Duzenack cashed in via back-to-back two-run singles to push the Sod Poodles in front 5-4.
Amarillo forged three insurance runs in the eighth to pull away.
Tyler Holton struck out five and retired nine of 10 batters faced to record the victory in relief. Mitchell Stumpo turned in a 1-2-3 ninth to finish the game.
The Hooks look to get back in the win column Saturday night with lefty Parker Mushinski on the hill. First pitch 7:05.