RiverDogs' Garcia spins six one-hit innings
Yanks' teenager duels Phils' Medina; Rutherford homers late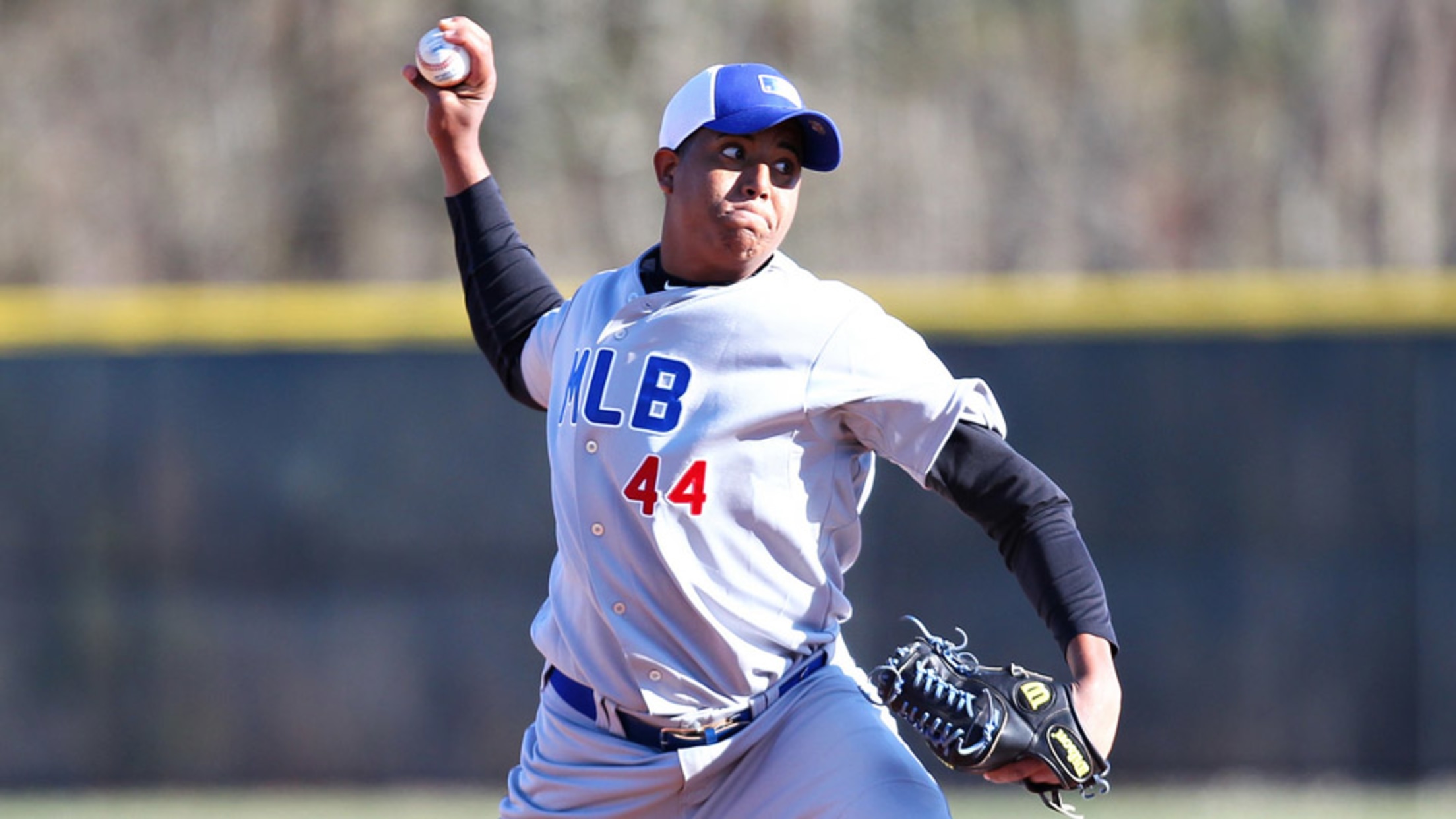 Rony Garcia has a 1.69 ERA with 16 strikeouts over 16 innings in three starts with Charleston. (Boyer Rode/MLB.com)
At 19 years old, Rony Garcia needed one start to get adjusted to the South Atlantic League. And he's been lights-out since.The Yankees prospect gave up one hit and struck out five over six innings in his second straight scoreless outing as Class A Charleston edged Lakewood, 2-1, on Sunday
At 19 years old, Rony Garcia needed one start to get adjusted to the South Atlantic League. And he's been lights-out since.
The Yankees prospect gave up one hit and struck out five over six innings in his second straight scoreless outing as Class A Charleston edged Lakewood, 2-1, on Sunday at FirstEnergy Park.
"Just doing his normal thing, showing good stuff, attacking the zone with his fastball. [He] has a good, lively fastball," RiverDogs pitching coach Justin Pope said. "He had his good curveball working and [was] throwing his changeup for strikes. So he was getting three pitches over the zone for strikes and just was doing a good job of competing."
Gameday box score
Garcia was back at it after tossing five shutout innings on Monday. Following a two-out single in the first by Phillies No. 2 prospectMickey Moniak, the native of the Dominican Republic retired nine straight batters.
While Garcia was dealing, so was Adonis Medina. The Phillies' 14th-ranked prospect set down 13 straight at one point as he matched zeros.
"I don't even think he was paying attention to the other pitcher," Pope said of Garcia. "Not that he wasn't paying attention, just that he was just worrying about what he has to do. You can't try to do what the other pitcher is doing, you have to control what you're in control of."
Garcia worked his way in and out of trouble a couple times. In the fourth, he issued two walks and threw a wild pitch, walked one batter and hit another in the sixth.
"He handles [jams] well. [On Sunday,] he handled them really well," the pitching coach said. "Body language was good, he stayed within himself. He got in the jam, but it was self-induced -- it's not like he was getting hit around -- so his confidence is still high. He knew if he made his pitches, he'd be fine."
Before Garcia's final frame, Medina completed his quality start, striking out seven without issuing a walk over six three-hit innings.
"He was getting all of his pitches over for strikes, changing speeds really well, keeping our guys off-balance and it looked like he had two types of breaking balls," Pope said of the BlueClaws starter. "It looked like he would throw one early in the count that was maybe a little slower, bigger, and one that he would throw later in the counts that was a little sharper, a little harder."
Lakewood's David Martinelli snapped the scoreless tie with a solo homer in the seventh off reliever Christian Morris (4-1). But Ben Ruta led off the RiverDogs' eighth with a single and, two outs later, Blake Rutherford slugged a go-ahead two-run blast to left. The blast by the Yankees' No. 3 prospect came a day after Diego Castillo delivered a go-ahead single in the ninth in Charleston's 5-4 win.
"You could tell from the bullpen that the dugout was pretty excited," Pope said. "It was a big hit two nights in a row that we've come from behind and won games in the last inning. So anytime you can do that, especially when it's an opposite-field home run, it's pretty big."
Morris allowed a run on two hits with one strikeout over two innings and David Sosebee pitched a 1-2-3 ninth for his fifth save.
Kelsie Heneghan is a contributor to MiLB.com. Follow her on Twitter @Kelsie_Heneghan.