Knights' Giolito fans 10 in shutout
No. 4 White Sox prospect yields two hits in seven-inning gem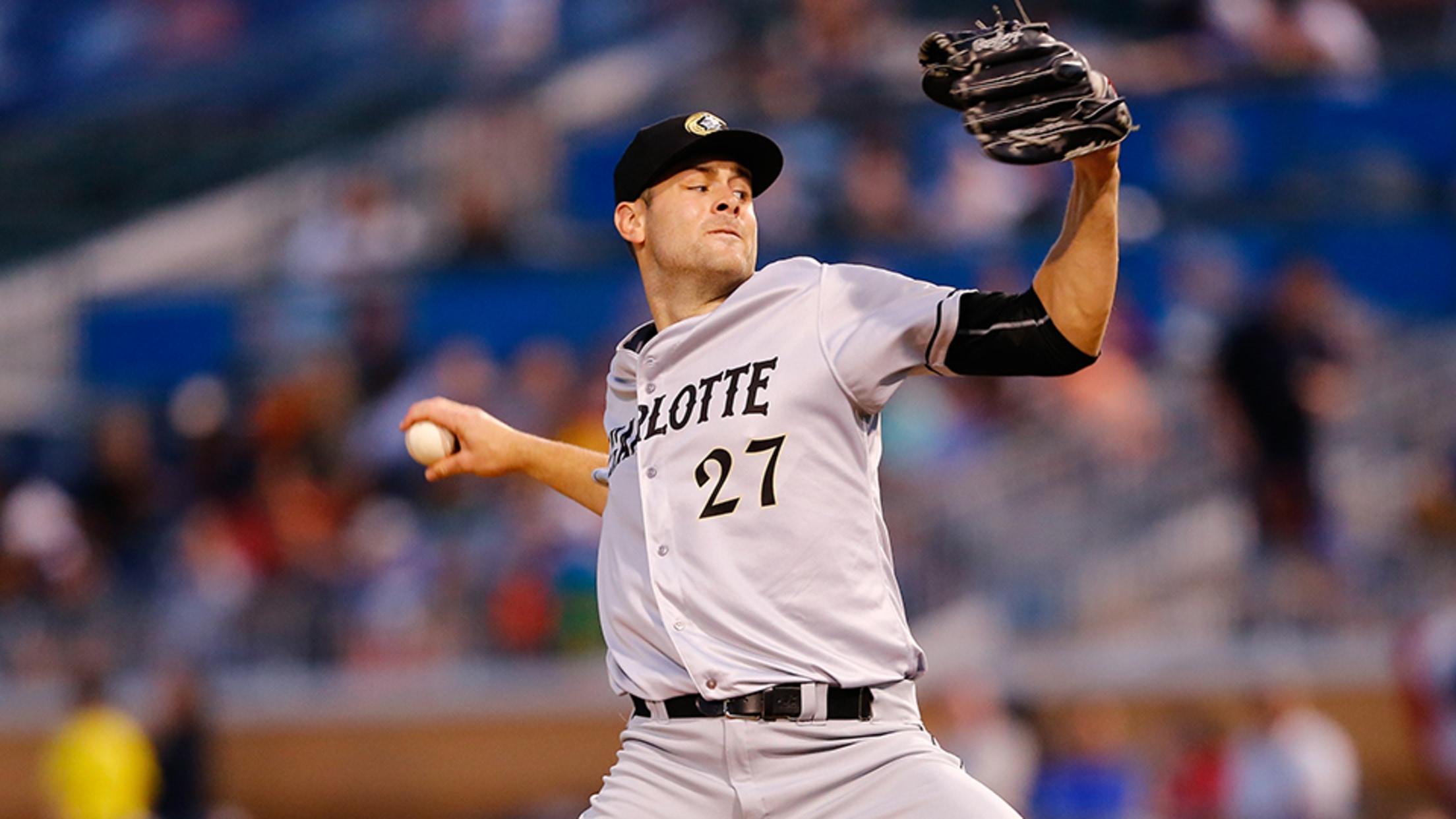 Charlotte's Lucas Giolito has recorded seven double-digit strikeout performances in his Minor League career. (Chris Robertson/MiLB.com)
A roller coaster of a season for Lucas Giolito apparently has a few more twists and turns left in it. And that's fine with him, as long as the ride evens out a little more along the way. Giolito pitched a two-hitter and struck out 10 to notch his second seven-inning shutout
A roller coaster of a season for Lucas Giolito apparently has a few more twists and turns left in it.
And that's fine with him, as long as the ride evens out a little more along the way.
Giolito pitched a two-hitter and struck out 10 to notch his second seven-inning shutout of the season as Triple-A Charlotte blanked Louisville, 1-0, on Saturday night at Louisville Slugger Field.
Gameday box score
The fourth-ranked White Sox prospect won for the first time since pitching his first career no-hitter on May 25 against Syracuse. The 10 strikeouts were one shy of his career high, done twice before and most recently on June 5 against Durham.
"This was the same situation for me as with my last start," Giolito said of his outing against Gwinnett on Sunday. "I was starting the second game after the completion of a suspension, but I did not give myself enough time to prepare. I came into the game last week a little flat and left balls up and wasn't commanding. [Gwinnett] hit me around pretty good. Today, I made sure I got my prep work done early. I did everything I needed to do and felt ready for the start tonight."
Giolito (3-8) flashed his strikeout pitch early, notching all three first-inning outs via the punchout. He surrendered a one-out single to Reds No. 29 prospectSebastian Elizalde and a walk to Brandon Dixon in the opening frame, then allowed only two more baserunners the rest of the way. The right-hander yielded a single to Dixon in the fourth and walked the Bats' third baseman again leading off the seventh. Darnell Sweeney bounced back to the mound, where the right-hander started a double play.
MLB.com's No. 28 overall prospect finished off the 103-pitch effort by fanning Reds No. 20 prospect Phillip Ervin.
"Having the one-run lead helped tonight. I felt like I really needed to execute through every at-bat. I couldn't take a pitch off or let my focus go," the California native said. "I made sure I got ahead as much as possible, which we did a pretty good job of tonight, other than a few batters. It's always more intense with a slim lead like that, and it ended up being a really good start."
It's been an up-and-down season for Giolito, who's allowed four or more runs in five of 17 starts. Conversely, the former Nationals' top prospect has a 3.86 ERA in his last 11 starts after posting a 7.31 mark in his first six outings of the year. He's given up three runs or fewer in 10 of those starts, the exception being that outing against the Braves in which he was roughed up for seven runs over 3 2/3 frames.
"I'm just trusting the process and getting out there during the four days between starts and putting in the work in the right areas," Giolito said. "I've done a much better job with my mechanics and keeping the ball down in the zone while throwing my off-speed pitches for strikes. Today was one of those where it all came together. I got ahead with my fastball and was able to throw the off-speed stuff behind in the count to keep guys off-balance.
"[Catcher Carson Blair] did a really good job. I didn't have to shake him off much at all and the defense backed me with some great plays."
Blair's bases-loaded walk in the fourth produced the game's only run. That was in stark contrast to the completion of Friday night's suspended game, a 16-4 Knights win as they scored nine times in the eighth to break open a one-run game. Cody Asche went 5-for-6 with two RBIs and two runs scored for the 27-year-old's third career five-hit game and first since July 10, 2013 with Triple-A Lehigh Valley.
"He's a really good player," Giolito said. "Ever since he came back from Chicago, he's made a huge impact on our club. Cody's an awesome teammate, and to be able to see him put up a performance like that was a great thing to see."
Bats starter Lisalverto Bonilla (3-4) allowed one run on four hits and three walks with six strikeouts over five innings.