Amaya, Young headline Cubs' next wave
Catcher, first baseman took strides at plate, in field in 2018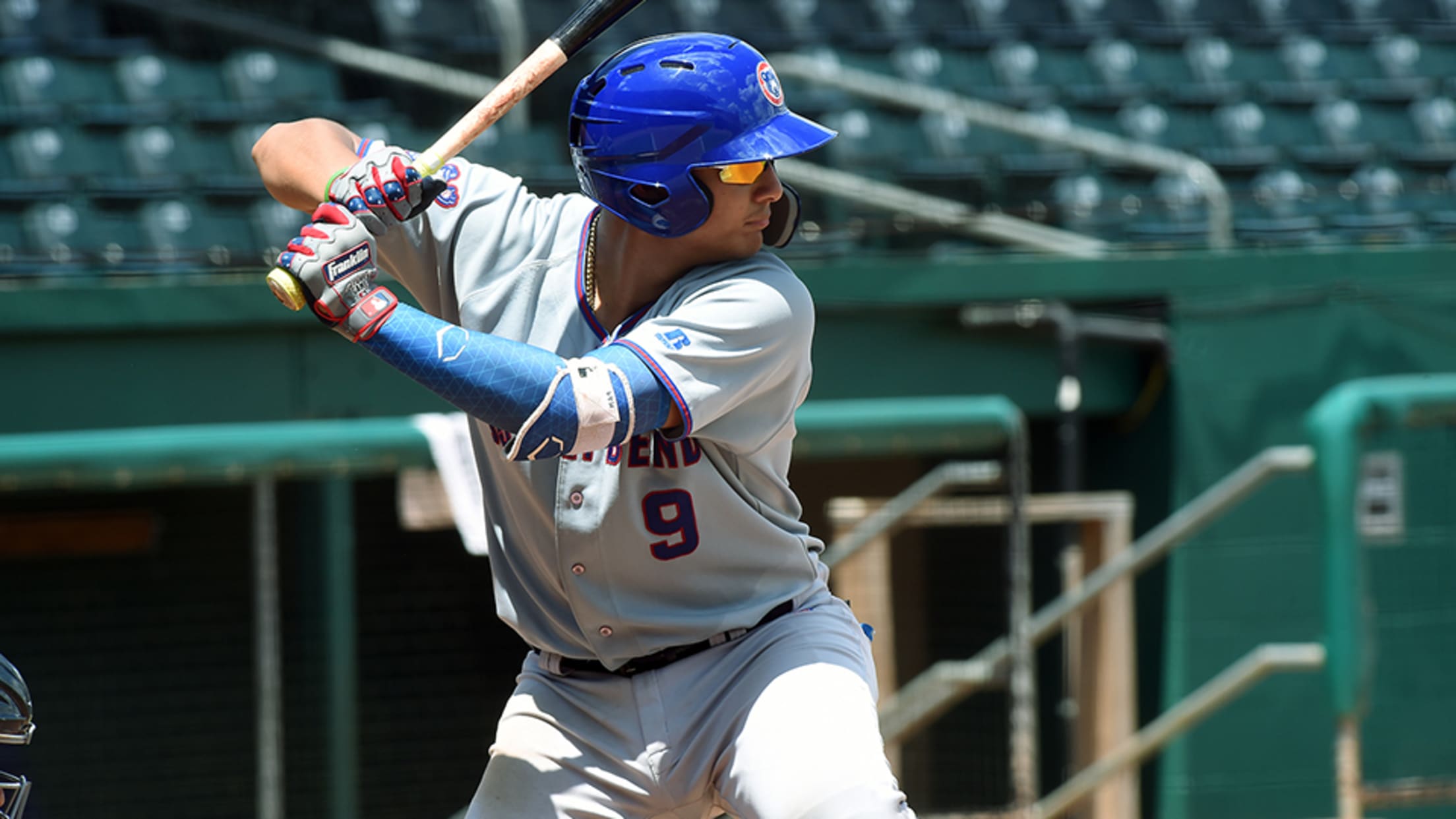 Miguel Amaya blasted 12 homers while putting up a .752 OPS in his first full Minor League season. (Brian McLeod/MiLB.com)
Each offseason, MiLB.com goes position by position across each system and honors the players -- regardless of age or prospect status -- who had the best seasons in their organization. Click here to locate your favorite club.Since their rise back on the scene in 2015, the Cubs have been one of
Each offseason, MiLB.com goes position by position across each system and honors the players -- regardless of age or prospect status -- who had the best seasons in their organization. Click here to locate your favorite club.
Since their rise back on the scene in 2015, the Cubs have been one of the Nationals League's elite teams. Coinciding with this ascendance has been the graduation -- and eventual success stories -- of top prospects like Kris Bryant and Javier Baez.
As the Cubs have become perennial contenders and made deals to acquire veteran talent, their farm system has taken a hit. This year, it finished 27th in baseball with a .461 winning percentage. That's not to say there isn't some upside in the Minor Leagues. Two domestic affiliates reached the playoffs, with Class A Short Season Eugene claiming an improbable Northwest League title. The Cubs might not have the glitz and glamor of a few years back, but there are positives for the North Siders.
Cubs Organization All-Stars
Catcher -- Miguel Amaya, South Bend (116 games):
Making his full-season debut as a 19-year-old, Amaya was anything but overmatched in the Midwest League.
The
Cubs' top prospect
posted a .256/.349/.403 slash line with a career-high 12 homers, 35 total extra-base hits and 52 RBIs. Among catchers on the circuit, he was second with a .752 OPS, which also represented South Bend's highest mark and a personal best.
"He got off to a hot start at the plate, despite the cold weather and all the challenges he had -- he completely killed it in the first half," Cubs director of player development Jaron Madison said. "I think guys started making adjustments, the league adjusted to him and they started pitching around him. … Definitely an interesting guy, has feel to hit, has always had feel to hit. He has some sneaky power in there that I think is going to continue to grow."
The backstop's fly ball rate increased from 39.4 percent to 42.4 percent and his home runs per fly ball more than doubled to 8.8 percent. Impressively, he drew 50 walks and struck out 91 times. Amaya played 95 games (806 1/3 innings) behind the plate, posted a .989 fielding percentage and threw out an impressive 34 percent of would-be basestealers, a year after he nailing 29-of-49 for Eugene.
"I think the most important and impressive part is his development behind the plate and ability to connect with pitchers and call games -- we let guys call games completely," Madison said.
Honorable mention: Jhonny Pereda made the jump to Class A Advanced Myrtle Beach and knocked his batting average up by 23 points to .272 in his second full campaign.
First base -- Jared Young, South Bend (61 games), Myrtle Beach (52 games): Essentially splitting time between the Midwest and Carolina leagues, Young made sure to bring his bat wherever he went. His .300 average was the best mark of anyone in the system who played more than 100 games, helping him earn the organizational Player of the Year honors.
Mashing his way through April by hitting .406, the 2017 15th-round pick never slowed down with South Bend and slugged 10 homers en route to a Midwest League All-Star nod. In early July, he moved up a level and fared well against better competition, putting up a .282/.341/.431 line in his final 51 games.
It was an attitude from the outset of Spring Training that propelled Young to a career year, Madison said.
"He forced our hand to send him up to South Bend and absolutely killed it there," he added. "He couldn't have gotten off any hotter. … He continued to produce [at Myrtle Beach] and fit in really well. He's learning a new position; we challenged him to play first base, we challenged him to play the outfield. He took to both of those and attacked it and was really good."
Second base -- Trent Giambrone, Tennessee (116 games): He might stand just 5-foot-8, but Giambrone uses every inch to generate power to all parts of the field. Taking the hardest leap to Double-A this season, the Cubs' 29th-ranked prospect improved his walk rate by 3.3 percent from Myrtle Beach and saw an uptick in his power numbers. He whacked a team-best 17 homers and finished second on the club with a .772 OPS.
The 2016 25th-round pick spent most of his time at second base, where he had a .976 fielding percentage in 89 games, also playing shortstop, third and both corner outfield spots to give the Cubs a little more flexibility.
"He's just kind of well-rounded player in the David Bote mold where he just surprises guys," Madison said. "The more you watch him, the more you love him and you root for the guy. He had a really good season for us."
Third base -- Jason Vosler, Tennessee (66 games), Iowa (63 games): Vosler broke through in a big way last year and followed that up with an arguably better 2018 campaign at the Minors' highest levels.
The 2014 16th-round pick out of Northeastern set career highs and led the organization with 23 roundtrippers and 93 RBIs, earning a spot at the Southern League All-Star Game. Elevated to Triple-A in late June, Vosler saw no noticeable dip in his production. After making a good impression with the big club in Spring Training, he never let up.
"He really works his butt off and is in-tune with his swing," Madison said. "He understands what he wants to do with the ball. It really shows up when he gets into a game and gets into a groove, the ball jumps off his bat. He might have as much power as anyone in the Minor Leagues."
Organization All-Stars by MLB affiliate »
Shortstop -- Zack Short, Tennessee (124 games): The other half of the Smokies' productive middle infield, Short compiled numbers that truly embrace the three true outcomes that have become so ubiquitous in baseball.
The club's 22-ranked prospect led Tennessee with 136 strikeouts but also tied for the home run lead with Giambrone and ranked second in the Southern League with 82 walks and seventh with a .356 on-base percentage. While his .227 average doesn't stand out, 47 percent of his hits this season went for extra bases, so pop remains an important part of his game.
"He's a really good hitter and the ball comes off of his bat hot all the time," Madison said. "He can control the zone and looks to do damage with each swing. … I think he really opened up eyes with what he can do at shortstop."
Outfielders
Zach Davis, South Bend (79 games), Myrtle Beach (38 games): A full-season debutante, Davis did not disappoint in any phase of the game. At the plate, he owned a .275/359/.329 slash line across two levels. He might not have as much power as others on this list (one homer in 386 at-bats) but his acumen on the bases paid dividends in the form of 38 stolen bases. Davis, who never hit left-handed before pro ball, batted .283 from the left side.
Playing center field for most of the season, the Texas Tech product had a .991 fielding percentage and 10 assists.
Mark Zagunis, Iowa (115 games): A repeat Organization All-Star, Zagunis produced another strong season from start to finish in the Pacific Coast League. A stalwart in the lineup and in the outfield, he paced the I-Cubs and was second in the system behind Short with 70 walks in 115 contests. The 25-year-old is the antithesis to the launch angle and power movement, hitting 53.1 percent of his balls in play on the ground.
Zagunis sprayed his hits to all fields, finishing with a .271 average and 24 extra-base hits, despite a dry spell that slowed him for much of May. If not for a nagging shoulder injury, he could have produced even better numbers, Madison said.
"Overall, he has the best approach and plate discipline of anyone in the organization," Madison noted. "He's a guy that sees the ball so early out of a pitcher's hand that it seems like before the pitch is out of his hand he knows whether it's going to be a ball or a strike. Nine times out of 10, he's right."
Roberto Caro, Myrtle Beach (44 games), South Bend (38 games): Caro enjoyed his finest offensive season since signing with the Cubs, hitting .317 across two Class A levels. The 25-year-old batted .375 with a 1.015 OPS in the Midwest League before moving on to the Carolina League.
His numbers dipped slightly against more advanced pitching, but he reached base at a .384 clip, including a .453 mark during a 17-game stretch in July. He played all three outfield positions, spending the bulk of his time in left and right. Much like Davis, he made up for a lack of power with speed, stealing 36 bases on 46 tries.
Right-handed starting pitcher -- Cory Abbott, Myrtle Beach (13 games), South Bend (nine games): Abbott got acquainted with the ins and outs of pro ball in 2017, but he got a full taste of it -- with plenty of success -- this year. Starting the season with South Bend and ending it with Myrtle Beach, Abbott had a 2.50 ERA and 1.16 WHIP across 115 innings.
The strikeouts stand out as he racked up 131 or an average of 10.3 per nine innings. Also impressive is the fact he allowed eight homers all season. His four-pitch repertoire coupled with a deceptive delivery make it a challenge for opponents to make solid contact.
"He showed feel to stay as a starter with a plus fastball, two average secondary pitches and a changeup that's coming that has a chance to be average as well," Madison said. "He has all the ingredients, fills up the zone and is just aggressive anytime he gets on the mound. It's really fun to way he goes about business, changes up speeds and frustrates hitters."
Left-handed starting pitcher -- Faustino Carrera, Eugene (13 games, 9 starts): The 19-year-old dominated the Northwest League, leading the circuit with a 2.54 and 1.00 WHIP over 67 1/3 innings.
Carrera totaled 58 strikeouts, but he held opponents to a .244 batting average on balls in play (BABIP) and a .198 mark overall. He was particularly difficult on left-handed hitters, who had a .132 average and no homers in 21 innings against the Mexico native.
Relief pitcher -- Brian Glowicki, South Bend (45 games): A 2017 10th-round pick out of the University of Minnesota, Glowicki shined in almost every opportunity -- and he got plenty. He pitched in an organizational-high 45 games, recording a 1.20 ERA and 1.12 WHIP over 67 2/3 innings. He topped the system and ranked second in the Midwest League with 18 saves.
The right-hander from suburban Downers Grove gave the South Bend bullpen plenty of versatility by pitching two innings or more 19 times. Down the stretch, he took his game to another level by yielding one run over his final 19 2/3 innings.
Andrew Battifarano is a contributor to MiLB.com. Follow him on Twitter, @AndrewAtBatt.