Alzolay retires 16 in a row in gem for Iowa
Cubs No. 4 prospect gives up one hit over six scoreless innings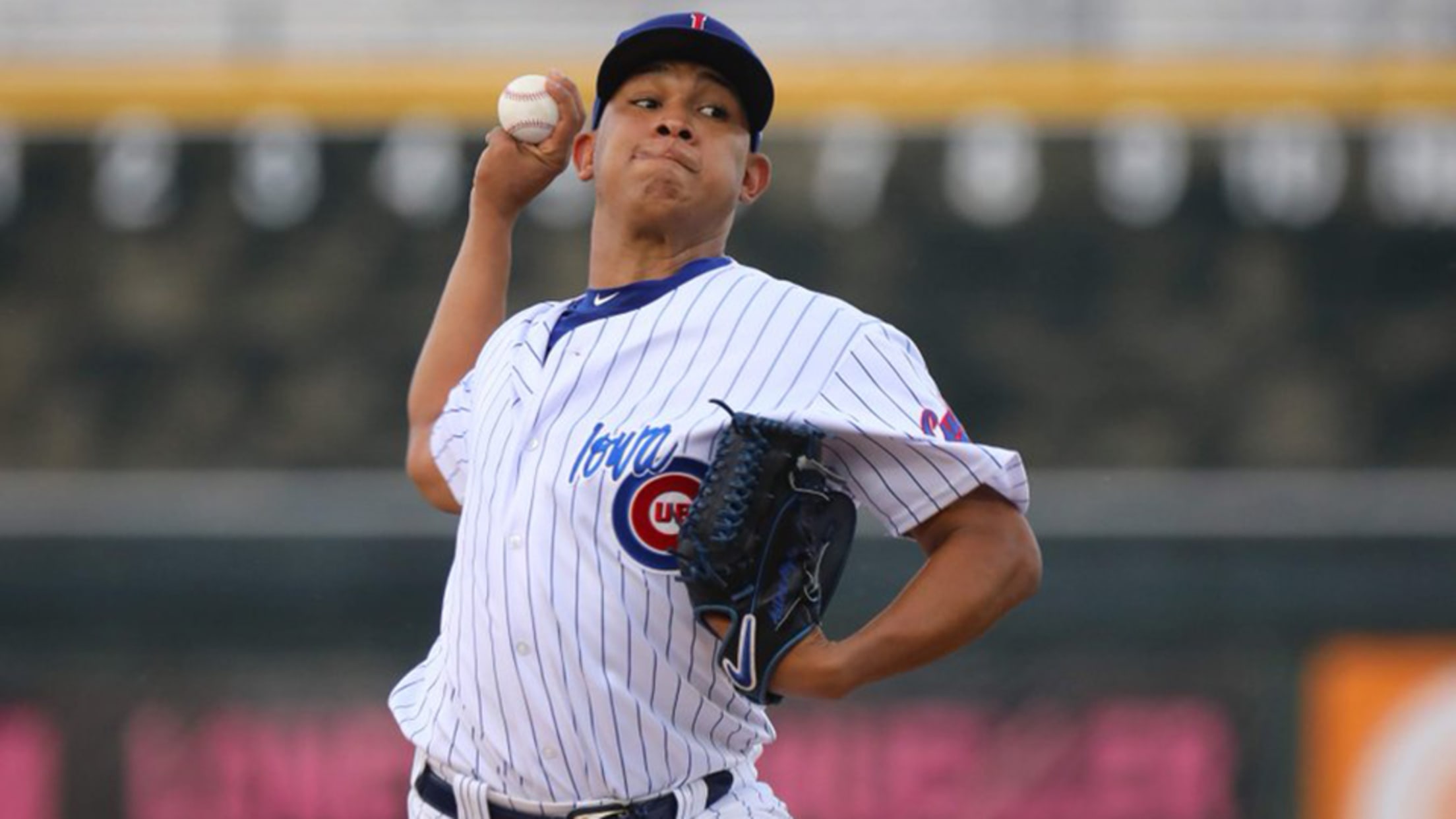 Adbert Alzolay has a 1.06 ERA and 23 strikeouts over 17 innings in his last three starts. (Iowa Cubs)
Adbert Alzolay's season may have gotten off to a delayed start, but he's having no problem making up for lost time.The fourth-ranked Cubs prospect gave up one hit over six scoreless innings, striking out eight and walking one, before Triple-A Iowa dropped a 2-1,10-inning decision to Round Rock on Saturday at
Adbert Alzolay's season may have gotten off to a delayed start, but he's having no problem making up for lost time.
The fourth-ranked Cubs prospect gave up one hit over six scoreless innings, striking out eight and walking one, before Triple-A Iowa dropped a 2-1,10-inning decision to Round Rock on Saturday at Dell Diamond.
The only blemishes on Alzolay's night came back-to-back in the bottom of the first. After walking Drew Ferguson, he gave up his lone hit, a two-out single courtesy of Joshua Rojas. Rojas stole second, but Alzolay struck out Taylor Jones on a full count to end the threat and the inning.
The right-hander was perfect the rest of the way as Jones was the first of 16 consecutive batters he retired. Alzolay ended his night by striking out the side in the sixth, getting Astros No. 2 prospect Kyle Tucker for the second time on his 79th pitch.
Gameday box score
"I was a little off the plate in the beginning," he said. "The game is about adustments, so I needed to get out of that inning and do my job next inning. I didn't change anything, except I noticed I opened my front side in the beginning. I closed it and the pitches worked just fine."
It was the longest outing of the season for the Venezuela native, who surrendered five runs in each of his first two starts but has given up two over 17 innings in his last three to get his ERA down to 3.00.
The Cubs' top right-handed pitching prospect relied on his fastball before turning to his off-speed pitches in strikeout situations. He noted that having command of his fastball was key to being successful.
"I've used the same mind-set I've been having," he added. "I do my job, stay calm, Use my heater and go pitch by pitch."
Alzolay tweaked his side in Spring Training and did not make his season debut until May 12 with Class A Advanced Myrtle Beach. He joined Iowa five days later.
His last scoreless outing was a four-inning stint for the I-Cubs on May 29 last year. He left early, was diagnosed with a strained lat and did not pitch again for the rest of the season.
Despite the injuries, Alzolay never lost his determination. While he was admittedly frustrated at first, he quipped that getting hurt is a part of the sport and he has to work through it.
"I've always thought that injuries are part of the game. I can't control it, it happens for a reason," he said. "I've always been a really hard worker. When you've been doing everything you can, it's still part of the game, so you have to have your mind-set the same as if you were healthy."
Alzolay remains focused on one goal: staying healthy. While still waiting for his call to the big leagues -- he was projected to make his Major League debut last season before the injury -- he's determined to perform regardless of the level.
"To me, I don't think about those things," he said. "That's the front office, the team, their call. When they decide to bring me up, I will be ready. I get my work done and go to the mound no matter what or where I am. I want to do my job as best I can."
Iowa scored its only run in the fourth inning on a sacrifice fly from Jacob Hannemann. The Cubs held a 1-0 lead until AJ Reed's game-tying solo homer in the bottom of the eighth. Round Rock walked off in the 10th when Lorenzo Quintana knocked a one-out single to the left side to score Reed.
Katie Woo is a contributor to MiLB.com. Follow her on Twitter @katiejwoo.