Hedges stays grounded in gem for Smokies
Cubs right-hander allows one hit en route to first career shutout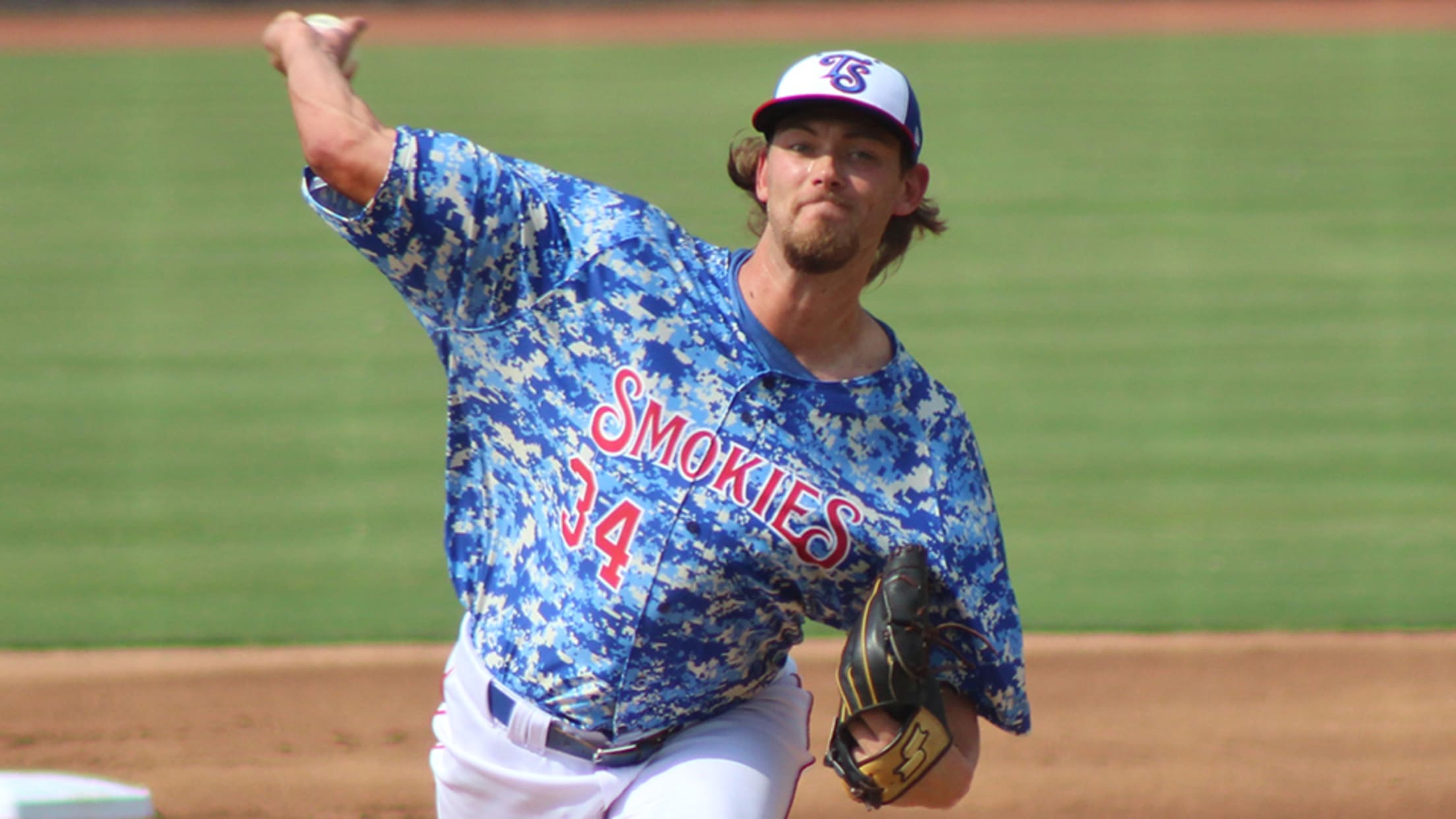 Zach Hedges won 10 games and posted a 2.75 ERA in 24 starts across two Minor League levels last year. (Drew Gibby)
Zach Hedges won't light up the radar gun. He won't regularly rack up double-digit strikeout totals, either. What the 24-year-old will do is get ground-ball out after ground-ball out, which is just fine with him.The Cubs right-hander turned in his second straight scoreless start, firing a seven-inning one-hitter as visiting
Zach Hedges won't light up the radar gun. He won't regularly rack up double-digit strikeout totals, either. What the 24-year-old will do is get ground-ball out after ground-ball out, which is just fine with him.
The Cubs right-hander turned in his second straight scoreless start, firing a seven-inning one-hitter as visiting Tennessee blanked Chattanooga, 2-0, in the first game of Tuesday's doubleheader.
The Smokies completed the sweep with a 1-0 win in the nightcap, despite a career-high 14 strikeouts by Lookouts southpaw Nik Turley.
Box score
It was the fourth game in two days for the clubs, who split a doubleheader on Monday, and the Smokies' fourth twinbill in the first 20 days of the season.
Hedges (2-2) used his sinker to perfection, netting 14 of his 21 outs on the ground. He struck out three and walked two in his second career complete game and first shutout while extending his scoreless streak to 14 innings. The streak, however, was in immediate jeopardy.
The Azusa Pacific product allowed a leadoff single to Twins top prospectNick Gordon and walked No. 29 prospect Engelb Vielba on four pitches. But Hedges, who averaged more than two groundouts for every flyout last season, started a double play on a comebacker by No. 13 prospect LaMonte Wade Jr and coaxed another groundout to end the frame.
"I have great confidence in my fastball and sinker," the California native said. "I'll get contact on it, but it's weak contact. In that scenario, I knew I needed a ground ball, so I obviously went with my strength. I trust myself in tight spots to bear down and attack. I want them to swing; I want them to hit it on the ground to get those quick outs.
"I had a great bullpen before the game, but I needed to find some of the rhythm I had lost. In that instance, I knew I needed that grounder and I executed it perfectly."
A two-out walk to Travis Harrison in the fourth and an error by third baseman Jason Vosler in the sixth provided the only other baserunners to reach against Hedges.
The 2014 26th-round pick had a solid full-season debut in 2015, but he excelled last year with Class A Advanced Myrtle Beach and Tennessee. Hedges recorded a career-high 10 wins and posted a 2.75 ERA over 144 innings while allowing one run or fewer in 13 of 24 starts.
"I wanted to come in with the same confidence and approach that I had last year," he said. "That meant establishing the fastball and creating good sequences by pitching down in the zone, finding a way to do that day in and day out, which starts with my mental and physical preparation in the offseason. From there, you trust it works and stick with it."
The game was scoreless until Andrew Ely lined a two-run single to right field with two outs in the top of the seventh.
Fernando Romero (1-3) matched goose eggs with Hedges before faltering in the seventh. The Twins' fourth-ranked prospect was charged with a pair of unearned runs on four hits and two walks with six strikeouts over 6 2/3 innings.
David Bote's first-inning RBI groundout produced the only run in the nightcap as the Smokies posted their fifth shutout in nine games.
Turley (0-1) was the hard-luck loser for the Lookouts, despite registering a Minor League season-high 14 strikeouts in the complete game. He fanned the final eight batters he faced to tie the Southern League record, done most recently by Tennessee's Anthony Reyes on Aug. 16, 2004.