Alvarez preps for spring with eye on Olympics
White Sox prospect, 2014 silver medalist on cusp of big leagues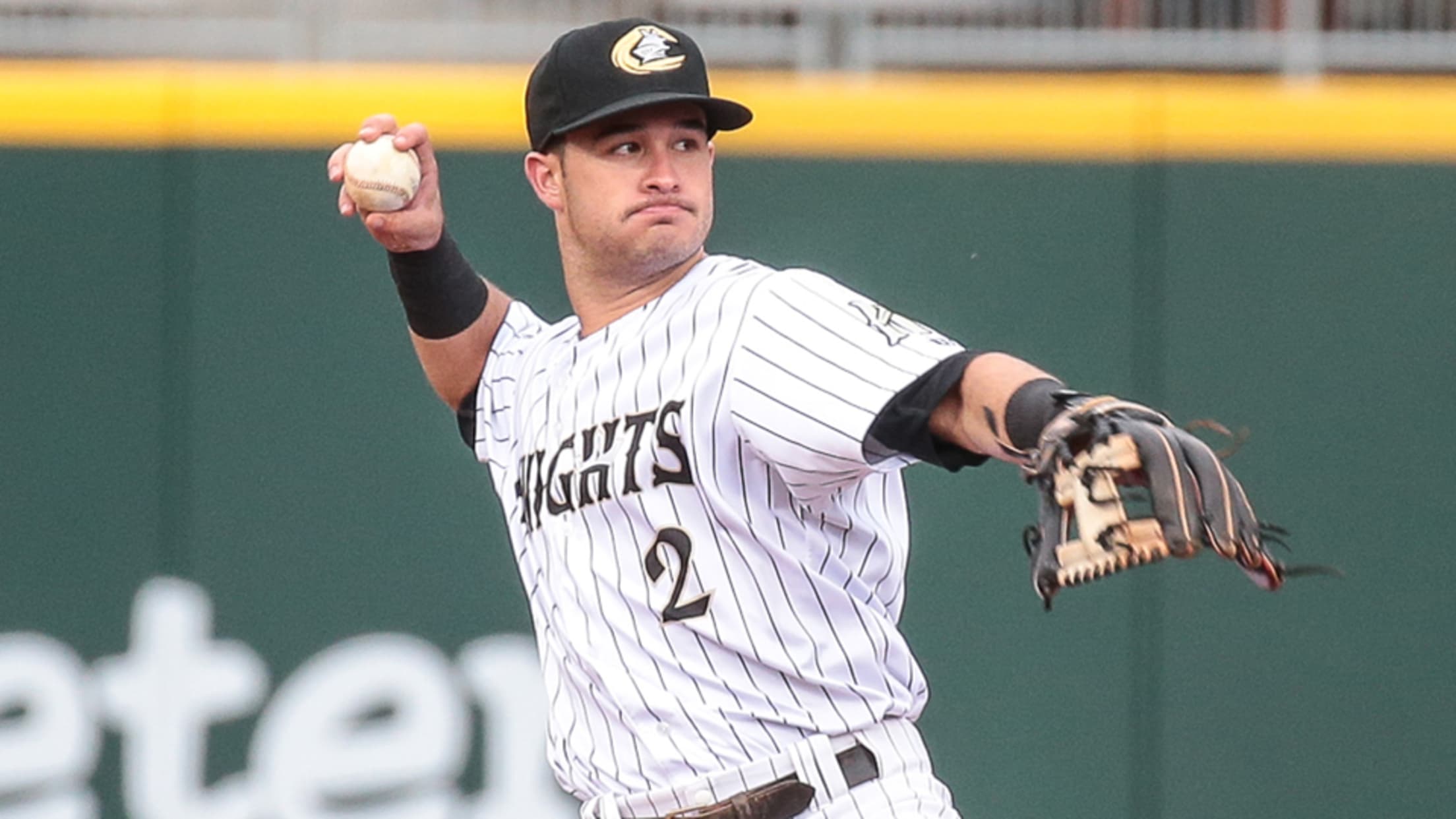 Eddy Alvarez has played 46 games over the last two seasons for Triple-A Charlotte. (Chris Baird/MiLB.com)
Eddy Alvarez can't slow down.Relenting has never been an option for Alvarez -- not on the short track in speed skating on the way to an Olympic silver medal, not on the basepaths of Minor League fields and especially not now as he embarks on what could be the last
Eddy Alvarez can't slow down.
Relenting has never been an option for Alvarez -- not on the short track in speed skating on the way to an Olympic silver medal, not on the basepaths of Minor League fields and especially not now as he embarks on what could be the last stage in his dream of making it to The Show.
"In all honesty, because of how everything has panned out with skating and then baseball, my athletic career hasn't really hit me yet," Alvarez said roughly 48 hours after the XXXIII Olympic Winter Games opened in Pyeongchang, South Korea. "I know what I've done, but the fact that I got the opportunity to stand in front of 30,000 people and receive a silver medal, I have that in my head, but it just hasn't hit me. I've never really been able to take a break and appreciate what I've accomplished, what I've had to go through."
On Feb. 21, 2014, Alvarez stood on a podium in Russia, and bowed his head to receive a 100-millimeter silver disc after he and his teammates -- J.R. Celski, Chris Creveling and Jordan Malone -- won the United States' only speedskating medal of the Sochi Games.
Four years later, Alvarez is more than 7,600 miles from the Olympics, packing up for Glendale, Arizona, and his fourth Spring Training in the White Sox organization.
"It's so bittersweet," Alvarez said from his hometown of Miami. "Four years ago, I had the opportunity to represent my country, and I know at heart, I will always be an Olympian. That's something that really holds a special place in my heart. Knowing that I could've potentially been there and be in medal contention again, it's tough to see, but I made so many phenomenal friends and teammates that I can't sit here and feel bad for myself. I root for them so much.
"Baseball is something that I know I want to do. This is my passion. It was my first love."
That moment on the medal stand in Sochi was the finish line of the most arduous journey of Alvarez's life -- and the start of the next one.

The decision
Eduardo Cortes Alvarez was born with baseball roots. The son of Cuban-American parents Walter and Mabel, Alvarez's older brother, Nick, spent seven seasons in the Dodgers system. The younger Alvarez attended Christopher Columbus High School in Miami, where he played for a program that's produced baseball luminaries like LSU coach Paul Mainieri and former Cubs general manager Ed Lynch, big leaguers like Orestes Destrade and
Jon Jay
and current No. 9 Giants prospect
Andrew Suárez
. Baseball always had Alvarez's heart, but at 18, speed skating had his focus.
After graduating in 2008, Alvarez declined a scholarship to play baseball at St. Thomas University in Miami to move west. The promising athlete from the decidedly not-ice-friendly climate headed to Salt Lake City to vie for a spot on the U.S. speed skating squad for the 2010 Vancouver Olympics. Alvarez trained for two years. He didn't make it.
After taking some time to decide his next move, Alvarez turned back to baseball due to his love of the sport and another more pressing physical reason. Then 20, he called the coaching staff of Salt Lake Community College, explained his story and secured a workout for coach David Nelson.
"I tried out with them randomly and he said, 'OK,'" Alvarez recalled, "'you're going to be my starting shortstop next year.'"
Three years after last playing competitively, Alvarez tore up the diamond in 2011, batting .303 with 43 RBIs in 59 games, earning all-conference honors for the Bruins. Skating hadn't disappeared, either. He trained on the ice in the morning, attended class during the day and practiced baseball in the afternoon with more classwork at night. Despite all the success, something else was at play.
"I was already dealing with chronic knee pain," Alvarez said. "I didn't really know what was going on, so I told myself I would go back to school, go back to baseball, give my knees a rest and see if they heal up or if the pain goes away. It never did."
After his breakout season, he met with Nelson who asked a simple question: what do you want to do?
"I basically just told him, 'I want to be an Olympic skater,'" Alvarez said, "'and I know I need to do something about my knees.'
"He has been so supportive of me. He looked at me and was like, 'I want you to go and chase your dream.'"
Alvarez finally got his knees examined. Somewhere along the line, he'd torn both patellar tendons.
"[Orthopedic surgeon Dr. Keith Hechtman] looked at my knees and was like, 'These are bad,'" Alvarez remembered with a gallows laugh. "I basically did minor reconstruction and debridement, so I'm missing, on both knees, part of my tendon."
Baseball was off the table for the moment. It was all-or-nothing to return to the ice. A grueling rehab process began.
"It was every day," he said. "I was bedridden for almost two months. I had to pee in a damn bucket. I couldn't get out of bed because I had to get both knees at the same time because I didn't have time [to do one and then the other].
"I got my surgery, if I'm not mistaken, in March of 2012, and I was on Olympic ice a year and a half after that. I really learned the type of person that I am going through that. It was nothing like I've ever experienced before."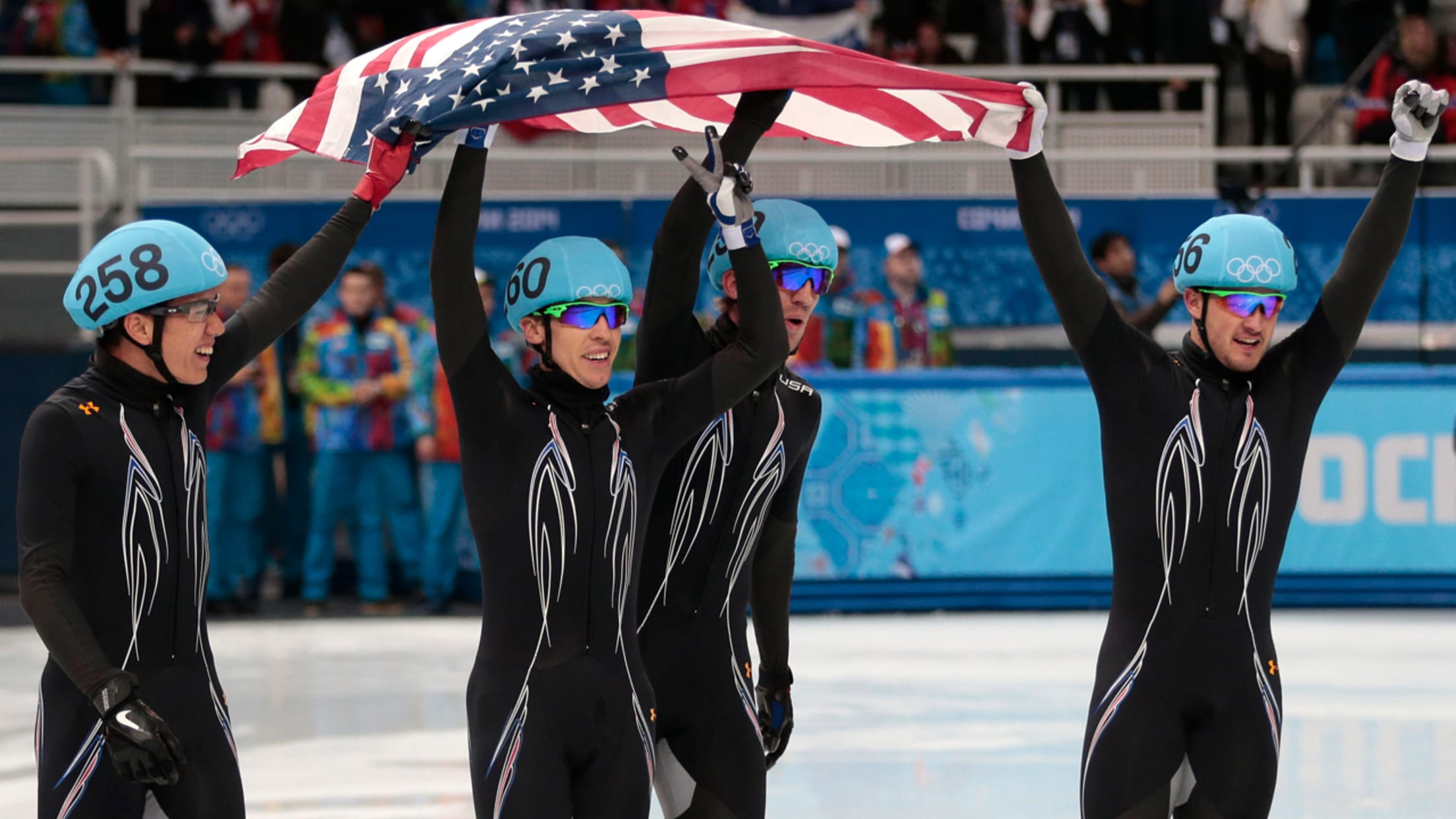 Eddy Alvarez (right) with teammates (from left) J.R. Celski, Jordan Malone and Chris Creveling after winning silver in Sochi. (AP)

The comeback
In January 2014, Alvarez qualified for Sochi. The Americans didn't capture gold. That distinction went to the Russia. The color of the medal didn't matter to Alvarez. The moment was the reward.
"The reason why I even was able to chase these dreams is my parents," he said. "Without them, none of this would've been possible. [They] sacrificed so much of their time and their penny to get me across the country, to always find ice time for me, to go play in baseball tournaments."
A month later, following the 2014 World Short Track Speed Skating Championships in Montreal, Alvarez hopped a flight to Miami and figuratively changed from Olympian to Minor Leaguer in midair. The next day, he began training with family friend and former Major League pitcher Carlos Castillo and attending workouts in Florida and Arizona.
"Whoever wanted to see me, I would go," he said. "In June, I got a phone call from the White Sox basically telling me to pack my bags. I was immediately on a flight to Arizona.
"[It was] basically from the Olympics straight to baseball."
With one season of baseball under his belt since high school, Alvarez was suddenly a professional ticketed for the Rookie-level Arizona League.
"I didn't know what to expect and I was just on a high," he said. "I just got done winning an Olympic medal and I'm playing pro baseball. I got promoted to low-A from Rookie ball. … It was unbelievable that year."
The oft-discussed Minor League grind -- the bus rides and long hours -- didn't faze Alvarez.
"Mentally, I was ready. It didn't matter where they put me or where they wanted to put me. It didn't matter," he said. "Dude, I struggled; I really did. To get to the Olympics in general, I understood what the struggle is. I already lived it."
Having a brother who played nearly 600 Minor League games from 2001-06 helps.
"I can't thank him enough," Eddy said of Nick. "I always thank him because he had to learn on the fly. He had to live it to learn it. Just having him prep me prior to all this, I am so lucky to have him because he experienced it."
In 410 Minor League games across four years, Alvarez boasts a .276/.375/.384 slash line with 20 homers, 13 triples and 81 stolen bases. He climbed from the AZL to Class A Kannapolis in 2014 and reached Triple-A Charlotte by 2016. He finished last season one step below the big leagues.
"I usually set my mind on something and I don't stop until I get there," he said. "It's been great to be a part of the Charlotte Knights. It's been great to be a part of the Birmingham Barons, the Kannapolis Intimidators. It's been a phenomenal ride, but it's not where I want to be. I want to put that Chicago White Sox uniform on. I want to be a difference-maker. I want to stand on that big league field.
"I love baseball, man. Mentally, it's so challenging. I'm a big fan of riddles and, to me, this is a ginormous riddle I'm trying to solve."
Alvarez played in some big league Spring Training games last year and traveled with the White Sox to Milwaukee for exhibition games against the Brewers.
"I got a little taste of it, but man, I want more of that. I want more of that. I'm not settling," he said. "Being able to step on a big league field and play in my first big league game is everything I could ever hope for."
The watcher
Scroll back a bit in Alvarez's Twitter feed and you'll see the way the White Sox prospect stays in touch with those who've helped him along the way. There he is in December, serving as a track announcer for U.S. Speedskating's short track Olympic Trials in Salt Lake City. There he is days earlier, stopping by SLCC to visit his old Bruins coaches.
"I'm so grateful for everyone that's ever supported me," he said. "U.S. Speedskating, Salt Lake Community College, Dr. Hechtman, everyone who has ever helped me get to where I am today, I'm super grateful because none of this would've been possible [without them].
"I always try to give back because they deserve it."
In less than 10 days, Alvarez will trade the sun and heat of South Florida for that of Arizona and White Sox Spring Training. In less than a week in frigid Pyoengchang, his old speedskating teammates will try to match or better their effort from 2014 in the 5,000-meter relay. They stand a good chance. This American 5,000-meter group, led by Celski, broke the world record three months ago in Shanghai.
When the event finally arrives on Saturday in Pyeongchang, Alvarez will be there -- in his own way.
Offseason MiLB include
"When I watch short track," he explained, "You'll see me, like, bob my head. Because I know that feeling that they're going through. You'll see me duck and lean. I get so involved, but that's how I was when I was competing, too, watching races. When I see someone setting up a pass and then when they execute that pass, I'm that person that's with them because I'm a student of the game. That's something that's really helped me in skating and in baseball, just always wanting to learn.
"It's like I'm there."
Looking back
It's 10 years since high school and Eddy Alvarez is on the doorstep of the Major Leagues. So what would he say to that kid who was a senior at Christopher Columbus?
"I would've told 2008 Eddy to get knee surgery sooner," he said matter-of-factly. "As soon as you start feeling any pain in your knees, get surgery. I just turned 28, but I wouldn't be 28 years old right now and grinding away in the Minor Leagues. I could be right now in the big leagues, and we don't know that. But at the same time, I would've told him just to continue living. I look back and there's very, very few regrets that I have. I can't express to you how incredible this ride is because I've had opportunities that I know don't come along very often.
"Yeah," he finished the thought. "Just live, kid."
Tyler Maun is a contributor to MiLB.com. Follow him on Twitter @TylerMaun.