IL notes: Fulmer prefers rotation role
No. 5 White Sox prospect hoping to return to bigs as starter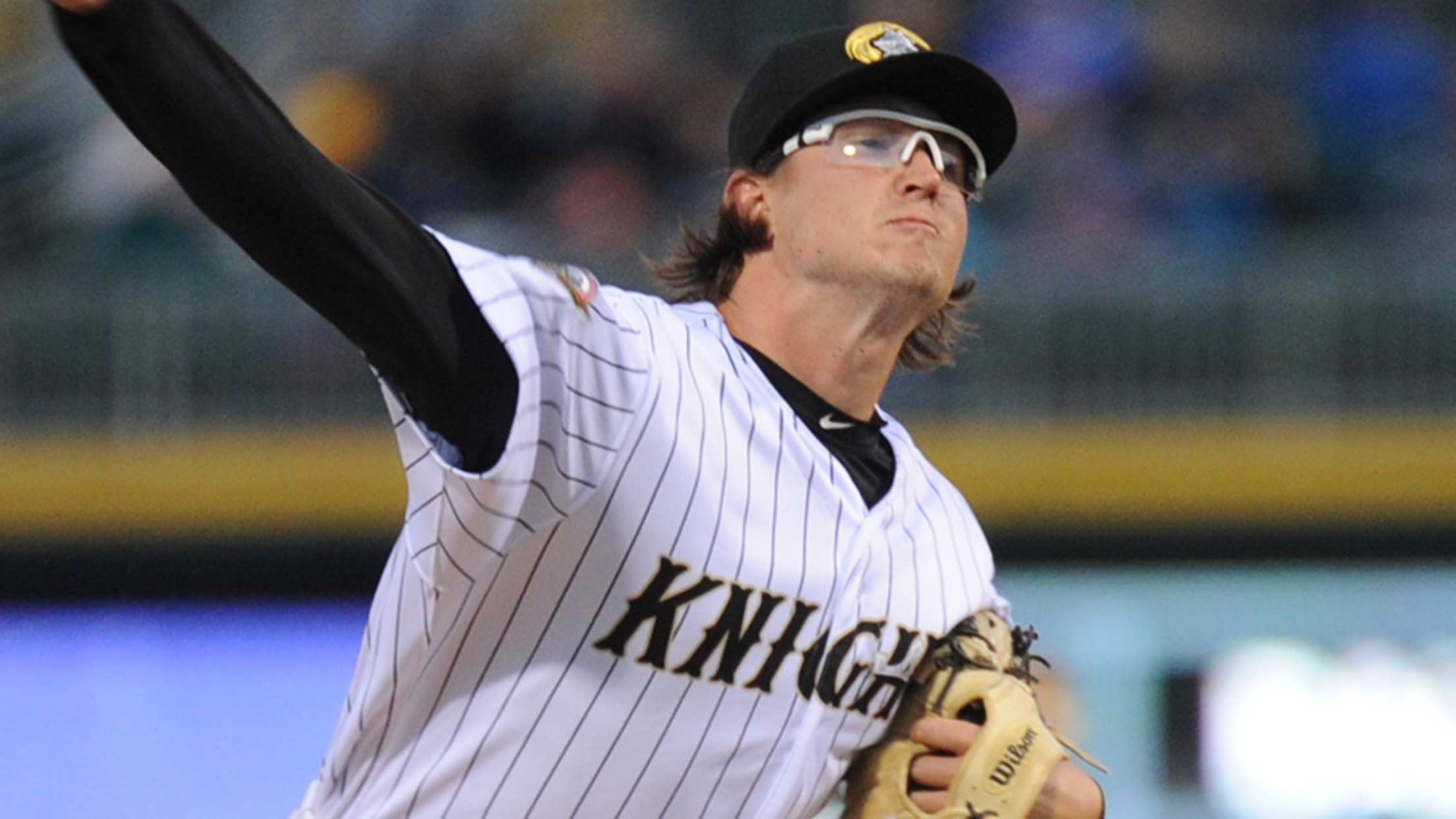 Carson Fulmer has given up two runs over 12 innings in his last two starts for Charlotte. (Laura Wolff/Charlotte Knights)
Most scouts agree when analyzing Carson Fulmer: he has the stuff to pitch in the Major Leagues. But when it comes to finding a role for the Charlotte right-hander on a big league pitching staff? Well, let the debate begin.While Fulmer has plenty of experience as a starter, having led
Most scouts agree when analyzing Carson Fulmer: he has the stuff to pitch in the Major Leagues. But when it comes to finding a role for the Charlotte right-hander on a big league pitching staff? Well, let the debate begin.
While Fulmer has plenty of experience as a starter, having led Vanderbilt to the 2014 College World Series title, the 6-foot right-hander's size and high-intensity delivery have led many scouts to peg him as a future reliever.
"Whatever the organization wants me to do," Fulmer said diplomatically when asked if he preferred to start or relieve. "I like to win baseball games, so I'll do whatever it takes to help my team win games."
However, when asked for his preference, Fulmer said, "Personally, I want to be a starter. ... I think I've done a pretty good job of proving that I have the ability to start and I think I'm ready when the opportunity comes about."
Fulmer, the No. 5 prospect in the White Sox organization, has had a solid start to his season in the Knights rotation. He's 2-1 with a 3.52 ERA in four games, allowing 23 hits and five walks while fanning 19 over 23 innings.
"I like the mentality of starting the game with the baseball and ending with the baseball," Fulmer said. "That's my personality: I love to compete. I know I can do that as a reliever, but you have a greater chance to do that as a starter. Plus, a starter has a greater chance to give his team momentum because he has the ball from the beginning."
Knights manager Mark Grudzielanek likes what he's seen from Fulmer this year.
"He has great energy and huge drive -- he's as competitive as they come," Grudzielanek said. "He's all about perfection and he strives to get to that point, or awfully close. He believes he can make every pitch. And for the most part, he does."
Fulmer said 2016 had both ups and downs. While he earned a promotion to Chicago, he struggled out of the White Sox bullpen with an 8.49 ERA in eight appearances.
"I made it to the big leagues, which was a dream of mine," he said. "But that level has a different pace [from Triple-A]. It's the best of the best. … I had some ups and downs in the big leagues, but I've thrown that over my shoulder. I'm just trying to compete at this level."
Grudzielanek said he understands both sides of the Fulmer debate.
"He throws hard enough and he has all the pitches to be a starter in the Major Leagues," the former big league infielder said. "And he commands them as well.
"Personally, I'd love to see him in the rotation. He has the ability, and to have a guy like that take the ball every fifth day would be great for an organization. But I'm sure he would be good at either one."
For now, Fulmer will stay in the Charlotte rotation, working for a second chance in the Major Leagues -- and a first chance to do so as a starter.
"I'm a high-tempo guy, but I think I've done a good job of 'manicuring' my mechanics to make me a guy who's going to last seven, eight innings," he said. "But I'll always be high-tempo. That's who I am and that's what has gotten me here. And I definitely don't want to change."

In brief
No wins? No problem:
Right-hander
Sal Romano
has not collected a win or a loss in four starts for Louisville, but there's no question the 23-year-old is off to a strong start. He's allowed 16 hits and four walks in 22 innings and has a 1.23 ERA that ranks fourth in the IL. Opponents are batting .205 against him.
Owens consistently strong:
Pawtucket left-hander
Henry Owens
has put together four solid starts this season. The 24-year-old is 2-0 with a 1.66 ERA that ranks 10th in the league and has not given up more than five hits or two runs in any outing. Over 21 2/3 innings, he's yielded 16 hits but has issued 12 walks to go with 25 strikeouts. IL foes are batting .198 against the California native.
He said it:
"Just every day, every game, every pitch, [Dwight Smith Jr.] is locked in. Even when he's on the bases, he's looking after every little detail. It's just really good to see." --Buffalo manager Bobby Meacham to the
Buffalo News
. In 21 games, Smith is sixth in the IL with a .338 batting average, adding three homers, 13 RBIs and 14 runs scored.
He said it, Part 2:
"Me and [catcher Chance] Sisco were doing what we usually do. We had a good game plan before the game and we just went with it. Basically, I threw the ball as efficiently as I can and let my defense work." --Norfolk LHP
Chris Lee
to
The Virginian-Pilot
on April 26. Against Buffalo, Lee allowed five hits and a walk over six innings, striking out four, in a 4-0 victory.
John Wagner is a contributor to MiLB.com.