Adams pitches three-hitter for Birmingham
White Sox No. 12 prospect fans eight in second career shutout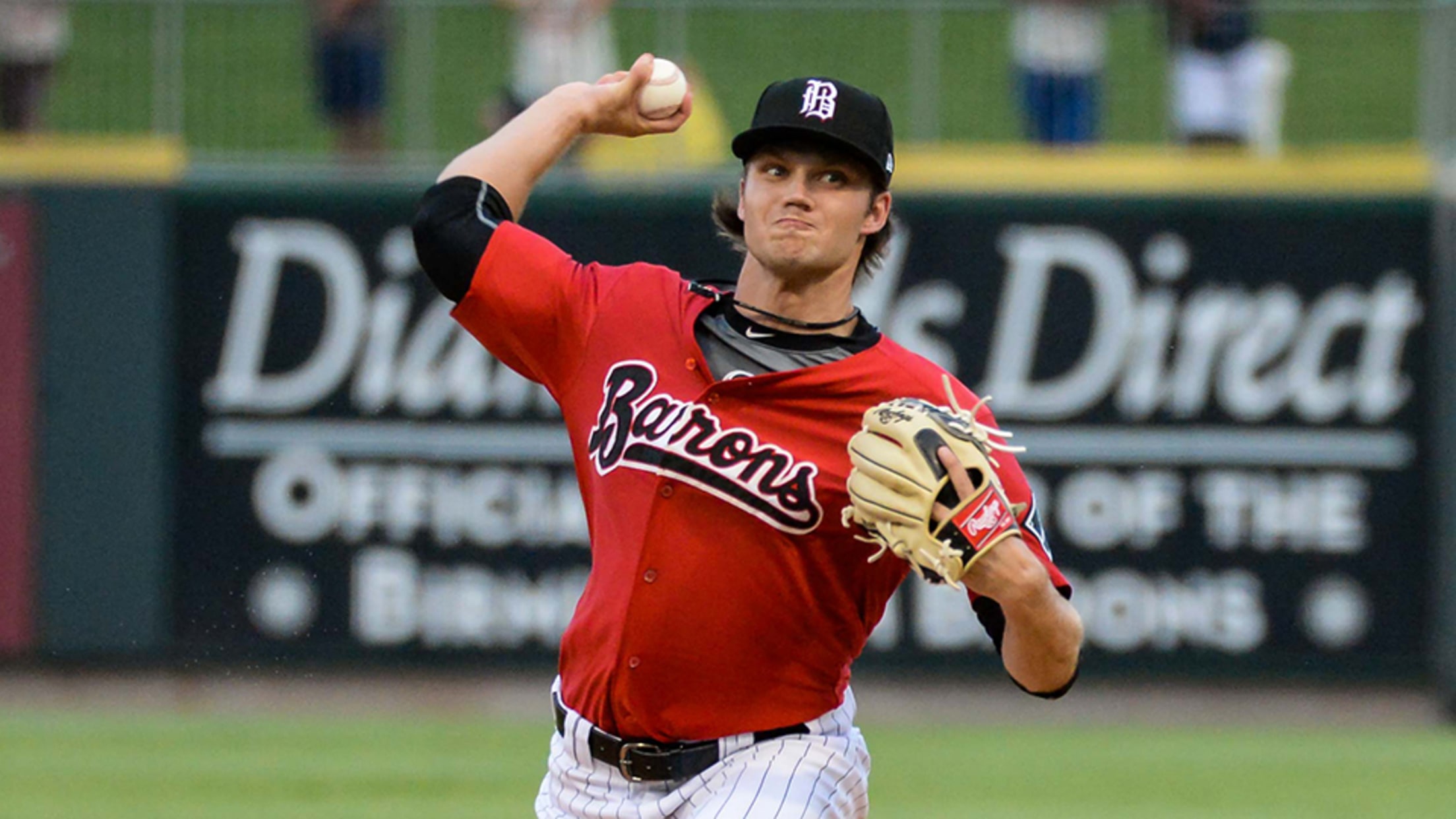 Spencer Adams has won 26 games across two Minor League levels since the beginning of the 2015 season. (Birmingham Barons)
With pitch counts and specialty relievers the norm, Spencer Adams managed to pull a rare trifecta on Friday night.The No. 12 White Sox prospect allowed three hits and a walk with eight strikeouts in the second nine-inning shutout of his career as Double-A Birmingham topped visiting Mobile, 1-0, at Regions Field. Adams (4-6)
With pitch counts and specialty relievers the norm, Spencer Adams managed to pull a rare trifecta on Friday night.
The No. 12 White Sox prospect allowed three hits and a walk with eight strikeouts in the second nine-inning shutout of his career as Double-A Birmingham topped visiting Mobile, 1-0, at Regions Field.
Adams (4-6) needed 96 pitches and just two hours, 11 minutes to collect his first shutout since June 5, 2016 with Class A Advanced Winston-Salem. The gem was the Barons' first nine-inning scoreless effort since Tyler Danish bested Pensacola on April 28, 2016.
Gameday box score
"Everything was on for me tonight," Adams said. "I started off mostly with my fastball the first few innings because my slider really wasn't there, but I got a feel for it later and it proved useful. The biggest thing for me was that I got ahead on most of the batters. Even when I fell behind, I'd get a quick groundout or popout to keep my pitch count low. It was just one of those nights."
The right-hander tossed three perfect innings before relying on his defense to keep the game scoreless in the fourth. David Fletcher led off with an infield single and took second on a throwing error by shortstop Cleuluis Rondon. The Angels' No. 10 prospect tried to score on Michael Hermosillo's single, but center fielder Hunter Jones nailed him at the plate to keep Mobile off the board. Birmingham catcher Alfredo González followed by throwing out Hermosillo attempting to steal second.
The Barons' defense was front-and-center again in the sixth. With Tim Arakawa on first after a leadoff single, Alberto Triunfel scorched a ball up the middle. Rondon made the nice pick and flipped the ball to second with his back to the infield to start a highlight-worthy double play.
"Man, that play really kept the momentum on our side of the game," Adams said. "Honestly, I had no idea he threw it behind him like that until I came in and asked about it. A big tip of the cap to him. My defense played great tonight and made the plays when I needed them to."
Given a 1-0 lead in the fifth on Rondon's RBI single, the 2014 second-rounder made it hold up. Beginning with the double play in the sixth, the Georgia native retired the final 11 batters faced and needed only 10 pitches in the ninth to win his third consecutive decision.
"Sitting in the dugout, going into the ninth, I kept telling myself to focus," Adams said. "[White Sox No. 2 prospect] Michael Kopech looked at me and was like, 'Why you tensing up? You've been loose the whole game. Just keep doing what you've been doing.' So that helped me to relax a little, but as soon as I got back out on the mound, I was focused and right back in it. Thankfully, it worked out."
It's been a streaky season for Adams, who posted a 2.93 ERA in April before struggling to a 7.02 mark in his first three May starts. However, the 6-foot-3 hurler has rebounded to allow two runs or less in four consecutive outings to lower his ERA from 4.37 on May 16 to 3.46 following Friday's shutout.
"I've been much better at throwing the ball down in the zone more," said Adams, who has surrendered seven homers in 75 1/3 innings. "Our pitching coach [Jose Bautista] preaches to us about keeping the ball down. The whole month of May, just about everything I threw was up and I paid for it. At this level, you don't get away with too many bad pitches.
"I worked a lot in the bullpen and shortened my stride a bit. Instead of getting way out there and jumping to the plate, I'm staying back and getting on top of the ball."
Mason Robbins went 3-for-4 and scored for Birmingham.
Jake Jewell (3-4) surrendered one run and scattered nine hits over 6 2/3 innings for Mobile. The Angels' No. 26 prospect matched a season high with six strikeouts and walked two.